Looking for your dream lip colour? Chanel's new app uses AI to find it for you
Using AI technology, Chanel's groundbreaking new app allows you to scan any (yes, any) colour and it will show you its nearest lipstick match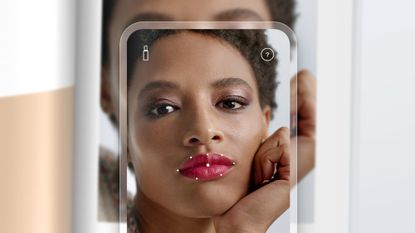 Using AI technology, Chanel's groundbreaking new app allows you to scan any (yes, any) colour and it will show you its nearest lipstick match
Do you ever spy a dress and think yearningly, I would kill for a lipstick in that colour? Enter the Chanel Lipscanner app – the French fashion house's latest innovation that allows you to scan virtually any colour on the planet to find its closest Chanel lipstick shade.
Whether you're searching out a hue that you spotted on the runway at London Fashion Week, or you want to steal Meghan Markle's classic nude lip, all you have to do is scan an image of the colour you're coveting, and the app will match it to a Chanel lipstick for you. (You'll even get to have a virtual try on to check that it suits.)
With the app's algorithm trained to analyse hundreds of thousands of faces, the Lipscanner even takes into account things like skin tone and lip shape when recommending your ideal lippy.
Once you've scanned your pic – be it of a handbag or a Hadid – the app will match it to a Chanel lipstick from one of five colour families: natural, pink, orange, red or plum. It even advises you of the most suitable finish – whether that's matte, shine, gloss, satin or metallic.
And while the days of swatching a lipstick IRL to see if it suits are sadly gone, the app allows you to take your new colour for a virtual spin before you decide whether or not to splurge. Who said AI couldn't be beautiful?
(It's also just a lot of fun to try and match various iconic Oscars dresses to a lipstick shade if lockdown boredom is getting the better of you.)
Available for (free) download on the Apple store now, the Chanel Lipscanner is a collaboration between the CX Lab and the brand's make-up Creation Studio, and gives a fascinating insight into what the future of beauty might look like. AI make-up artists, anyone?
The best beauty AI apps to try
The Chanel Lipscanner isn't the only AI powered app changing the future of beauty. Here are a few more we think are worth trying. (If for nothing but the lols.)
MatchMe by Cult Beauty
Trying to shade match a foundation online can be nightmarish. But as it's our only option at the moment, we're just going to have to settle for a shade that doesn't quite match our skin tone. Or do we? Enter Cult Beauty's new AI foundation matching app MatchMe.
How does it work?
You'll be asked five straightforward questions – which of these shades best matches your skin tone, what's your preferred coverage et al – then be asked to upload a quick selfie. The app, developed in collaboration with US-based tech solution MIME, will then select your best shade (and product) matches, saving you the slog of trawling the internet for a foundation you like, only to find it's sold out in your shade.
La Roche Posay SpotScan
Developed in collaboration with dermatologists from across the globe, La Roche Posay's AI skin tool offers advice and insight into your skin type, so you can make informed decisions about the products you use on it.
How does it work?
Take three selfies (in good light), upload to them to the site, and the AI will do the analysing for you. The tool looks out for spots, blackheads and pigmentation, and will give you a grade between 0-4, depending on the severity of your skin condition. It will also offer you a before and after glance of what your skin would look like should you choose to follow the tool's product advice. (It's definitely not to be used as a substitute for a trip to the GP, though.)
L'Oréal Virtual Try On
Whether you're changing up your hair colour, or going for the more subtle change of a new lipstick shade, L'Oréal's Virtual Try On app uses AR to let you try before you buy.
How does it work?
Simply select the L'Oréal product you want to try, and upload a selfie or try it on in real time using your webcam. You can flick through shades in real time, too, to see which one best suits you. Ever wondered what you'd look like as a blonde? Wonder no more.
Celebrity news, beauty, fashion advice, and fascinating features, delivered straight to your inbox!
Kate McCusker is a freelance writer at Marie Claire UK, having joined the team in 2019. She studied fashion journalism at Central Saint Martins, and her byline has also appeared in Dezeen, British Vogue, The Times and woman&home. In no particular order, her big loves are: design, good fiction, bad reality shows and the risible interiors of celebrity houses.