'There's more to life than worrying about what people think'
Mother, model and sustainable-beauty mogul Miranda Kerr is the epitome of a small-town girl done good. She talks to Sophie Goddard about mental health, finding her purpose, and rewriting the rules on divorce
PHOTOGRAPHER: NINO MUÑOZ
Miranda Kerr's home in Los Angeles – well, the tiny slice of it I can glean from our video call, anyway – is exactly as you might imagine. Kerr is perched on a cosy-looking loveseat in a bright, airy room that I recognise from a recent Instagram Live with her ex-husband's partner Katy Perry (think white-panelled walls, floor-to-ceiling cream curtains and sun streaming in from the garden through large, inviting windows). Behind her I spot a tasteful white sofa, cream throw strewn artfully across it, with an accompanying pouffe and side table– all designed byKerrfor her Universal Furniture line, she tells me. Everything is white, zen and spa-like. It's fitting, since just out of shot is a selection of her award-winning KORA Organics products (the range she launched in 2009, which is now shipped to 120 countries). If anybody is a living, breathing embodiment of their brand, surely it's Miranda Kerr.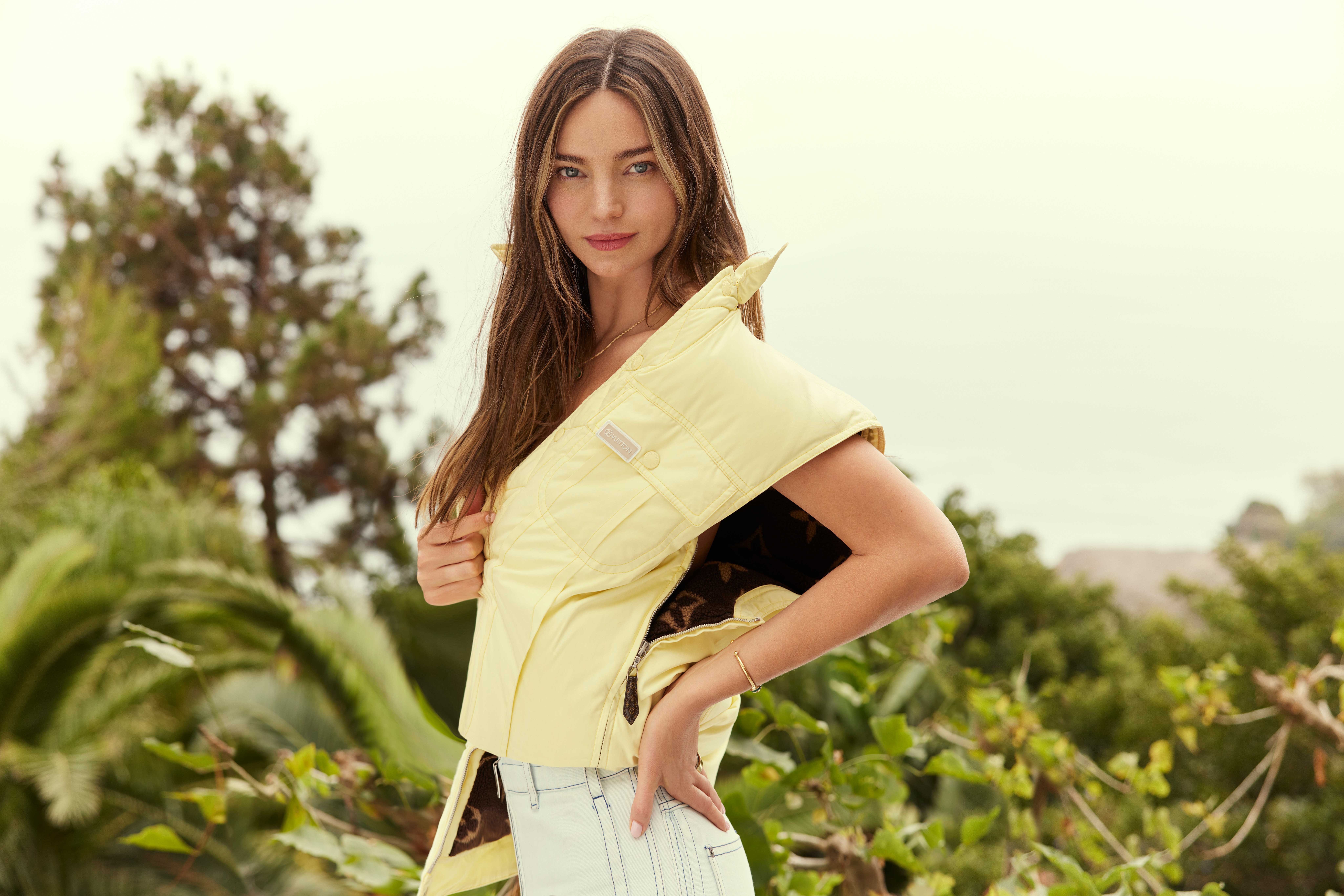 FASHION CREDITS: SLEEVELESS JACKET, JEANS AND JEWELLERY, ALL LOUIS VUITTON
Not that she's all business, of course. Kerr, now 38, warns me that while her youngest son Myles is currently sleeping, his older brother Hart is "hovering around, trying to come in". Kerr lives with her husband, Snapchat co-founder Evan Spiegel, 31, and her children Flynn, 10 (who she shares with ex-husband Orlando Bloom), Hart (3) and Myles (2), her children with Spiegel. "Being a mother has changed my perspective on everything, " she later tells me. "It's the greatest blessing, bringing life to this world."
First, we start by running through the strings to Kerr's bow, and there are many, it turns out. As well as mother and model (she was the first ever Australian Victoria's Secret Angel), Kerr has turned her hand to everything from designing furniture and jewellery, to singing (she released a sultry Elvis Presley cover back in 2014 with Australian actor Bobby Fox) and writing (teen self-help guide Treasure Yourself was released the same year). Now, however, the founder and CEO of KORA Organics seems committed to skincare. Because while Sydney-born Kerr might be most famous for sashaying down the runway, health has long been her passion; becoming a nutritionist was even the backup plan, having already bagged qualifications in the subject in New York and Australia.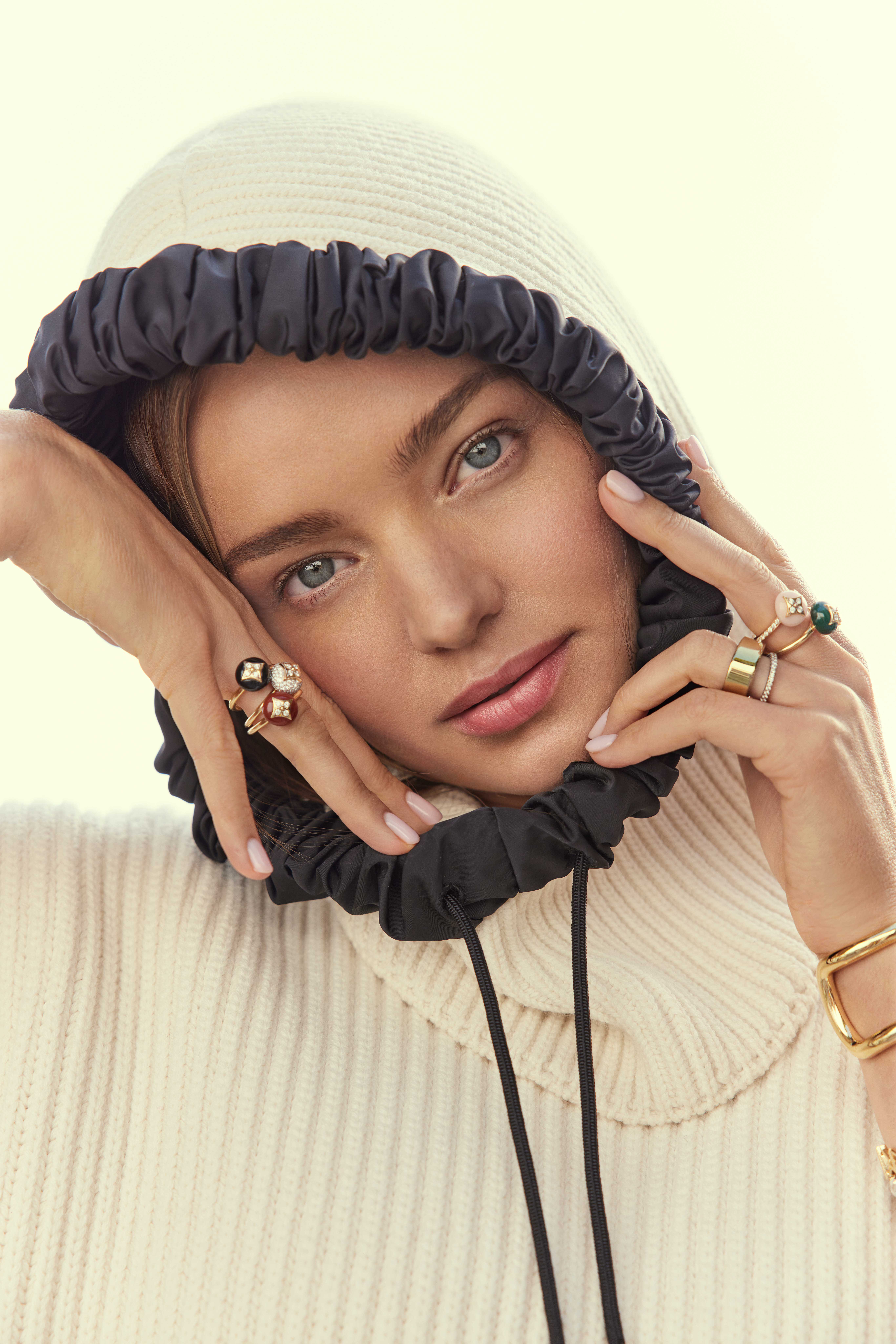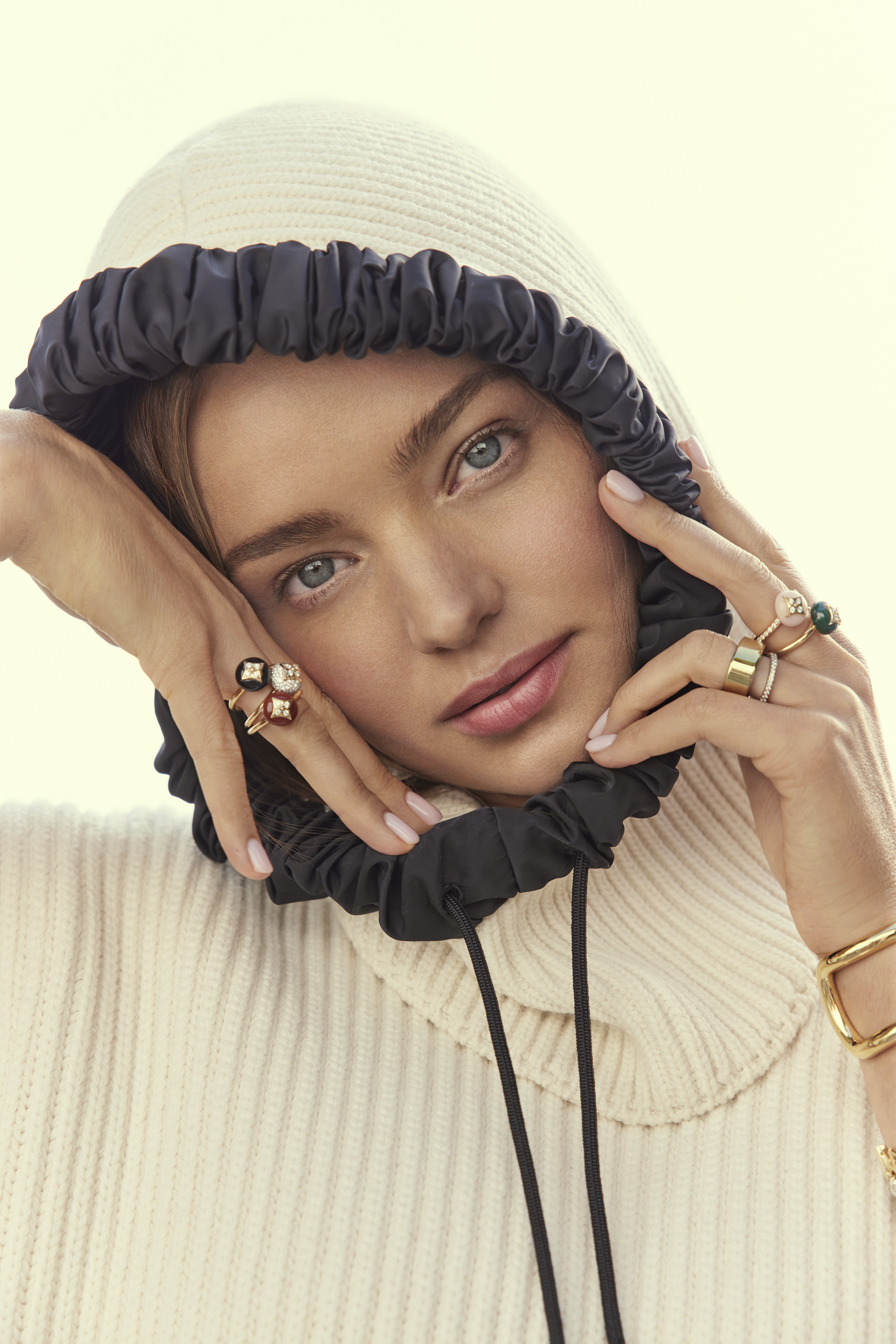 FASHION CREDITS: Hooded sweater, and jewellery, all Louis Vuitton
"When I was 16, my mum had cancer in her spleen, " says Kerr, who was raised in a "modest" house in Gunnedah, New South Wales, before her family (father John, mother Therese, and younger brother Matthew) moved to Brisbane. "We went through our whole household, looking at everything we were using – from goods in the pantry to cleaning products and skincare – and we found out how potentially carcinogenic products could be, " she says. The discovery saw her embark on a mission to find healthier alternatives – except, of course, there weren't many certified organic skin products available. After much discussion with various labs and chemists, Kerr decided to launch her own business dedicated to delivering organic skincare, and KORA Organics was born. (Happily, her mother has since recovered and remains cancer-free.)
Unsurprisingly (unlike many celebrity franchises), Kerr is genuinely proud of her products and she's quick to point out that she's not just the 'face' of her brand. "If you get me, you get all of me, " she says. "I just want to be involved in every facet and every little detail." She notes that the business is 95 percent hers, with just 5 percent of the company still owned by an original Australia-based investor. "Along the way, people have wanted to invest and I've said no. This is my passion and I really feel strongly about maintaining that for as long as I can. Hopefully I can grow the business, hand it down to my children and it can outlive me, " she adds.
'When Orlando [Bloom] and I separated, I went through a very dark phase emotionally…
all of a sudden it hits you and I went into
this kind of depression for a year'
Today, though, Kerr is the very picture of health; her Instagram is peppered with yogi backbends, spirulina smoothies and nut-milk tutorials. "I feel like health is wealth and there's so much to learn. We do need to take care of ourselves, but I also believe in balance and not depriving yourself, " Kerr says, before offering up Vegemite on toast as an example. "It's what my grandma used to make and it's such a comforting, nourishing thing for me. Or if I want to have a glass of wine, I enjoy it and don't believe in being super-strict."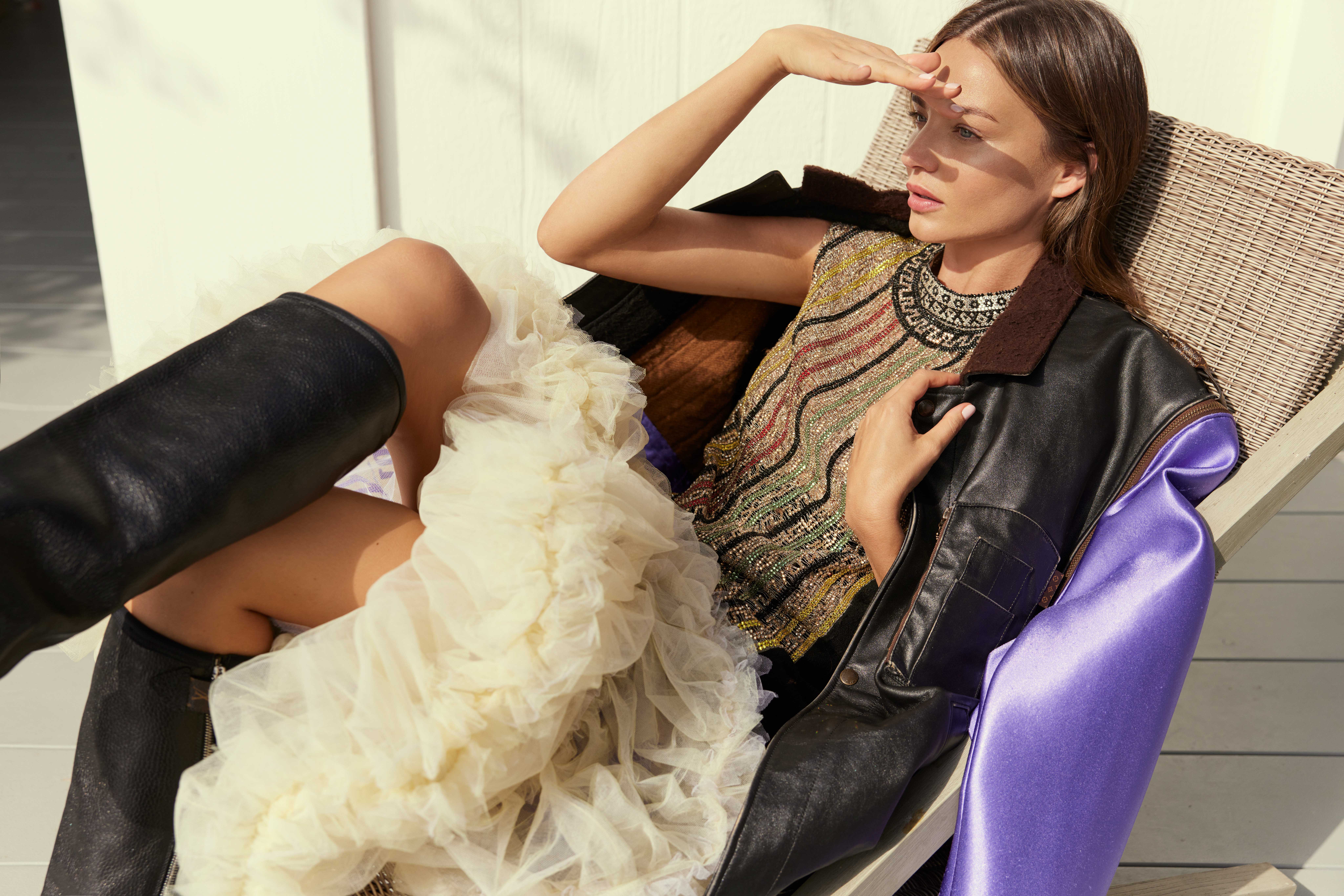 FASHION CREDITS: Jacket, dress, skirt, and boots, all Louis Vuitton
Kerr's trajectory into mega-stardom is quite a feat. Aged just 13, she won a modelling competition in Australia's Dollymagazine and, after several years spent juggling modelling assignments with schoolwork, she graduated and moved to New York, swiftly signing with Next Management in 2004. Her first big break came in the form of a contract with Maybelline New York in 2004; by 2007 – the same year she met actor Orlando Bloom – Kerr had hit the big time, becoming a Victoria's Secret Angel and international supermodel. Bloom and Kerr married three years later, with son Flynn arriving in 2011. By 2013, however, the pair announced their separation and subsequent divorce. Kerr is unfailingly honest about that period. "When Orlando and I separated, I went through a very dark phase emotionally that hit me out of nowhere, because I'm a naturally happy person, " she says. "I don't know what happened. At first we'd both been like, 'OK, this is the right thing', but all of a sudden it hits you and I went into this kind of depression for a year. It was really hard to get out of that."
It's difficult to picture Kerr as anything but upbeat – how did she cope during that time? "It definitely helped being as consistent as I could be with my routine and taking every day as it comes, " she says. Aromatherapy, essential oils, rose-quartz crystals, yoga and meditation helped, too, she adds, but ultimately it was just time and space that allowed her to move past it. "There's no shortcut, " she says. "Just like grieving when someone dies, there's a process and you have to go through those different emotions. Then you come to a point where there's more acceptance… It's just part of being human."
'Being a mother has changed my perspective on everything… it's the greatest blessing, bringing life to this world'
Reflecting back on that period now, Kerr says she sees it in a different, more positive light. "I think that having that challenging time in my life – and also when my first boyfriend died in a car accident [Christopher Middlebrook, who inspired Flynn's middle name] – was important for growth. You get to learn deeper parts of yourself and become even more insightful once you've got through it. But it's important to ride that wave of emotion and not fight against it… To be gentle and kind to yourself." Now, she says, it's come full circle. "Orlando and I are great friends, and I have so much respect and admiration for him as a person and father, but we're so much better [as] friends than partners."
A year after separating from Bloom, Kerr met Spiegel and the couple married in 2017 (Bloom started dating Katy Perry in 2016, with the pair welcoming daughter Daisy Dove last year). "That was really great because I never knew I would meet someone and get married again, and end up having more children, " Kerr says, her face noticeably brighter at the mention of Spiegel. Their first date, it turns out, was very on-brand. "It was a Kundalini yoga class, " she says, smiling. "We had met each other at a work event – a Louis Vuitton dinner; he was sat next to me. But our first date was a couple of months later. He made a gingerbread house and bought one for Flynn and I – it even had our names on. It was very sweet of him to do that. He literally got thrown in the deep end with the yoga, but to this day we still do Kundalini yoga every Sunday via Zoom.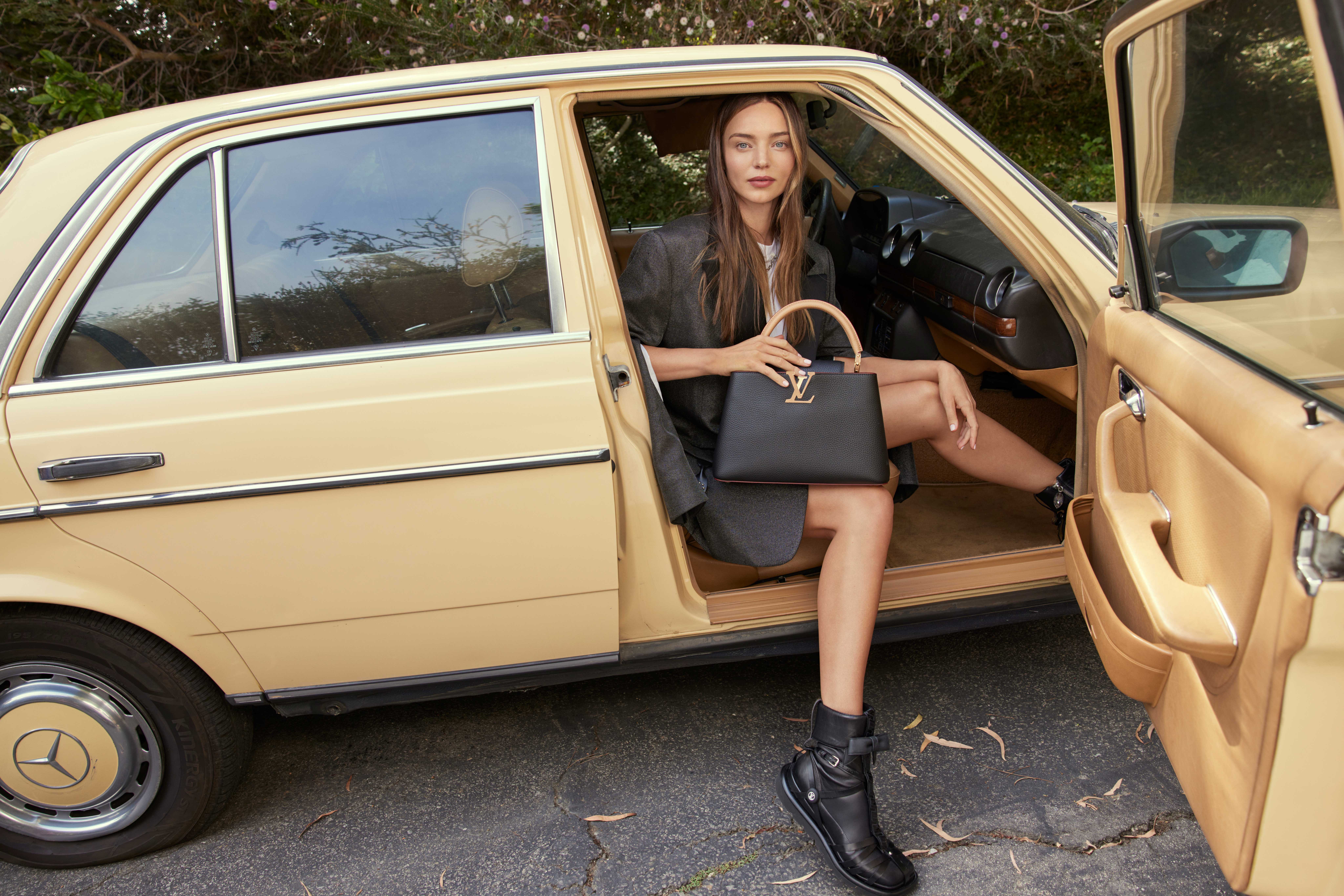 FASHION CREDITS: Tuxedo jacket, dress, boots, and Capucines MM bag, all Louis Vuitton
"He's definitely wise beyond his years." she adds, referring to the seven-year age gap. "He's an old soul who has a desire to make the world a better place and help people in so many ways. He is an inspiration to me."
I mention quotes she's previously given about never believing she'd meet anyone after Bloom. Could she really not picture it? "I really couldn't. I couldn't see myself meeting someone I wanted to settle down and have a family with. At the time, I was dating here and there and wasn't taking anything seriously at all. Then I met Evan and he really wanted to be in a serious, committed relationship. It was incredible to meet someone who was so committed in every way – to me, to his work, to his family."
'I really love and appreciate Katy [Perry] and Orlando [Bloom] really loves and appreciates Evan [Spiegel], which is great. We go on family holidays together'
From an outside perspective, the very amicable Kerr and Spiegel, Bloom and Perry foursome appears to be the perfect example of blending relationships past and present. The two women speak warmly about their friendship and are quick to support each other publicly (back in April, Perry took part in an Instagram Live chat with Kerr for KORA Organics, referencing her love of Kerr's healthy influence on their "modern family"). They also enjoy yoga and karaoke sessions together. In reality, though, how does co-parenting work?
"From the day we decided to not be together, [Orlando and I] made a commitment to each other to put Flynn's needs first, " Kerr confides. "Having that as a guideline was really great. Sometimes what can be annoying is trying to line up schedules, but, at the end of the day, we have so much love and respect for each other as human beings."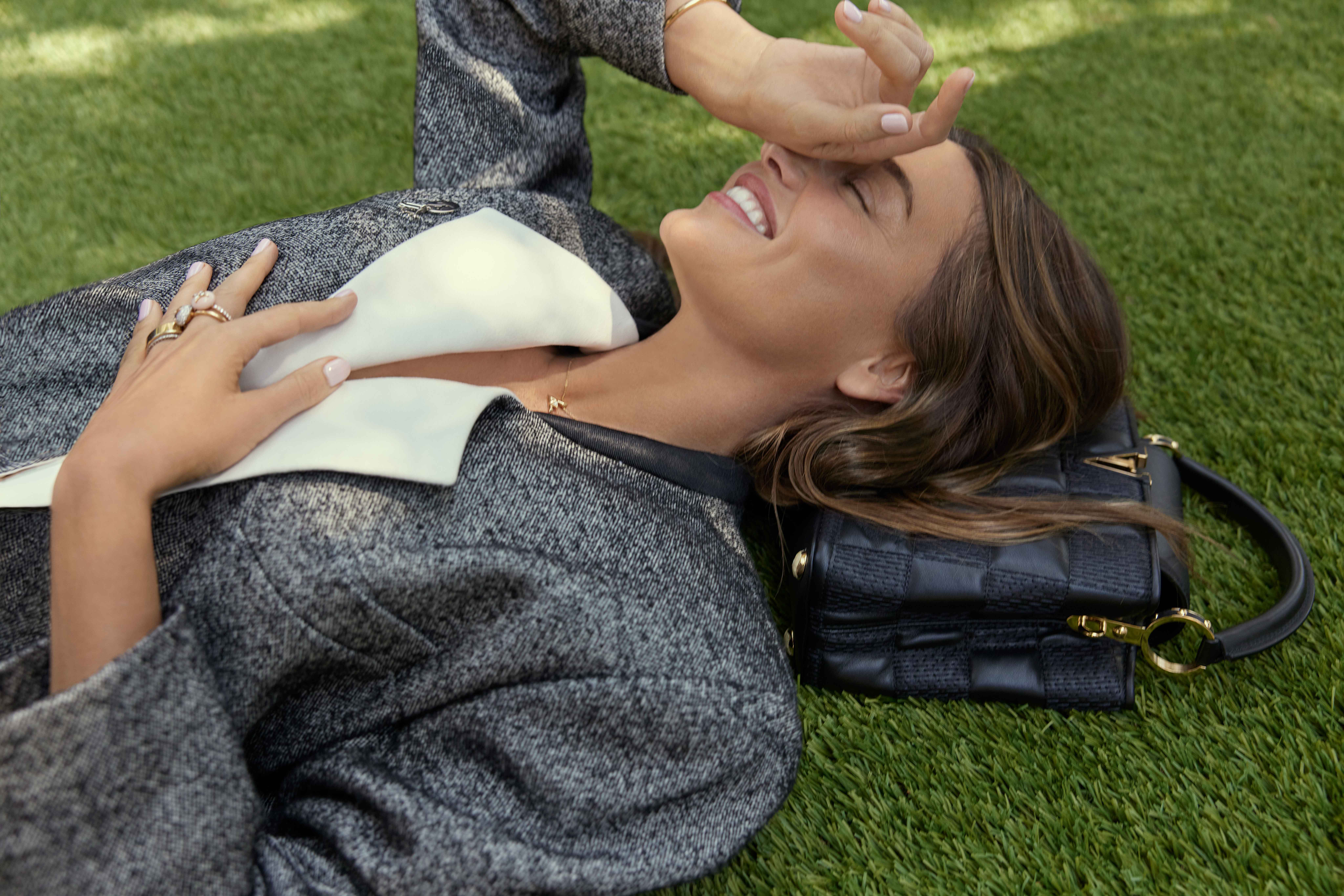 She also confirms that the famous four are genuinely close friends. "We hang out and enjoy each other's company. I really love and appreciate Katy and he really loves and appreciates Evan, which is great. We go on family holidays together, we have Christmas together. We all like each other's company and I feel so lucky for that. We said to Flynn, 'Now you have even more love'. I think he feels very good about that. He knows having two happy parents separated is more important than two unhappy people together."
With their combined success and wealth (Kerr and Spiegel's net worth is reportedly more than £10 billion, and the couple own huge, sprawling homes in LA, Malibu and Paris), I ask how they tackle bringing up their children in such opulence – especially considering, by contrast, Kerr's own family "grew up with really not much" at all. "It's something I'm very conscious of, and my husband [is] too, " she nods. "Before the pandemic, we were doing a lot of hands-on charity work, where Flynn would go down with us to a homeless shelter for mothers – we'd make food, sit with the mothers, and talk with them about how they were feeling and what they needed."
'I just want to be the best version
of myself – the best partner, the best mother, and do the best I can with
what I'm passionate about'
During the pandemic, Kerr and Spiegel also donated (both personally and via Snap Inc. and Snap Foundation) more than $10 million in aid to support Covid-19 relief efforts, and they're mindful not to spoil the children, too. "When it's a birthday or Christmas it's fine [to have presents], but there's no gifts in between. It's important they understand the most important thing is the time we have together, " Kerr adds.
With our time coming to an end, I ask how she continues to handle fame – how hard is it to ignore inaccurate stories about her personal life, for example? "I think in the beginning, I was like, 'Wow that's weird. How can they say that, that's not even true!' But now, being 38, having three children, and being where I am in my life, I just feel like that isn't stuff I'm going to waste my energy on, " she says.
"There's more to life than worrying about that. I just want to be the best version of myself – the best partner, the best mother, and do the best I can with what I'm passionate about. If people like it and benefit from it, great. But if they don't, then that's OK, too. I'm just really enjoying myself."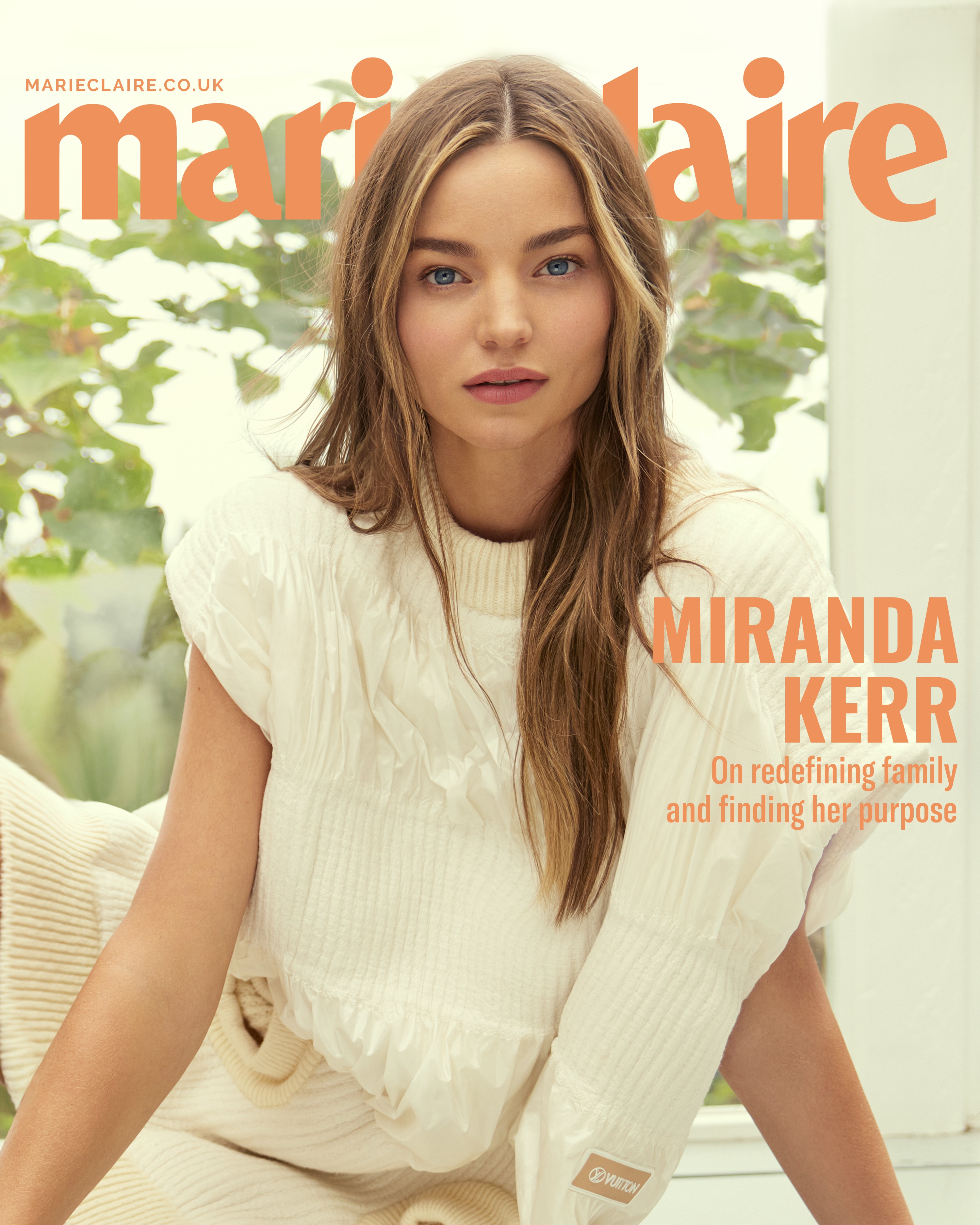 CREDITS
TALENT: MIRANDA KERR
PHOTOGRAPHER: NINO MUÑOZ AT COPIOUS MANAGEMENT
EDITOR IN CHIEF: ANDREA THOMPSON
CREATIVE DIRECTOR: LISA OXENHAM
WORDS: SOPHIE GODDARD
MAKE-UP ARTIST: ANDRE SARMIENTO AT A-FRAME AGENCY
stylist: Katie Mossman
HAIR STYLIST: ERICKA VERRETT AT A-FRAME AGENCY
Nail artist: Miwa Kobayashi
PRODUCTion: GRACE WARN AND TOREY CASSIDY
PHOTOGRAPHY ASSISTANT: KURT MAGNUM
DIGITAL TECH: BRETT PANELLI
DESIGN: ANA OSPINA
Chief Sub-Editor: Nicola Moyne
Tech Advisor: Oliver Bourne
cover fashion credits:
Sweater, boots, and jewellery, all Louis Vuitton