9 Shopping Destinations You'll Want To Book Flights For Immediately
Forget London and New York, some of the world's best shopping destinations are hidden in far flung corners of the globes. Check out our top picks and start planning your next girls' holiday...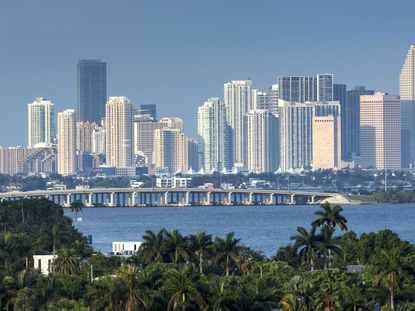 (Image credit: Rex Features)
Forget London and New York, some of the world's best shopping destinations are hidden in far flung corners of the globes. Check out our top picks and start planning your next girls' holiday...
1. Miami, USA
Yeah, you can roller skate on the promenade and spot rowdy college kids during spring break, but you can also get some of the best vintage fashion in the States in Miami. The best haunts aren't obvious, so it's worth doing your research in advance. Our top spot is C.Madeleines, a vintage store so crammed with glorious designer finds, that Patricia Fields thrifted most of Carrie Bradshaw's Sex And The City wardrobe from it. If that hasn't got you searching SkyScanner for flights, it's worth taking note of the vast selection of Chanel handbags and suits the store has to offer...
2. Lille, France Get yourself on the Eurostar, because Lille is the place to be. One weekend a year at least. The French city hosts the ultimate flea market weekend at the end of the summer, boasting 10,000 exhibitors over 62 miles of street. Uh huh. Expect to hunt out everything from antique maps and signs to armchairs and pretty tea dresses, starting from only a few pounds. Then, when the rummaging gets just a bit too much, enjoy Brasserie De Lille's signature dish, moulle et frites, complete with a side of beer. Yum.
3. New York, USA
Forget Fifth Avenue and Manhattan's sprawling streets lined with shops, the best bargains are to be had 45 minutes away upstate in Woodbury Common. Combining brands like J.Crew and GAP with Tom Ford and Michael Kors, the massive outlet centre is the ultimate hotspot for ridiculously cheap designer buys, with year-round savings of up to 65 per cent. Crikey. Our top tip is to travel outside the Christmas season and weekends to avoid the queues. The best bit? Three words: Kate Spade handbags.
4. Istanbul
You can't visit Turkey's most vibrant city without taking a trip to the Grand Bazaar, Istanbul's huge indoor market. So insanely brilliant is it, it's even having a Las Vegas mall modelled on it – seriously. The 5,000-stall establishment is over 500 years old and is drenched in authentic Turkish history. The best steals include local herbs and spices (that smell, and look, sensational), traditional trinkets and jewellery – diamonds and gold are much cheaper here than in the UK, so prepare to treat yourself to one-off pieces without sobbing at your bank balance afterwards.
5. Palm Springs, USA
Not just the pretty face that holds Coachella music festival every year, Palm Springs is California's absolute gem for vintage shopping. Specialising in mid-century design, the desert city is a hub for snapping up cool, quirky furniture and homeware pieces ranging from dis-used diner stools to amazing brass drinks cabinets. Oh-er. Fashion-wise, it's all about thrift shops for one-off designer pieces, think Dior bags, Marc Jacobs watches and Calvin Klein clothes. We suggest taking one very empty suitcase...
6. Goa, India
Nestled on the west coast of India, Goa is home to some notoriously good flea markets. Flea markets that actually sit right on the beach. ON THE ACTUAL BEACH. Source local antiques and produce at tiny prices, plus, enjoy local cuisine and fresh fish whilst you hunt out one-off finds to take home. Our favourite part? The night markets. Think entertainment, performers, drinks and shopping all under the exotic night time sky. Bliss.
7. Dubai
It's already a holiday hotspot for Brit tourists, but try to think of it as more than just a modern fantasy land with exquisite beaches. Dubai houses one of the biggest malls in the world, the UAE Shopping Centre and is also home to an annual shopping festival – we know right, Glastonbury, who? Held in January, the event brings with it tonnes of ridiculous discounts worth getting hold of. Although most things are tax-free, you'll only notice a real difference in costs on luxury goods. Book your long weekend visit for sunshine, expensive jewellery and more than a few pairs of designer shoes...
8. Marrakech, Morocco
Nestled alongside snake charmers, storytellers and camels, just off Jemaa el-Fnaa, is Morocco's real-life Aladdin's cave. Glistening with trinkets and colour and bustling with a combo of tourists and locals, Marrakech's souks are a hub for shopping, bartering and bagging bargains. Alongside intricate lamps and furniture, stand leather handbags and intricate woven fabrics, all displayed in an undercover maze consisting of hundreds of stalls. Don't be put off by some of the daunting shop owners when haggling, know how much you want to pay for something and be confident enough to walk away unfazed. Expect handbags, lanterns and throws from just £10.
Celebrity news, beauty, fashion advice, and fascinating features, delivered straight to your inbox!