Why everyone is going to London's hidden natural escape this season
Opened and approved by Sir David Attenborough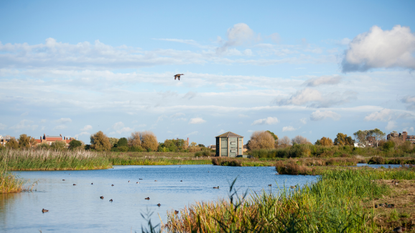 (Image credit: Getty Images)
With the final summer days ahead we are all searching for places to soak up the glorious sun. From a Cornish beach resort escape to pure relaxation by the Lake District, the UK has a plethora of options for all.
However, for those who prefer to stay at home and enjoy a different staycation- this one's for you. Just a mere 15 minutes from Barnes station in London, lies a man-made natural escape filled with breathtaking wildlife that instantly transports you to the countryside. This local oasis is known as the WWT London Wetland Centre.
The man-made reserve was opened in 2000 by none other than Sir David Attenborough, who has since dubbed the centre as 'an extra lung for Londoners. With an impressive amount of wild species and 105 acres of acres worth of lakes, pools, meadows, and gardens for the perfect city escape. Here are some of the most impressive things you should know about the WWT London Wetland Centre.
They are home to a spectacular amount of species
Over the past 400 years, 90% of the UK's freshwater wetlands has been destroyed. This reserve prides itself for being part of a rewilding programme for species that have been threatened and over 226,227 birds were recorded at London Wetland Centre. Including the UK's fastest declining mammal, the water vole.
This year, the WWT London Wetland centre has also adopted a friendly flock of Cape Barrens geese. These geese are equally as impressive as they are beautiful. It is incredible to know that this species, which was once on the verge of extinction, has now been saved due to strong conservation efforts.
Most notably, you would also be able to experience Asian short-clawed otters at the reserve. These are the smallest of all 13 species of otters worldwide. On a day to day basis, you can see these otters clawing about the day swimming, playing, grooming and even eating. As part of the reserve's daily activities, you are able to take part in this animal's feeding time. Perfect family fun.
They have multiple rooms available for hiring
Think countryside gathering, without the extensive travel. At the reserve, you are able to choose between three different rooms that are able to accommodate your needs whether you are looking at organising a birthday party, corporate event hire or a wake. The Water's Edge Room, Observatory, and H20 all offer the perfect rustic setting in the city. Capacity ranges from 90 - 165 guests and is dependent on seating, chosen room, and dining options. The team is prepared to cater for formal dinner gatherings, work lunches, and canapes. Regardless of the room chosen, a beautiful scenic view is a guarantee.
All guests will also be offered free parking on the day and access to explore all 105 acres of this beautiful reserve.
The reserve offers educational opportunities for children
It's an amazing day out for families with children that can be educational too. The 'educational day out' is a popular option for families all year round due to the different wildlife sightings that are subject to seasonal temperatures.
Schools are able to explore curriculum-linked options which include pre and post session plans and resources for children to expand their knowledge beyond the reserve. Before committing to one of these sessions, teachers are able to access the site for a free familiarisation session to conduct any risk checks. This option comes with space for children to leave their bags, have their lunch, and free bus parking.
For families looking to make the most of the site's educational opportunities, there are a variety of options you can choose from. From its purpose-built Pond Zone to unforgettable close encounters with wildlife, including the site's beloved otters.
It is the perfect spot for photography enthusiasts
From illustrious sights to rare wildlife, the WWT London Wetland Centre offers great photography opportunities. Whether you're seeking a scenic backdrop or looking to photograph exotic birds from the Peacock Tower, you are bound to find a sight that will make you question if you're in London.
Each space of the centre offers a rare opportunity for photography all year round. During the summer months, you are able to make the most of its flourishing greenery. During winter, you are able to enjoy the sights of wild ducks like wigeons, teal and pintail.
A key highlight is the Peacock Tower hide, three storeys high and offering a 360 panoramic view of the reserve with an added sight of the London skyline. This hide, along with the rest of the nature reserve is fully accessible to all visitors.
It is open all year round
This unique reserve is open 7 days a week, 364 days a year, only closing on Christmas Day. Opening times may vary depending on the season in order to make the most of seasonal wildlife. It is recommended to check on their website in order to stay up to date with any changes in opening times.
Prices for admission vary depending on educational packages and the option to contribute to the Government's Gift Aid scheme as a voluntary donation.
From wildlife to a variety of activities, the WWT London Wetland Centre is the go-to place to explore all year round. Catering to all ages and with accessibility options available, this reserve is able to provide options to make sure all visitors make the most of their experience. With venue hire available, you can also get incredible options for those looking at a scenic corporate escape or celebration of a special occasion. The options are truly endless.
For more information on booking, opening times, and beyond visit WWT London Wetland Centre.
Celebrity news, beauty, fashion advice, and fascinating features, delivered straight to your inbox!
Sofia Piza is the Producer and Writer at Marie Claire UK.
After living in five countries, Sofia finally decided to settle down in London- just a mere 5,000 miles away from her native Mexico.
These days, you can find Sofia helping in all things production and scavenging the internet for the latest TikTok trends. Sofia got her start in the fashion industry working in retail and PR before taking the leap into journalism and production- living her happiest and most authentic life.