Tokimeite, Mayfair, London
Marie Claire's deputy editor tries Japanese fine dining in the heart of Mayfair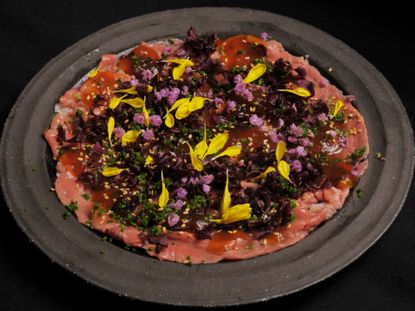 Marie Claire's deputy editor tries Japanese fine dining in the heart of Mayfair
Every dish at Tokemeite is arranged like a picture. The mixed salad arrives looking like an Impressionist masterpiece, with shaved spirals of carrot and cucumber, delicate leaves and what look exactly like buttercups. All is served on original ceramics handmade in Japan. It's artistic to say the least. The newly opened restaurant is in the heart of Mayfair and attracts a high end clientele many of whom are Japanese. The service is delightful and attentive, our waitress managing to blend a formal Japanese welcome with highly knowledgeable insights (the food was meant to make you feel like "a butterfly in your stomach") and a sense of humour, too. Over two floors there are quite a number of options for how you can be seated according to your mood and the size of your party. Downstairs choose from intimate booths; a counter seat watching the action at the grill; or grouped at a large block. Upstairs is divided into two intricately designed areas, one with an amazing light installation to signify water, the other with timber latticework to signify wood – the inner sanctum. The cocktails are a must – Plum sake, sweet vermouth, vanilla infused vodka and crushed strawberries proved a particularly winning combination, fruity with a naughty kick. The plates are designed for sharing – Wagyu Rei Shabu (beef carpaccio) and Shimesaba Sunomono (marinated mackerel) were a delicate introduction, followed by adorably light fluffy tempura, flavoursome ribs, a special melt in the mouth beef cooked at the table with truffle sauce, watercress and mushrooms and of course the famous buttercup salad. There would have been an option to go on to order more in the form of sushi and sashimi, and desserts included Apple Tatin with caramel ice cream and sundae with marscapone and coffee crumble. It sounded delicious but not very reminiscent of butterflies in the stomach so in the spirit of Japanese elegance we restrained ourselves and wandered out into the Mayfair night perfectly sated and inspired to live more beautifully.
TOKIMEITĒ 23 Conduit St, London W1S 2XS
www.tokimeite.com
Interior shots by Nacasa & Partners Inc
Celebrity news, beauty, fashion advice, and fascinating features, delivered straight to your inbox!