Gigantic Harry Potter wands will light the way home for Londoners this winter
Lumos!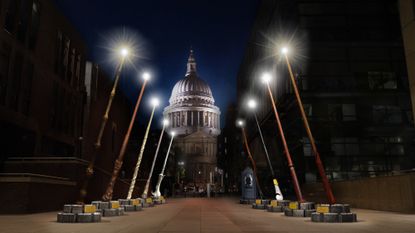 Lumos!
We hope you've practiced your swish and flicks and memorised your incantations. It turns out that London is set to get a little bit more magical this month, as nine gigantic wands are going to be installed nearby one of the capital's biggest attractions: St Paul's Cathedral. Beyond being a super cool nod to the wizarding series, they also light up at their tips to guide the way for those finding their way home.
The installation is officially called Fantastic Beasts: Wizarding World Wands Supporting Lumos and will be open to the public between 18 October and 12 November. Forget going to see Oxford Street switch their lights on, as you'll be able to murmur your own Lumos and watch the fifteen foot wands light up the darkness at 6.45pm every night.
And while we're on the topic of the Lumos spell, the installation is all in support of J.K. Rowling's charity of the same name. Aimed at bringing orphans a better life and 'ending the institutionalisation of children around the world', the gigantic wands are intended to spread awareness of Lumos' mission.
If you're around the area on one of their Wizarding Wednesdays, it's also worth popping down to see what's happening as apparently there's going to be a whole range of Potter-themed activities: think live musical performances of the films' stunning scores and wand training sessions. (Note: no Unforgivable Curses allowed.)
It's also been speculated by The Evening Standard that Daniel Radcliffe could potentially be involved in some way, as the wands will be installed just a stone's throw away from his old school City of London School for Boys.We reached out to the team and sadly, they clarified that none of the actors from the franchise will be in attendance which was a bit of a bummer.
Josh Berger, the President and Managing Director of Warner Bros. Entertainment UK, said, 'London has played a huge role in the on-screen legacy of the Wizarding World...Fantastic Beasts: Wizarding World Wands supporting Lumos is emblematic of this unique relationship, celebrating the magic of Harry Potter and Fantastic Beasts here in London while raising awareness for the vital work being done by Lumos on behalf of some of the world's most vulnerable children.'
Want to head over for a Wizarding Wednesday? Here's a breakdown of all the events that are happening...
October 31, Halloween
For a spooky Harry Potter experience, you can head over to the Wands Ready installation to learn all about the dark arts and more about each of the character's wands. Better brush up on your Defense Against the Dark Arts knowledge, anybody got Remus Lupin's number?
November 7
Love the music from the Harry Potter and Fantastic Beasts films? See the soundtrack come to life at the Wands Ready installation, where a military marching band will perform your favourite tunes for a magical experience. We can hear the theme tune in our heads already...
Fantastic Beasts: The Crimes of Grindelwald will be released in the UK on November 16.
Celebrity news, beauty, fashion advice, and fascinating features, delivered straight to your inbox!
Megan is a freelance journalist who covers entertainment and all things lifestyle, with a particular passion for fashion, beauty, travel and Keanu Reeves stories. She has previously worked on staff for titles including Marie Claire UK, CNN Style and The Evening Standard and has written for titles such as Bustle UK, Wallpaper*, Forbes and Hong Kong Tatler. She splits her time between London and her hometown Hong Kong, where she currently lives with the love of her life - an elderly dog named Poppy - and her husband.