You might be surprised by the health and wellness trends set to be big in 2023
Can you predict any?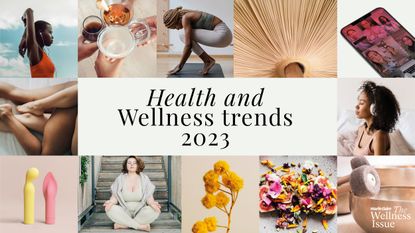 (Image credit: Ana Ospina)
What a year 2022 was. After relentless lockdowns, numerous Covid variants and travel restrictions, the world finally opened up again, with in-person classes, holidays, and life as we knew it pre-pandemic back with a bang.
It returned at what felt like a hundred miles an hour. Gym classes soared in popularity, as did running events like the London Marathon - app Strava saw an 122% increase in users completing marathons last year. Sea moss trended on Tiktok, menopause finally became mainstream, and collagen continued to soar in popularity, too, taking the top spot as Holland & Barrett's most searched term of the year, with sales increasing by 59%.
One things for sure - physical and mental wellbeing is still firmly on everyone's radar, largely because the lockdowns taught us how much balanced eating, a positive outlook and movement can boost our daily lives. So, what does 2023 have in store for the world of wellbeing?
The health, fitness and wellness sectors continue to boom in a post-Covid climate and people are putting their wellbeing first as a preventative measure against a backdrop of financial squeeze. There's a whole range of trends expected to take the reigns this year - keep scrolling.
12 health and wellness trends to know about for 2023
1. Mushrooms as the new CBD
Mushrooms are likely already on your radar as a next-gen nutrition powerhouse, but 2023 will see them become as mainstream as CBD and collagen. Rachel Chatterton, Head of Food Development at Holland & Barrett, is predicting a "shroom boom" - that is, supplements, extracts and mushroom-derived beverages surging in popularity. "This is partly down to a shift towards eating more sustainably – the growing demand for vegan and plant-based meat alternatives will see button and shiitake mushrooms showcased as desirable meat substitutes that also pack a real flavour punch," she explains.
Not just that, but we'll also see medicinal mushrooms and mushroom stacking - combining shrooms with other adaptogens, like ashwagandha - continue to make headlines. The Duchess of Sussex invested in a US-based shroom coffee company, Clevr, in 2020, and the functional mushroom category is predicted to soar from $24.9bn last year to $47.2bn by 2028.
While more research is certainly needed, initial studies have found them to be nutrition powerhouses, reducing stress, easing burnout, and boosting energy, relaxation, immunity and more. I'm a personal fan of the DIRTEA mushroom cacao super blend, a hug-in-a-mug of organic raw cacao, reishi and ashwagandha.
Shop the trend now:
---
2. Glucose tracking and eating for hormone health
You'll likely have seen your social media feeds flooded with women eating for hormone health, with accounts like those of biochemist and author Jessie Inchauspé, aka the Glucose Goddess, leading the way. Her goal is simple: to educate her followers on the effects food, movement and more can have on both your hormone and energy levels.
Women's health is finally getting the attention it deserves, and this year will see personalised solutions lead the way. Case in point: Healthtech start-up Ultrahuman raised $17.5m in funding this year, with the aim of re-inventing fitness tech via its glucose-tracking wearable to personalise your diet and exercise. Pair that with the fact that 2022 saw the launch of the first-ever Women's Health strategy for England and the launch of numerous celebrity and TV campaigns around the subject, and it's clear that interest is only growing.
---
3. Syncing your circadian rhythm
Sleep is big business - we all know that eight hours a night is key to wellbeing - but this year will see a focus on syncing of circadian rhythm to optimise the quality of your shut eye. Not sure what that means? Well, your circadian rhythm is essentially your body's internal clock, which follows a 24-hour cycle and constantly runs in the background to carry out essential day-to-day bodily functions.
One of my favourite nutritionists, Grace Kingswell, raves about the importance of natural light in the morning and light-blocking glasses before bed to prevent interference with your body's natural clock, and this will only become more mainstream this year as we continue to prioritise our rest. Alex Glover, Senior Nutritionist at Holland & Barrett, predicts a rise in circadian eating – that is, switching from evening to lighter afternoon meals - and leading immunologist and founder of Cignpost Professor Denis Kinane predicts prioritising your natural circadian rhythm will shift from being a luxury to a necessity.
Syncing yours can help to regulate hunger and digestion, stabilise body temperature, boost mood, improve fluid balance, and maintain other important physiological processes. Expect to see a boom in the popularity of sleep tracking apps, too.
Shop the trend now:
---
4. Working out for immunity and mental health
If Covid taught us anything, it's that movement really can be a game changer in terms of how it makes us feel, both physically and mentally. After a December that saw us taken out one-by-one by the dreaded flu, Covid, or cold, 2023 will see a re-prioritisation of wellness for the feel factor.
It's no news that balanced eating and movement can improve immunity and make your brain feel good, too, but next year will see people continue to prioritise health because of how it makes them feel, versus how it makes them look.
As Kinane points out, NHS wait times are continuing to reach record highs, so the importance of preventative health measures is even more important. "Exercise can help boost immunity, improve overall health and keep the heart happy, helping to keep the doctor away," he stresses.
---
5. Ayurveda making a resurgence
Next year looks set to see a resurgence of ancient healthcare traditions, like Ayurveda, so get ready for age-old ingredients to take centre stage once more.
Why now? Well, an increase in scientific scrutiny is finally giving Ayurveda ingredients the credentials they need. Glover recommends watching out for the likes of curcumin, saffron, and KSM-66 Ashwagandha - a superior clinically-studied form of Ashwagandha - boosting your foods, supplements, and snacks. "We're seeing ancient wisdom blend with modern scientific evidence across a number of traditional ingredients," Glover explains. "It's an exciting step forward in substantiating their natural effectiveness."
Dr. Lola Till also predicts that high vibration foods - that is, fruits, vegetables, berries, and so on - will only continue to be championed for their energy-boosting properties.
Shop the trend now:
---
6. Tiktok fads being debunked
We've all seen a Tiktok health trend or two this year that's, ahem, questionable - anyone remember the Nyquil challenge, which saw people cooking raw chicken in cold and flu remedy? (The FDA swiftly issued an official statement warning against cooking with the product shortly after it went viral).
FreeleticsCEO Daniel Sobhani reckons that 2023 will see people beginning to seriously question what they see on social media, especially Tiktok, digging deeper to decipher what is credible content or what he calls "super spreading of health and fitness misinformation."
"Sadly, social media influencers are now the main source of health and fitness information, but in 2023 we will start to question why," he predicts. "Just because the content is free and relatable doesn't mean it's credible, and we'll see a shift away from prioritisation of style over substance."
Fingers crossed for this one...
---
7. Reformer Pilates
You might have thought low-impact workout Pilates has already had its moment, but it looks set to be even bigger next year. Even Harry Styles is a fan, with stars including Hailey Bieber, Jennifer Aniston and Kendall Jenner all swearing by one particular type, Reformer, which sees you carry out the workout on a Reformer bench.
New stats from Health and Fitness Education England, one of the leading training boards for personal trainers and instructors in the UK, found 70% of people would choose Pilates over yoga, most citing its potential for muscle toning, strength building and flexibility training as their main reasoning.
Hollie Grant, founder of Pilates PT, predicts that it'll only continue to soar in popularity this year, largely because it can be done at home, but also because it's low-impact (great for anyone with injuries or looking to reduce stress through the body) while building strength and improving posture. Keen to learn more? Our guide to the benefits of Pilates has everything you need to know.
Shop the trend now:
---
8. Sound therapy
Ever heard of sound therapy? If you haven't, you will have by the end of 2023. It's an ancient healing practice that's been used for centuries across different cultures to both destress and relax. How? Well, by playing low-frequency sounds, which have been linked to brain relaxation (higher frequencies are thought to encourage focus).
Now more than ever, Brits are looking for ways to relax and switch off from everyday life, with search for music therapy gradually on the rise. Studios are taking this into account, with David Lloyd Clubs recently launching what they're calling the UK's first soundwave therapy class, "Binaural Beats." Taking place in specially designed meditation rooms, participants have the option to choose from a number of tracks using different frequencies depending on whether they're feeling anxious, tired, or fatigued.
Steph Holland, Head of Spa and Lifestyle at David Lloyd Clubs, explains that it can be a powerful and effective tool to change the brain's state and boost mood. If you need convincing, give this sound bath a go.
---
9. Mindful drinking
We've already seen a huge shift in attitudes towards drinking over the past few years, with the number of people going teetotal on the rise and 2020 stats showing a quarter of the UK doesn't drink. Trending Tiktok hashtags "damp lifestyle" and "sober curious" - both of which have millions of posts detailing how to enjoy alcohol more mindfully - only further prove that millennials and Gen Z's are moving away from the previous binge drinking norm.
As Professor Kinane expands, drinking in moderation comes into focus during Dry January but will last continue to boom this year, with restaurants and bars going out of their way to offer alcohol-free alternatives.
---
10. Safer sex