I've never been on a wellness retreat before - but feel like a different person after going on my first
Here's what I learnt.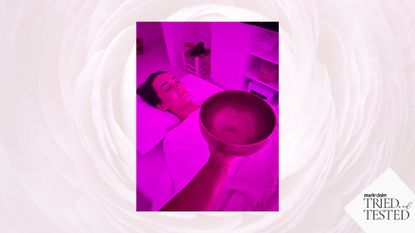 (Image credit: Dionne Brighton)
As a self-confessed wellness enthusiast, it was about time I took the plunge and went on my first wellness retreat. After years of trying out the latest wellbeing trends and wellness tips, I was curious about them, sure, but hadn't found one that felt - well, very me.
Many I'd looked at before felt either restrictive or repetitive, neither of which sounded particularly appealing. That, coupled with the fact I couldn't fathom how a few days away from my regular routine could truly make a difference in my life. When I said I was a wellness enthusiast, I meant it - my daily routine already involves a whole heap of wellbeing boosters, from a morning EFT tapping session, to regular sessions on my go-to hypnotherapy app, to a weekly massage with a bit of added Reiki healing thrown in for good measure.
That said, when I heard one of London's leading sound therapists was hosting a sound healing retreat in the south of Italy, I couldn't say no. Sure, I had my own apprehensions about how a wellness retreat might be - too intense? Too woo woo? - but I couldn't have been more wrong. Taking the step and attending the retreat has changed my outlook and my daily routine wildly. Keep scrolling to see how.
I tried a wellness retreat for the first time - and couldn't believe how much I learnt
What is a wellness retreat?
Before diving into my personal experience, let's explore what exactly a wellness retreat is. Designed to promote holistic wellbeing, wellness retreats are essentially holidays organised by experts in the know where you can reset physical, mental, and emotional health.
While they'll vary from retreat to retreat - some might focus on mental wellbeing and meditation, others, daily yoga and vegan eating - the premise is the same across them all: to connect you with a group of likeminded strangers and gain access to personalised tips from some of the top industry experts.
Sounds good, right? A one way ticket to tranquillity and a break away from your daily routine, wellness retreats provide a space to focus on self-care, your health or even personal growth. Retreats have skyrocketed in popularity in recent years and become synonymous with transformation, reframing negative thoughts or breaking bad habits. Always stuck on how to switch off? It's what most wellness retreats are made for.
What are the different types of wellness retreats?
There are a whole variety for every interest, need or concern (well, almost every). While yoga retreats were one of the first to rise in popularity for their relaxing and grounding benefits, over the years we've seen more and more meditation retreats pop up internationally and closer to home. Plus, you can never go wrong with a classic spa retreat to feel instantly more calm in my opinion.
Of course, there are the more adventurous fitness retreats based around Pilates or hiking, too. Wellness retreats based on breathwork training, and those centered on beauty and are all about taking care of you. Then there is my favourite, sound healing retreats. Because sometimes you need something more than the best stress apps and self care podcasts.
The Sound Healing Retreat at Baglioni Masseria Muzza
I wax lyrical about the benefits of sound therapy and how the ancient practice can help to reduce feelings of anxiety and induce a state of complete calm and relaxation. So when I found out Farzana Ali, an expert in all things sound and author of Sound Healing: How to Use Sound to Beat Stress and Anxiety would be creating her sound magic within the luxurious Baglioni Masseria Muzza resort in Pulgia, it felt like a personal wellness odyssey fulfilled.
The three-day retreat combines Ali's mastery of sound healing with the serene surroundings of Baglioni Masseria Muzza for a truly transformational experience. Over the three days, three types of sound therapy are available, offering a well-rounded wellbeing experience. Ali uses crystal singing bowls, Himalayan singing bowls, shakers and gongs, depending on the session.
With sound therapy, sound healing and vibroacoustic massage one-to-one or group sessions available throughout the stay. The difference? "Sound healing is a holistic treatment that uses sound and vibrations to induce a calmer state of mind and a relaxed body - think of it as meditation without the effort," she explains. "The primary goal is to induce a restful state."
Vibroacoustic massage is somewhat different to the two others and will benefit those in physical discomfort most. Instead of Ali gliding from one crystal bowl to another while creating a symphony of sounds that I'm sure could send anyone straight to sleep, in these massage sessions, Ali uses Tibetan singing bowls on the body, allowing the vibrations to relieve any discomfort. Ali's sessions start with gentle breathwork and visualisation to allow a sense of calm before composing beautiful sounds for a meditative state, ending with a feeling of relaxation so deep you will want to lay in that peaceful place forever.
What I thought trying a wellness retreat for a first time
After weeks, if not months, of working late and pretty much every day, I knew something had to give. I'd read a 2017 study on how the ancient practice of sound healing can reduce tension and fatigue, and with Ali's expertise, I knew I was in good hands.
As soon as I arrived at the Baglioni Masseria Muzza and took a second to take in picturesque Italian countryside surrounding it, I felt instantly lighter. It may have been the peaceful white-stoned buildings or the super attentive staff, but as I arrived in my room - equipped with a day bed next to the window of a sunset view perfect for post sound bath naps - I never wanted to leave. My apprehension about a wellness retreat came from it being a little bit too focused on wellness or woo-woo. However, the Baglioni resort transcends mere backdrop status - it provided a constant sanctuary of serenity and the perfect space for a transformative journey.
We kick off the programme of events with a group sound healing session by the infinity pool. As I lie down on my mat with the sun setting, and the sounds of the soft waves washing over me, I begin to hear Ali playing her crystal bowls. An hour later, and I've never felt so relaxed - so much so, I only remember the first ten minutes because I went into such a deep meditative state.
During the day, Baglioni and Farzana Ali choreographed a symphony (quite literally) of rejuvenation. One of the activities I opted for was a three-hour trek through Otranto with a Tourango tour guide. We were guided through the beauty of the UNESCO World Heritage site and reminded to view the hike as a mindful form of movement. Focusing on my breathing, the hike, and how the movement made me feel made me realise I hadn't been carving out enough "me time" back home. No wonder I was feeling burnt out.
Later in the retreat, I had my one-to-one session with Ali. I was both nervous and anxious about this part - turns out, I was right to be, as it marked a real turning point for me.
Entering the therapy room, I still felt a little anxious. Although you don't need to share exactly what's bothering you for the sound therapy to work, I shared with Ali that while on my mindful walk and meditating through the group session, I noticed all the feelings of worry and fear I carry in my day-to-day life. The sound therapist and I discussed what this looks and feels like and explained she would be moving the Tibetan sound bowls around my ears and head as that's where I felt the tension.
She explained that this would help me to distance myself from those feelings. While explaining that these sessions don't always sound as alluring as the sound healing baths - they're designed to help you move away from painful thoughts or feelings, which can feel a little uncomfortable - they can be hugely beneficial.
And for me, it was. While having the sound bowl so near to my ear was a bit uncomfortable at times, as the session came to a close, I felt as though I had released a lot of negative feelings and practically floated out of the room. As I watched the sunset that evening, I could already sense the change. I hadn't felt this uplifted and at peace in a while.
Waking up to the Puglian sunshine on the third and final day, I'd come to the realisation that I deserve to feel this light, bright and generally at ease - we all do. That said, it's easier said than done, right? Letting go of anxious thoughts, fears, and the constant work cycle can feel overwhelming at the best of times.
This is where the retreat was so unbelievably helpful, almost forcing me into a position where I had to leave my daily stresses and worries behind. Case in point: I spent my last day enjoying one last sound bath and then the resort's facilities (think infinity pool, spa, sauna, steam room, and more). A full day of rest was just the ticket to lock in the feeling of ease, serenity and calm, and it only assisted my journey of self-discovery and awareness.
So, what did I enjoy the most about my first-ever wellness retreat? So, so much. Firstly, it forced me to slow down - something I'm not great at. Taking some quality time for myself made me realise that if I don't want to totally burn out, I need to work on my self care routine.
Secondly, it made me realise that you really don't need a lot of time to reset and recharge. I was amazed how just three days of dedicating time to me and my wellness could be so transformative. My one-to-one sound therapy session with Ali changed my view on my life right now and made me realise that it's okay (if not essential) for us to continue to change in life. You really can just wake up one day and decide to do or view life differently.
Lastly, it really confirmed for me that wellness retreats aren't a whacky, out-there, woo-woo speciality for the select few. Sure, they're a luxury, but if you can afford said luxury and get past the fear of the unknown, I can assure you you'll float back home feeling a million times better than when you first went. Still find the concept a bit intimidating? I'd recommend booking one with a friend or family member, so you don't have to head alone.
The weekend taught me more than I'd possibly anticipated about my inner emotion, how I process stress, and how best to manage it in a holistic and healthy way. Returning home, I still feel attuned to this inner serenity. I've held on to the feeling that the retreat gave me, safe in the knowledge that I can tap into it whenever I feel overwhelmed at home.
Will I be reutnring to Baglioni? I'm already planning my next trip. Ready to embark on a wellness retreat too? The Sound Healing Retreat at Baglioni Masseria Muzza includes a three-night stay with breakfast, three sound therapy sessions with Farzana Ali and a 50-minute aroma massage. Prices start from £1,675, and you can book through their site here. Or, you can book individual sound therapy sessions here.
*The sound healing retreat is available until 8th October 2023
Wellness retreat essentials
Ultra Violette Supreme Screen
An SPF moisturier is always an essential, but especially in the Italian sunshine. I don't go anywhere without this one.
I have always found journalling for anxiety helpful, and I'm so glad I made space for it in my suitcase for my first wellness retreat. A place to reflect on how you feel before, during and after, it's a must-have.
Celebrity news, beauty, fashion advice, and fascinating features, delivered straight to your inbox!
Dionne Brighton is a writer at Marie Claire UK, specialising in all things shopping, beauty and fashion. Born and raised in North London, she studied Literature at the University of East Anglia before taking the leap into journalism. These days, you can find her testing out the latest TikTok beauty trends or finding out what the next full Moon means.