We tried out a shewee and there's no looking back now
Ain't no stopping us nowww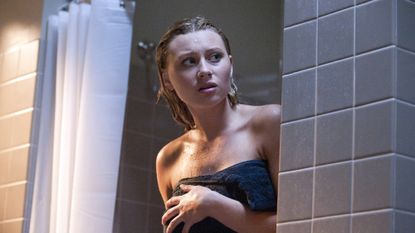 (Image credit: Moviestore/REX/Shutterstock)
Ain't no stopping us nowww
It doesn't matter how old you are, you never grow out of that dread of using a portaloo consecutively for days on end.
So, seeing we we're midway through festival season, with Wilderness Festival just around the corner, I thought I'd add something particularly unexpected to my festival fashion this year.
And yes, you guessed it. It's a shewee.
As a self-confessed hygiene-freak who's also a lazy non-gym goer with a small bladder, four days of back-to-back squatting is never ideal so when my friends joked that I should get one of those 'she wee things,' we all laughed it off – until I actually got one.
I went for a lilac She-Wee extreme model for £12, which is called as such because it comes with a tube (for extra accuracy) and a case as you can technically wash and keep them forever.
I decided to give it a go in the comfort of my own bathroom so slid my trousers down, pulled my knickers to the side and slid the plastic bit down there with the tube facing the toilet and it was pretty revolutionary actually.
Because, despite gender equality in other areas, I've always felt jealous of the fact men could pretty much pee wherever they wanted, whenever they wanted (I mean, within reason.)
Urinating standing up, it seemed, was enough to make me feel powerful, free and liberated.
And, I was pleasantly surprised with how easy it was (albeit, with my extra plastic tube!).
How to use a shewee
You simply find somewhere quiet to go, manoeuvre your shewee inside your pants (which have been pulled to the side) and aim your extension tube away from you and watch it happen. (Just make sure all parts are connected properly before you actually start going.) And, since it's got a drip-free plastic coating on it, it stays pretty clean and you can just pour some water down it until you can give it a proper soap down.
Celebrity news, beauty, fashion advice, and fascinating features, delivered straight to your inbox!