Olive oil could prevent strokes
New research reveals the added health benefits of olive oil, by helping reduce the chance of strokes by 41 per cent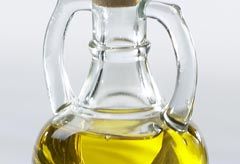 (Image credit: Rex Features)
New research reveals the added health benefits of olive oil, by helping reduce the chance of strokes by 41 per cent
It turns out olive oil could be more than just something to pour over your salads and dip your bread into, it could save your life.
New research has revealed that the Mediterranean salad dressing could reduce the risk of suffering a stroke by 41 per cent if consumed on a regular basis.
Researchers carried out the experiment in three French cities, involving 7625 people over the age of 65, over a course of 5 years. During that time the levels of olive oil used by each person was classified as either 'none', 'moderate' or 'intensive.
Out of the participants 148 of them suffered a stroke during the study. These results were then compared with the amount of olive oil consumed in their daily diets, after factors such as exercise, weight and diet were noted.
The findings, published in the journal Neurology, showed a significant rise in strokes in those who were non-users.
Lead author, Dr Cecilia Samieri, of the University of Bordeaux, said: 'Our research suggests that a new set of dietary recommendations should be issued to prevent stroke in people 65 and older. Stroke is so common in older people, and olive oil would be an inexpensive and easy way to prevent it,' she added.
Olive oil is known to contain omega-6 fats which impede the body's reaction to inflammation in chronic illnesses such as heart disease, arthritis and high cholesterol and high blood pressure.
While those living in the Mediterranean seemed to have noted its health benefits, regularly drizzling it on their salads, dipping their bread in it and cooking with it, Britons are not known to devour large quantities.
They are more likely to eat higher levels of animal or saturated fats, which can lead to ill health later in life.
Dr Shalin Ahmed of the UK's Stroke Association has affirmed though that 'this is a study not a clinical trial and a lot more research need to carried out to scientifically test the effectiveness of olive oil.'
However, swapping fats for olive oil will help you achieve a healthy, more balanced diet, that is low in saturated fat and salt.
Celebrity news, beauty, fashion advice, and fascinating features, delivered straight to your inbox!
Natalia is a health journalist with 14 years experience in the publishing industry. She has worked for a number of well known magazines and websites including Marie Claire, Woman&Home, Top Sante, Boots and The Telegraph. She likes to think she practices what she preaches when it comes to health and fitness. Her athletic prowess began early. A keen fencer for 13 years, she wielded an epée for Olympic Team GB during her teenage years. She likes to think she made sword-fighting cool before Game of Thrones came along! While working on her sporting performance with the team, she also participated in a lot of nutrition and psychology training, When it comes to time off, you'll most likely find her up a mountain somewhere. It seems holidays have become a time for climbing several thousand feet, rather than chilling out. She's now hiked eight of the major mountain ranges across four continents – including the Appalachians, the Smokies, the Sierra Nevadas (she spent her honeymoon hiking to the top of Half Dome), as well as hitting the summits of Snowdon, Pen-Y-Fan (Brecon Beacons), Table Mountain in South Africa, the Blue Mountains in Australia and the Atlas Mountains in Morocco. She's also passionate about all things health, particularly vaccinations, and will happily jump on her soap box at any given opportunity to talk about their benefits to anyone who will listen!