Lemon grass benefits: How to use the wonder herb to seriously step up your beauty routine
Did you know? It's not just for cooking anymore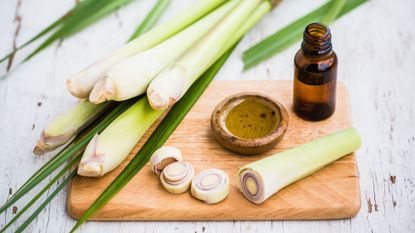 (Image credit: VOISIN/PHANIE/REX/Shutterstock)
Did you know? It's not just for cooking anymore
So, you want to read up on the many lemon grass benefits, do you?
Sure, this long-stemmed herb might be better known for the punch of flavour it adds to Southeast Asian cooking, however there's actually a few hidden lemongrass benefits worth looking into.
Like? Well, there's a whole dose of nutrients tucked away in those pale leaves, especially vitamin A and C to help boost your skin and your hair's natural shine. Beyond that, there's also potassium, calcium, magnesium, citral, phosphorous, manganese, copper, zinc and iron to look forward to - convinced yet? (It also smells fantastic, so there's that too.)
From beauty to aromatherapy to digestion, here's how to make the most of it below.
Lemon grass benefits: from gut to skin health
So, should I drink lemon grass tea?
If you're feeling a little bloated, a cup of lemongrass tea can go a long way.
Why? Well, it's filled with antioxidants as well as a component called citral, which helps with digestion and can help to settle your stomach after a particularly heavy meal.
Are there lemon grass benefits for skin?
There sure are. The lemon grass benefits for your skin are in abundance, actually.
The herb is packed with vitamin A and C, so works hard to keep your skin and hair glossy. It also has astringent properties, which help to minimise your pores, as well as keep your oil levels balanced.
Plus, if you're thinking of making the leap to natural and sustainable beauty products, lemongrass toners and serums are a good place to start.
Is lemon grass oil good for everyone's skin?
Not necessarily.
If you have sensitive skin then you might want to skip it. Not everybody reacts well to concentrated essential oils, so as with any new addition to your skincare routine you should patch test before committing.
Pranee Laurillard, the co-founder of Giggling Squid, had a quick beauty hack for using fresh lemongrass in your beauty routine. She advised using it as part of a cleansing facial steam that you should do once a week and shared the method below:
Add 40g of fresh finely chopped lemongrass to 1 pot of boiling water.
Let the mixture stand for 30 minutes to infuse. Strain it.
Inhale the steam for about 1 minute, letting your skin absorb it.
Repeat a couple of times and you will have a lovely sauna effect.
She explained, 'The steam cleanses and opens your pores, making it easier to remove dirt and excess oils.'
What about lemon grass essential oil for the home?
Lemongrass oil is extracted from the herb through a process of steam distillation, after which the rich golden liquid is extracted. While you'll generally find it in diffuser and candles, it has a few benefits you should know about.
Since lemongrass smells so good and has great anti-microbial and anti-fungal properties, it's a popular addition to deodorants and bath products. Unsurprisingly, it's also used a lot in aromatherapy, but it goes a step further than its pleasant scent. It has both cooling and revitalising properties, which is exactly what you want, right?
There's also a pretty strong chance you'll come across it in insect repellants, as bugs really can't stand the stuff (even if it does smell amazing). If you're trying to steer away from processed additives and go all-natural, a non-toxic lemongrass repellent is the way to go.
7 best lemon grass products
Of course, if you're keen on DIY-ing your own beauty remedies, you can always pick up some fresh or dried lemongrass at your local supermarket and get to work.
There's a load of fun projects online to get stuck into - just remember, nothing beats the scent of freshly brewed lemongrass tea.
Cynthia Sylvia Stout Shampoo Bar, Lush
I'm a huge fan of Lush's shampoo bars, which are about as eco as it gets. They do away with traditional packaging to do their bit for the environment and this lemongrass oil infused shampoo bar is no different. It's divine, and a great shout for people who struggle with greasy hair.
Shop now: Karma Komba from Lush
Dr Hauschka Lemon Lemongrass Body Oil, LookFantastic
This bright body oil from Dr Hauschka draws on the herb's astringent qualities, helping to hydrate and to tighten your skin to combat cellulite.
Shop now: Dr Hauschka Lemon Lemongrass Body Oil from LookFantastic
Odacite Radiance Effect Serum Concentrate, Cult Beauty
Though it looks little, this bottle of magic packs a real punch. It brightens, tightens and reinvigorates tired looking skin, so you don't have to deal with awkward questions about your late night.
Shop now: Odacite Radiance Effect Serum Concentrate from Cult Beauty
Aesop Deodorant, Cult Beauty
Aesop is a master at using natural ingredients in fantastic beauty products and this popular deodorant is no different. Infused with lemongrass, tea tree, witch hazel and coriander, it's an incredibly potent anti-microbial product that will completely eliminate any odor.
Shop now: Aesop Deodorant, Cult Beauty
Lemongrass Pure Essential Oil, Amazon
This 10ml bottle of pure goodness is a great shout, whether you're brewing your own beauty products or burning the midnight oil - literally.
Shop now: Lemongrass Pure Essential Oil, Amazon
Heyland & Whittle Wild Lemongrass Diffuser, John Lewis
This gorgeous scent is the perfect way to destress at home, with a rich scent that'll lift your spirits after a tough day at work. If you've got guests over, stick it in your entryway to really make an impression.
Shop now: Heyland & Whittle Wild Lemongrass Diffuser from John Lewis
Silken Pyramids - Ginger and Lemon, Newby Teas
While ginger and lemon are the main ingredients in this recipe, lemongrass does make an appearance alongside fragrant peppermint. This caffeine-free tea is exactly what you need after a big dinner to settle your stomach.
Shop now: Silken Pyramids - Ginger and Lemon from Newby Teas
Celebrity news, beauty, fashion advice, and fascinating features, delivered straight to your inbox!
Megan is a freelance journalist who covers entertainment and all things lifestyle, with a particular passion for fashion, beauty, travel and Keanu Reeves stories. She has previously worked on staff for titles including Marie Claire UK, CNN Style and The Evening Standard and has written for titles such as Bustle UK, Wallpaper*, Forbes and Hong Kong Tatler. She splits her time between London and her hometown Hong Kong, where she currently lives with the love of her life - an elderly dog named Poppy - and her husband.