As a Health Editor who struggles to get out of bed when it's cold out - these 7 simple tricks make all the difference
Easy.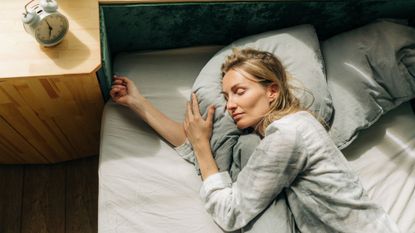 (Image credit: Getty Images)
News flash: it's cold out. Like cold cold. Seemingly overnight, autumn is here, with a sudden dip in temperatures, heavy wind and biting rain predicted for this week.
While burrowing down into your duvet for the foreseeable might seem like the most appealing option right now, there are simple, affordable ways to make it that bit easier to get up in the morning.
Trust me - I'm a Health Editor who tests wellness trends for a living, so I know a thing or two about optimising the perfect sleep environment. Not only that, but I'm a 9x marathon runner who frequently spends my winter mornings getting up at 6am to squeeze in my long runs before work, meaning I've really had to perfect the art of getting up and going on even the darkest, coldest days.
Before we dive in, know this: it's normal to find it more difficult to get up as the seasons shift. Studies indicate that, in countries with more distinct seasonal variations like the UK, people go to bed and wake up later in the winter than in the summer. This is thought to be down to the lack of natural daylight in winter which in turn affects our circadian rhythm.
Make things that little bit easier for yourself with the tips below. Don't miss our guides on how to improve your sleep, the best beauty sleep products and MC UK's favourite pillow sprays, while you're here.
How to get out of bed when it's cold: 7 simple tips
1. Buy an SAD lamp or alarm clock
First up: if you haven't invested in a sunrise or SAD alarm clock, it's one of the simplest ways to ease yourself into easier winter wake-ups.
While you'll likely have seen people raving about them online, the nifty little clocks really are game-changing. Wondering how they work? Simple: they mimic sunrise and allow you to wake up gradually rather than to the brash beeping of your phone alarm.
Designed to ease you into your day, the modern-looking clocks not only promise to make getting up that bit easier, but they can also help stave off seasonal affective disorder if used during the day in the winter months.
With my LUMIE lamp, you can choose between a steady, golden "sunrise" to wake you up and the sound of birds tweeting if you'd like an audio wake-up, too.
2. Wear your cosiest pyjamas
Sounds obvious, but going to bed in your matching summer set or favourite band t-shirt probably won't cut it when temperatures drop.
Think about it - the hardest bit about getting out of bed is leaving the warm embrace of your duvet. Wear a warm set of pyjamas to bed, though, and you don't risk being quite so cold as you peg it to the shower.
My go-to's are pyjamas from Yawn or Desmond & Dempsey. Both brands design matching sets from organic cotton which allows your skin to breathe while also keeping you warm. I also wear fluffy socks come winter for an extra layer of warmth and keep slippers next to my bed to avoid cold feet in the morning.
Prefer sleeping sans clothes? Keep a dressing gown or warm layer next to your bed to chuck on when you do get up, instead.
3. Plug your phone in outside of your bedroom
This one might seem irritating to begin with but is actually an extremely effective way of forcing yourself to get up in the morning. I first read about it in James Clear's Atomic Habits, a self-help book designed to teach you how to create good habits and break bad ones.
You'll likely know that keeping your phone away from your bed is good for you - as this study highlights, restricting your smartphone usage in your bedroom directly correlates to increased levels of happiness and quality of life. So, why not give it a go? It's as simple as charging your phone in the hallway or on the other side of the room so that when your alarm goes in the morning, you physically have to get up to turn it off. This will not only cement your wake-up time but physically means you have to get up and stretch your legs, kickstarting your day.
I've been testing this for the best part of this year now - read my full review of what I learned sleeping with my phone outside of my bedroom, here - and am a convert. Plus, it means you don't doomscroll on your phone late at night, instead cultivating a proper wind-down routine.
4. Opt for an effective yet cheerful alarm
Again, this one might sound obvious, but so often your alarm is the first thing you hear each morning, so why not make sure it starts your day on the right note?
I'm a fan of waking up with Radio 2. My Roberts radio goes off at 7.30 am each morning which means I start my day with some great music and important headlines.
There are also a whole load of handy sleep apps which offer various tools - anything from alarms that build in volume gradually to apps that wake you up in your lightest cycle by playing a quiet pre-alarm you can only hear in that sleep phase.
5. Lay your kit and clothes out the night before
This one's super important if you've planned to get up and exercise pre-work.
Save yourself time rummaging through drawers early in the morning, make sure you've got both your workout kit and work clothes out and ready the night before - that way, you save precious time in the morning and have a visual reminder of the promise you've made to yourself to fit your workout in.
When I have to be up earlier than usual, I always get my tea cup and bowl ready in the kitchen to make the morning that little easier, too.
Top tip: in the colder winter months, pop your kit on the radiator and it'll be toasty and warm by the time you put it on.
6. Try and stick to a routine
While this one's an obvious one and likely something you've heard before, sticking to a routine is one of the simplest ways to make getting up a little bit easier.
Not sure you follow? Let us explain - the more you stick to a routine or habit, the more it becomes second nature and the less difficult it'll become. Sure, the first week might be testing, but make a promise to yourself to stick to it, even when it is cold out, and it won't become a question of whether you're getting up, but a certainty.
That said, your morning routine is totally personal to you and your lifestyle and might need to change slightly from the summer to the winter months. There's no shame in changing your morning routine as the season does.
Need some prompts for your own morning routine? Try the below:
7. Give yourself enough time
Last but by no means least, if you know you'll find it harder to get up in the colder, winter months, one smart tip that I've used often is to set my alarm a little earlier. That way, if I do snooze for a bit, I'm still up with more than enough time to get my workout in, get ready, and head off to work.
Similarly, I try and go to bed a little earlier, too. This makes a massive difference to my sleep quality and similarly how easy I find getting up in the morning. Simple steps make all the difference.
Shop my go-to sleep aid's now:
Lumie Bodyclock Spark 100
The ultimate cold morning saviour IMO? This Lumie alarm clock, specifically designed to gently wake you up in the morning. Trust me - this is an investment you won't regret.
Desmond & Dempsey Loxodonta Print Blue
I've been a fan of D&D pyjamas for years. Not only are they made from 100% organic cotton, but they're soft, light, and comfortable, too - no riding up in the night, here. They'll keep you warm in winter and cool in summer, making them a great option all year round.
Why is it hard to get up in the morning during winter?
Good question - because it is, factually, harder than getting up in the summer.
Scientists confirm that it's a simple case of your circadian rhythm shifting slightly as the days get darker. The less sunlight, the more out of whack our melatonin levels are, and the harder it is to get to - and stay - asleep.
Come morning, you're not naturally woken up by sunlight as in the summer, which further makes it more difficult to get up. Making sure you get enough sunlight during the day and get to bed at a sensible hour will all make it easier, though - as will the tips in this article.
Celebrity news, beauty, fashion advice, and fascinating features, delivered straight to your inbox!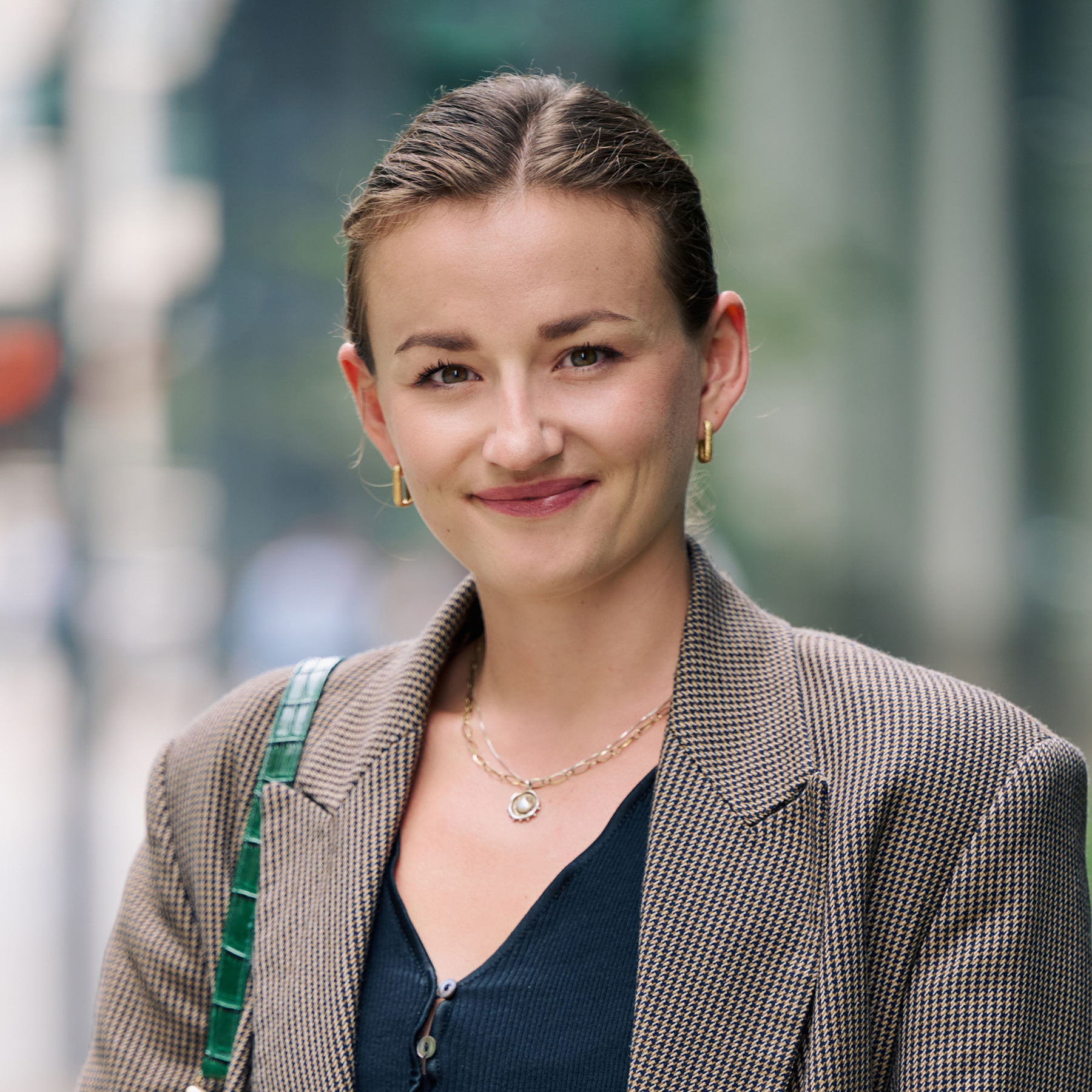 Health, Sustainability and Relationships Editor
Ally Head is Marie Claire UK's Health, Sustainability, and Relationships Editor, eight-time marathoner, and Boston Qualifying runner. Day-to-day, she works across site strategy, features, and e-commerce, reporting on the latest health updates, writing the must-read health and wellness content, and rounding up the genuinely sustainable and squat-proof gym leggings worth *adding to basket*. She regularly hosts panels and presents for things like the MC Sustainability Awards, has an Optimum Nutrition qualification, and saw nine million total impressions on the January 2023 Wellness Issue she oversaw, with health page views up 98% year on year, too. Follow Ally on Instagram for more or get in touch.