Girls born in 2011 are 8 times more likely to live to 100
Girls born in 2011 are eight times more likely to live into their 100s than 80 years ago, as life expectancy increases in the UK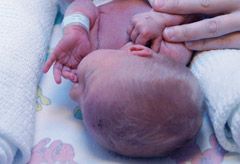 (Image credit: PA Photos)
Girls born in 2011 are eight times more likely to live into their 100s than 80 years ago, as life expectancy increases in the UK
It's time to stop worrying about turning 30 as the rapidly aging population in the UK suggests that by 2066 there will be half a million people over the age of 100.
Ladies lead the way to becoming centenarians with a 33 per cent chance of reaching the ripe old age, while boys lag behind with 25 per cent chance of hitting triple figures.
Those in their 20s are three times more likely to see their 100th birthday than their grandmothers, and 50 per cent more likely to reach 100 than their parents generation in their fifties.
'These figures show just how great the differences in life expectancy between generations are,' says Pensions Minister Steve Webb. 'The dramatic speed at which life expectancy is changing means that we need to radically rethink our perceptions about our later lives.'
The aging population threatens disaster for public spending, with the Government already signalling that workers will be forced to delay their retirement until their 70s in a shake up of the state pension.
The Coalition Government is changing the law so that workers will not be forced to retire at 65, but will instead have the option to stay on into their 70s and even their 80s.
Professor Rose suggests that if you want to reach the milestone we should adopt a caveman diet seafood, fruits, nuts and vegetables, avoiding grains and dairy products.
Celebrity news, beauty, fashion advice, and fascinating features, delivered straight to your inbox!