Can the F45 Challenge really improve your fitness in just 8 weeks?
We put it to the test...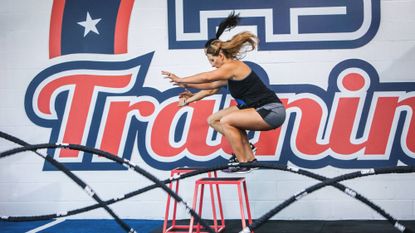 We put it to the test...
The F45 Challenge Review - The 8-week challenge, tried and tested
You've probably overheard your colleagues bragging about it, or you've seen the unbelievable before and after pictures on Instagram, or maybe one of your fitness-obsessed friends is always trying to drag you to a class - but what is F45?
The group training phenomenon, which started in Australia just 7 years ago, is - quite literally - taking over the world, with hundreds of franchises across the globe. The stripped-back studios offer functional training sessions which last for 45 minutes - think high intensity circuit training that includes lifting, squatting, jumping, rowing, biking and a whole lot of burpees. Every class is different and you can opt for some high energy cardio, or a muscle-quivering strength training session. Either way, you're going to sweat. A lot.
And then, there's the F45 Challenge. For eight weeks, you follow the meal plan, attend your chosen studio at least three times a week and watch yourself transform into an F45 athlete. Sounds easy, right?
I put it to the test to see if I (of lower than average fitness with absolutely no upper body strength) could really get fitter, drop body fat - and finally manage a push-up.
F45 Challenge Review
Every studio across the world starts the challenge on the same day, and before you get going there are a few bits of admin to get through. I headed over to F45 Leadenhall Market in central London and had a debrief with Studio Manager, Antony Burton. He explains that the results will rely on three things - diet, workouts and motivation. After confessing to living on a diet of a coffee breakfast, Tesco Meal Deals and far too many bottles of Prosecco, he assured me that there was hope. That meant sticking to the plan, giving the sessions my all and - sadly - no booze.
Before I could get going, I was given a body scan which measured everything from my body composition, muscle mass, percentage of body fat, BMI and obesity degree. Let's just say I ranked highly for everything other than muscle mass. I even got a cartoon of a lean athlete next to my own cartoon body, which my friends found very entertaining.
But what really put things into perspective was that it calculated that my biological age to be four years older than I actually am. It was enough to make me think about how poorly I had been treating my body and I was convinced this was what I wanted to do for the next two months.
Not only was I determined to feel stronger and find out what all the F45 fuss was about, I wanted to get that age down and feel healthier.
F45 Challenge App
I downloaded the F45 apps - one for booking the sessions, and one which provides you with your meal plan. It gives you weekly shopping lists, recipes and cooking instructions for each meal and includes the nutritional values of every plate (if you've decided to track macros, this is very handy). There's also the option for vegetarian and vegan food plans.
The app also gives you access to loads of information about the challenge, from why you're eating certain foods to tips on how you can stay motivated.
F45 Challenge Review: Weeks 1 and 2
Phase one, the first two weeks, is known as Spring Training. Let's start with the food.
First warning: the first phase is breadless. As someone with a carb-heavy diet (all those bloody meal deals), this was what I found the hardest. Not the 6am starts, not the hundreds of burpees, not the meal prepping. The carbs. I became increasingly jealous of anyone tucking into a sandwich, and couldn't stop thinking about buttery mashed potatoes.
Second warning: you're also advised not to drink coffee during this phase, which I managed for three days before caving (who can resist a dreamy flat white? Clearly, not me).
You'll also be eliminating gluten, dairy, red meat, refined sugars and high-fructose fruits from your diet, so I was expecting to feel really tired and lethargic - but I didn't. The meal plan was surprisingly easy to stick to thanks to some delicious dishes, and prep didn't take long at all.
Now for the workouts. The trainers will demonstrate every exercise on the circuit before you get started and there are also handy screens displaying each movement at the front of the class so that you're not too lost if you forget what you're doing halfway through.
My first session was a cardio class at 7.55am on the Monday morning. Brutal. Russian twists with a medicine ball, kettlebell swings, squat pulses punctuated by sprints, and lunges with a weighted bar - all before I started work. I felt pretty smug, despite the fact that after an ice cold shower I was still red and sweaty for a good two hours after the session finished.
The strength training session felt a little easier, with the focus on targeting specific muscle groups using weights. The premise remained the same - a circuit of different exercises, luckily with nowhere near as many burpees - and you're encouraged to lift as heavy as you can. I was just about able to finish each set with the lightest weights, but I used it as a benchmark (and kept dreaming about that bloody push-up).
Number of workouts: 4 sessions + 1 yoga class week 1, 4 sessions week 2
Cost of food shops: £72.06 for week 1, £43.44 for week 2
Difficulty: 2.5/5 (did I mention I love bread?)
F45 Challenge Review: Weeks 3, 4, 5 and 6
The carbs are back in your shopping basket and all is right with the world again!
Phase 2, Regular Season, reintroduces red meat, dairy and low to moderate fructose fruits (YAY). The meals are protein-heavy to support muscle growth and recovery, and, importantly, bread is back for breakfast.
I managed to keep the cost of my Tesco shops down by opting for frozen chicken breasts and fish fillets instead of fresh, swapping out new snacks for the ones in previous weeks that I already had the ingredients for, and stocking up on anything that was on offer that I knew I could use the week after.
My class attendance was going well - I was enjoying the workouts and was getting into work looking less and less like I had sunburn. During week 4, I headed to the studio after work and found that there was only one other person in the class meaning that I essentially get a personal training session.
Score.
But suddenly, the motivation I had during the first two weeks seriously began to wane. After a wedding weekend (might have had a fair amount of red wine, but pretty sure I burnt it off with three hours of dancing), illness struck at the start of week five which meant no workouts and a lot of comfort food.
It made getting back into the right mind frame for week six really difficult, and for the first time I started to wonder if I was cut out for the challenge. I'm all or nothing - while I resisted countless office sweet treats and some epic Sunday roasts for a whole month, a few days off plan left me craving everything and making excuses not to get back to training.
However, after not just falling but gladly throwing myself off the wagon, I did manage to get into the studio for week six and smashed three workouts.
Number of workouts: 3 sessions + 1 home HIIT week 3, 3 sessions week 4, no sessions week 5, 3 sessions week 6
Cost of food shops: £33.48 week 3, £23.60 week 4, £29.39 week 5, £31.24 week 6
Difficulty: 4/5 (hands up - I lost it)
F45 Challenge Review: Weeks 7 and 8
The end is in sight, and I'm determined to make the last two weeks count to make up for my wobble. The final phase, World Series, sees the most dramatic results according to the F45 challenge app. A high fat, low carb diet (sob) is employed to encourage your body to use fat stores as an energy source.
I get back to meal prepping and sweat out two home HIIT sessions and three studio classes in week 7. I also have a couple of beers at a comedy night and enjoy a lovely Sunday roast with my family.
Because what I've learned during this challenge is that balance is key. Cliché, yes, but true. I felt so good about following the plan to a tee during the first four weeks, but, for me, that level of strictness is not sustainable. Once I veer off the script, the floodgates are open and I go completely rogue. A square of chocolate leads to a 'f*ck it' mentality and ends with Dominos.
Instead, I make a promise to myself to stick to the three workouts a week for the final phase and follow the meal plan 80/20. I know it means my results won't be as dramatic as some of the incredible Instagram transformations, but I'm okay with that. Being able to maintain a healthier diet and regular exercise once the challenge is finished is more important.
Week 8 is a short one for me, and I have my final body scan four days before the official end of the challenge due to the fact that I have a holiday booked.
I'm nervous, excited and eager to see if the challenge has worked any magic...
Number of workouts: 3 sessions + 2 home HIIT week 7, 1 session + 1 home HIIT week 8
Cost of food shops: £36.34 week 7, £0 week 8 (as a result of leftovers and a short week)
Difficulty: 3.5/5
F45 Challenge Meal Plan
You'll quickly find out which meals work for you and which ones don't, making it super easy to swap out and swap in recipes as you go. For example, when it comes to breakfast I'm not a huge fan of smoothies or peanut butter, so instead I tended to stick to an eggs and spinach combo.
Don't worry, it's not eight weeks of chicken and broccoli, either. Steak nights were heavenly, but tuna salad nights not so much. I really enjoyed the variety, though, and the fact that the same recipes weren't recycled week in week out. Soy-infused vegetables turned out to be a favourite, and the portions were just about right.
There are snacks, too - energy balls, halloumi skewers and a fair amount of protein shakes.
Genuinely, the food was really tasty and it's easy to stick to if you make time to prep properly.
I did drink a few times throughout the challenge, too. But like I said - #balance.
F45 Challenge Workout
Every workout is different. The cardio sessions vary, with some classes working 60 second sets and others letting you off a little lighter by gradually breaking it down to 20 seconds. Often you work through a pod system, with four stations in each. You may repeat each station up to four times before moving on to the next pod. These feel like the longest.
Other sessions will see you doing two sets of each exercise before moving on to the next. These were my favourite, especially when the terrifying plank variations cropped up. You'll work through the circuit with one or two other people (depending on how busy the class is) and you'll be sweating five minutes in.
The strength classes are weight based and you're expected to go as heavy as you can. I started light and found myself upping the weights (ever so slightly) as the weeks went on, which felt really good.
Oh, and whatever class you do you can't escape the burpees.
The trainers at the studio are friendly, encouraging and make you feel like you're part of a team. They actually remember your name, take the time to talk to you about how you're getting along and make sure you get a high-five at the end of every class.
I was assigned a coach to help me throughout the challenge. Antony was on hand at all times to answer all my questions - I got a message every Friday checking in to see how the week had turned out, and I actually got replies to weekend texts when I was in a tizz about what to choose on restaurant menus. You'll feel supported every step of the way.
Favourite classes: Athletica, Docklands, Panthers and Brixton
Least favourite class: 22 (it came with a warning from the trainer that I might struggle. That is an understatement)
F45 Challenge Results
I headed back to the studio for my final body scan. Considering I went a bit off course, I was pretty nervous about the results but I knew whatever the outcome the biggest takeaway from the F45 challenge was the fact that I was eating better, feeling better and - hurrah! - much stronger.
First up, the stats. I lost 4.3kg (9.5lbs) and 2.8% body fat, 2 inches from my waist and my BMI dropped by 1.5. My biological age also went down by a year and visceral fat mass decreased by 1.1kg.
But, while I was delighted with the results, the most important improvement was my fitness level. I found myself squeezing in extra burpees during the workouts, was using heavier weights and FINALLY managed a push-up. A proud moment indeed. I was so enamoured that I vowed to keep up the workouts and started searching for the nearest F45 studios on my upcoming six week holiday - something I would never have even considered doing eight weeks ago.
So was it worth it? Absolutely. I cannot recommend F45 enough, and my friends are probably sick of hearing me big it up. The trainers are fantastic and the workouts are tough but leave you buzzing.
F45 Challenge Cost
Each studio is independently owned and individually priced. However, if you want to find out whether F45 is for you then take advantage of the two-week trial.
For information about the cost of single sessions, memberships and the challenge visit www.f45training.com.
Celebrity news, beauty, fashion advice, and fascinating features, delivered straight to your inbox!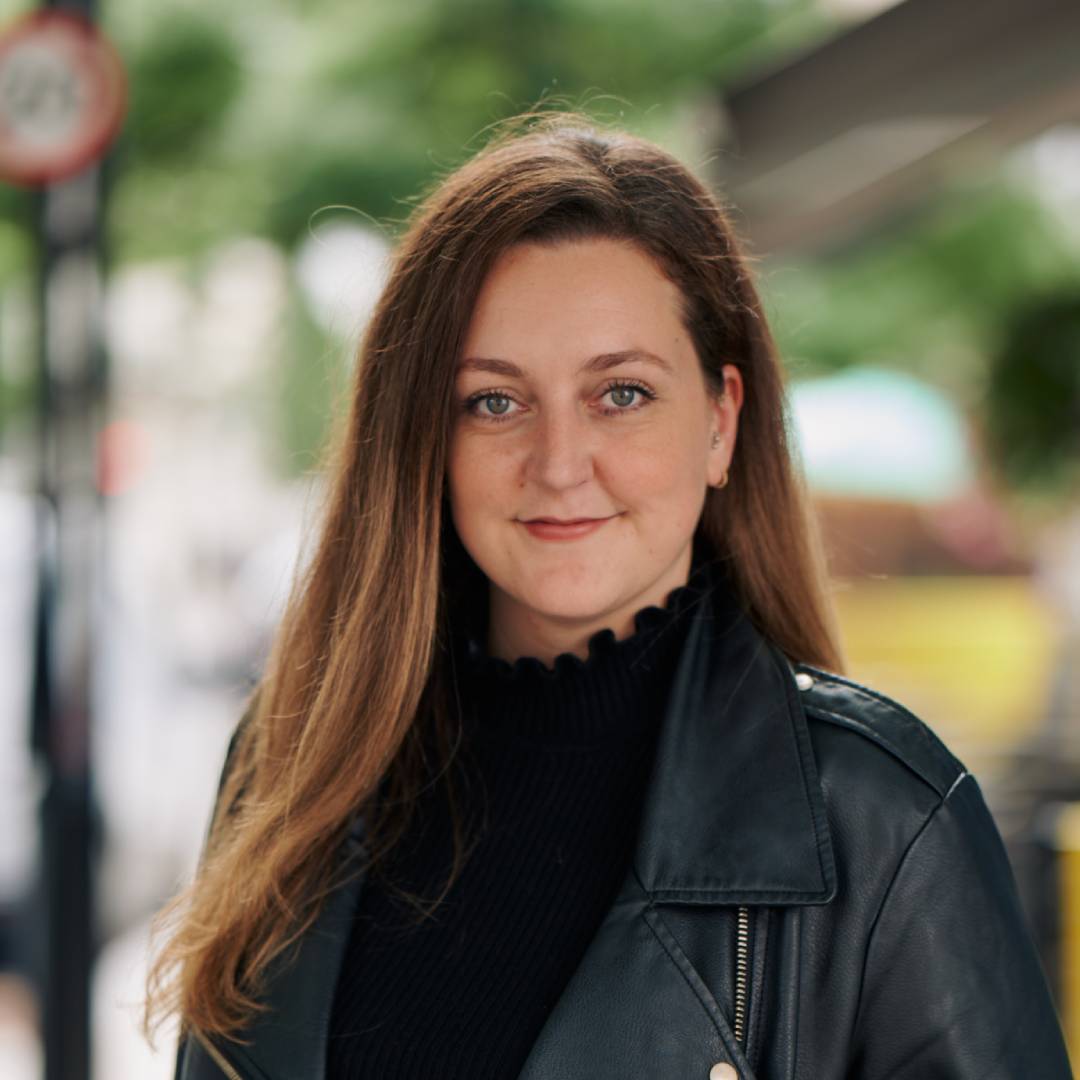 Jadie Troy-Pryde is News Editor, covering celebrity and entertainment, royal, lifestyle and viral news. Before joining the team in 2018 as the Lifestyle and Social Media Editor, she worked at a number of women's fashion and lifestyle titles including Grazia, Women's Health and Stylist, and now heads the Marie Claire UK news desk.