Introducing The Latest Exercise Craze On The Fitness Scene: Aqua Biking
Done spinning? Thought so. How about trying it under water?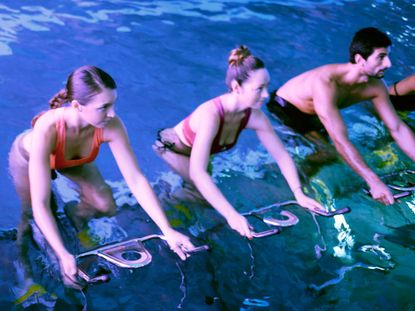 Done spinning? Thought so. How about trying it under water?
There's a new fitness craze popping up in gyms nationwide and it's cycling in water. Blame the French, because they're crazy about it and now it's crossed over to our shores, although it was actually the Italians who conceived the idea as physical therapy. No longer sole property of the blue-rinse brigade, water workouts are where it's at. Here are our two favourites:
1. AquaAllure group classes are the perfect answer to a cardio workout that burn up to 800 calories per class using the resistance of the water but without taking a toll on your joints. Plus the rigorous movement of water gives your muscles a good pummeling as you go.
2. Hydrofit is an altogether more personal experience with individual jacuzzi-style cabins that fill up and flash like a one-woman disco. You pound away the miles while watching TV and before you know it, you've done 20km. There's a lot of splashing about but just like a treadmill, you can alter the resistance and monitor your speed so it's up to you how hard you work. They have a twin cabin room so you can workout with a friend and make it even more fun. Hydrofit is £40 for 45 minutes.
Pass it off as a fad, if you will, but any workout that's a laugh and keeps your attention is a winner for us.
Fancy exploring the great outdoors by bike? Check out these cycling events in the UK.
Celebrity news, beauty, fashion advice, and fascinating features, delivered straight to your inbox!