These 17 celebrities who do Pilates will inspire you to book a Reformer session, stat
Both Meghan Markle and Adele are reported to be fans.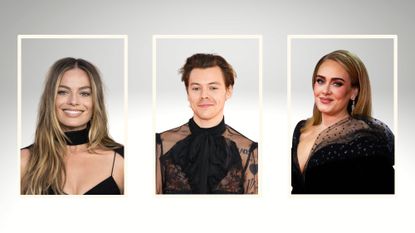 (Image credit: Getty images)
Celebrities who do Pilates ranges from Harry Styles, to Adele, to Meghan Markle, to Margot Robbie - yep, you guessed it, it's a celebrity favourite, with quite literally hundreds of A listers reported to swear by the sweat session for a good workout.
If it's good enough for the A-listers and their expert PTs, let's be real: we want to give the celebrity workout a go, too.
Whenever we're drinking more mindful or reducing our meat intake, we always take inspiration from the reams of sober celebrities and celebrity vegans . So when Pilates exercises were predicted as one of the biggest wellness trends this year, scrolling the 101 celebs who swear by Reformer was our first point of call.
After doing some heavy research and speaking to a handful of experts for our Pilates content on-site (you're welcome), I know it's one of the main reasons all of the celebs in this round up look so healthy and strong. The low-impact workout can be done at home on a yoga mat, but most of the stars in this feature are regularly seen outside their favourite Reformer studios (or even have their own at home.. we can dream).
Ready to scroll the celebrities who do Pilates? You're in the right place...
17 celebrities who do Pilates for a feel good workout
1. Lori Harvey
It would be wrong of us to not begin with the supermodel who single-handedly kicked off the Pilates trend on TikTok. It all started last summer when Harvey was interviewed about her killer Met Gala red carpet look. She was asked, "What's the trick to these abs?," to which she responded, "Pilates - it changed my life".
The clip quickly went viral and had what felt like everyone feeling inspired to get the same Reformer Pilates results. In response, Harvey made her own TikTok video to share all the details of her Pilates journey. "I've been consistently doing Pilates for the past year. I've done it for a few years but I've been really consistent the last year," she said.
2. Hailey Bieber
Hailey Bieber reportedly first started Pilates in 2017 and now is frequently seen leaving the Hot Pilates LA studio with a variety of her celebrity friends. "I've been doing hot Pilates for around two years now," she told US Weekly in 2019.
"It's 45 to 50 minutes of straight-up sweating and I come out looking like a drenched tomato," Bieber explained to Vogue Australia. (We'll be honest, though - she looks very far from a drenched tomato in her post-Pilates pap shots.)
"I used to be a dancer, so the reason I like Pilates is because it's very similar body strength," Bieber expands.
3. Justin Bieber
Is there anything sweeter than joining your wife for a Pilates date? We think not. Last month, Justin and Hailey Bieber were seen leaving Hot Pilates together. Cute.
It isn't Bieber's first Pilates rodeo, though - he's long been candid about how exercise helps him with his own mental health, and also used to be seen leaving the same Pilates studio with ex-girlfriend Selena Gomez back in 2018.
4. Harry Styles
You'll have seen that viral Exhale Pilates London video, which the studio shared last week on their Instagram (yes, Harry does train there).
But, fun fact for you: the As It Was singer first started Pilates back in 2012 after being advised to do so by an expert helping with his posture. "I have bad posture, and I've been told to take Pilates once a week", he told The Independent.
Styles is still a big fan of the workout today, speaking about his workout of choice to Vogue in 2020.
5. Naomi Campbell
It's likely no surprise that supermodel Naomi Campbell is a fan of low impact Pilates - she's always been vocal about looking after herself and has even given up alcohol in her quest for better health.
"I danced for many years and Pilates [is similar] - it's something that elongates you and keeps you toned," the supermodel told Today in 2014.
Giving a rundown of her 5am morning routine to Harpers Bazaar a few years ago, she shared that she wakes up without an alarm, drinks a glass of water, and heads straight into a yoga or Pilates session.
6. Adele
Adele first really got into Pilates in 2020 after giving birth to her first child.
"Adele had just had her baby, so the exercise had to be very gentle. Pilates was perfect for her. She said she'd done Pilates before, in London, and she was very appreciative," Adele's Pilates trainer Camila Goodis, told The Sun.
It wasn't ever about weight loss for Adele, instead the Someone Like You singer turned to exercise for the mental health benefits. "It was because of my anxiety. Working out, I would just feel better. It was never about losing weight, it was always about becoming strong and giving myself as much time every day without my phone," the Grammy award winner revealed in her Vogue cover interview.
7. Lady Gaga
Did you know? The Bad Romance singer lives with Fibromyalgia, a chronic condition which causes widespread pain and fatigue. That said, Gaga doesn't let it stop her from working out and dancing on stage, instead regularly getting a low-impact Pilates session in, where she can among her busy tour schedule.
She regularly posts snaps of her on a Reformer machine on her Instagram and has been since 2015, recently captioning one: "Another morning of Pilates and rock n roll with my trainer!!"
8. Jennifer Aniston
The Friends star is thought to start her morning with meditation, a collagen coffee, and a workout.
Aniston's go-to sweat session? "Pilates. Someone said it's having a moment right now but I didn't know that. I tried to do Pilates 20 years ago and I just couldn't get into it. For me, it's all about the teacher... If you have an excellent teacher and you understand the beauty of it, it's like a moving meditation," she told Bustle last summer.
"Workouts change all the time," she tells Popsugar, but it seems Pilates really stuck for the actress, as Aniston continued to tell the publication, "I'm really focusing on Pilates."
Her favourite move? "I love a three-minute plank." they report. Be right back in three minutes.
9. Meghan Markle
The Duchess said that a Pilates workout is "hands down the best thing you could do for your body" to Harpers Bazaar back in 2017. Markle took dynamic Pilates up a notch by practicing on a Megaformer, which is pretty much a bigger (and tougher) Reformer machine.
Markle grew up with a mother who worked as a yoga instructor, so is no stranger to low-impact workouts.
Marie Claire USA report that apparently Markle and Adele would meet up for Pilates lessons together when the Duchess first moved to LA.
10. Kate Hudson
Kate Hudson, the How To Lose A Guy In Ten Days actress and co-founder of gym wear brand Fabletics, credits Pilates for keeping her strong and healthy after the birth of her three children.
"I know I'm at my strongest when I'm doing my Pilates because it never gets easier. The more you do Pilates the harder the things you can do become," Kate told Women's Health in 2021 "I love how flexible I feel and I like what it does to the shape of my body."
11. Margot Robbie
Babylon and soon-to-be Barbie star Margot Robbie has long been a fan of the low-impact sweat session. Why? well, she grew up in Australia, where Pilates studios are more common than Kangaroos (yes, really).
"Eating well and exercise need to be prevalent in my life so that I can feel my best, but I don't want to dwell on it too much," the actress told The Telegraph.
"If I'm making a conscious effort to exercise, I work with a Pilates trainer on a Reformer machine, and that suits me and my body best," she continues.
12. Miley Cyrus
A few years ago, Cyrus shared a video of her on a Reformer machine looking strong enough to convince any Pilates beginner to give it a go.
It's thought that the Flowers singer started Pilates workouts ten years ago in 2013, and there were rumours she even installed a Pilates studio at home and aims to do a Pilates workout daily when not touring, according to Harper's Bazaar Australia.
13. Cristiano Ronaldo
Yep, we wouldn't have guessed this one either. The footballing legend has a pretty intense workout routine (he is a professional athlete, after all).
If he's not acing it on the football pitch, then he's in the gym working out. In the past, Ronaldo admitted he always makes sure to switch up his routine, with Reformer Pilates sessions frequently on the list.
14. Madonna
Leave it to Madonna to make Pilates look like pure joy. Votes for a Madonna Reformer dance party?
Craig Smith, Madonna's trainer, spoke to Glamour back in 2015, sharing her love of Pilates, of course.
"Madonna does five to six workouts weekly that vary on a daily basis and focus on a variety of methods and training modalities," Smith told the outlet.
"Her workouts include dance, resistance training, interval training, yoga, barre workouts, and Pilates," he continued. Only Madonna could incorporate her iconic dance videos into a Pilates Reformer session - we love!
15. Bella Hadid
While Hadid has never spoken publicly about her Pilates workouts, we've lost count of the number of pap shots there are of the supermodel outside LA Pilates studios.
Search for "Bella Hadid Pilates workout" on TikTok and the videos have over 60 million views, although the model has never shared her Pilates workout routine herself.
16. Kendall Jenner
Just like besties Bieber and Hadid, supermodel Jenner is in on the celebrities who do Pilates action, too. Just a few weeks ago, Jenner and Hadid were seen leaving a Pilates class together in LA.
Yep, this is the exact same LA-based Hot Pilates studio which Bella Hadid and Hailey Bieber were also seen walking out of last week.
Jenner is also a fan of Forma Pilates, a private referral-only Pilates studio. "No days off", the model captioned an Instagram story in the studio. (Although, qualified health professionals do actively encouraging having at least one day off a week - rest and recovery is important).
17. Halle Berry
Last but by no means least, Halle Berry is a fitness icon. The Catwoman star has always taken good care of herself, partly because she often has to spend hours on set doing stunts and action scenes.
The actress is big on switching up her workouts and Pilates is (obviously) on the rota. "I've been active throughout my life, but the thing that has changed is my fitness routine—I started with a focus on working out with weights and have expanded to dabbling in Pilates, yoga, and am very heavy into martial arts." the star told Well and Good.
Feeling inspired to jump on the mat? Check out our guide to Pilates workouts and Pilates for beginners, while you are here.
Celebrity news, beauty, fashion advice, and fascinating features, delivered straight to your inbox!
Dionne Brighton is a writer at Marie Claire UK, specialising in all things shopping, beauty and fashion. Born and raised in North London, she studied Literature at the University of East Anglia before taking the leap into journalism. These days, you can find her testing out the latest TikTok beauty trends or finding out what the next full Moon means.