Trying Dry Jan? These 22 sober celebrities might surprise you and serve as inspiration
Swerving booze to boost both body and mind.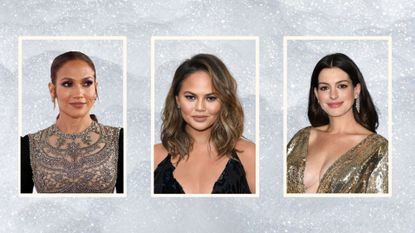 (Image credit: Getty Images)
Doing Dry January and feeling like you'd like a large glass of Merlot a la pronto? You're not alone. Stats show that 16th January is the day you're most likely to give up on your month-long pledge, so we've rounded up 22 sober celebrities who don't drink at all to inspire you to keep going.
That's right - all of the stars in this feature don't drink alcohol to boost both body and mind. A cultural shift seems to be happening - research from non-alcoholic spirit brand Three Spirit found that six million people swapped their usual favourite tipple for an alcohol-free alternative last year, and the #sobercurious hashtag has 370.9 million views on TikTok. More and more celebrities and individuals alike are not only becoming sober curious but taking it all the way and ditching alcohol altogether.
Not only that but reducing your alcohol intake has been proven to have a myriad of health benefits. Alcohol is a depressant, after all, and can cause things like inflammation and chronic diseases. No shame if you do enjoy drinking in moderation - don't we all - but being mindful of your intake has been proven to reduce depression and anxiety symptoms, improve sleep and lower your risk of heart disease, too.
Naturally, everyone is unique, and what works for you won't work for the next person. But here at MC UK, we're all about encouraging a healthy, balanced lifestyle - emphasis on balanced.
Keen to read which celebrities have given up the booze for good? Keep scrolling, and don't miss our guide to celebrity workouts, while you're here.
22 sober celebrities who gave up alcohol to boost both body and mind
1. Bella Hadid
Ever wake up after a bottle of wine with raging anxiety symptoms, otherwise known as hangxiety? Model Bella Hadid certainly has, which she's candidly shared has stopped her from drinking in the past. "I loved alcohol [but] it got to the point where even I started to, you know, cancel nights out that I felt like I wouldn't be able to control myself," she told InStyle.
"There's just this never-ending effect of.. pain and stress over those few drinks that didn't really do much," she continues.
Adding that a brain scan from her doctor revealed the effect drinking had on her brain, it then became "a lot harder to pick up the glass."
Fun fact: she also has her very own non-alcoholic drink range called Kin Euphorics.
2. Jennifer Lopez
If the secret to Jennifer Lopez's skin is ditching the wine, then we'll seriously consider giving up the wine.
Interestingly, the singer hasn't drunk alcohol for the majority of her career, instead prioritising waking up fresh and being on her A-Game for rigorous dance rehearsals and touring.
That said, when it comes to a toast, she will allow herself a little sip. "Of course, during celebratory toasts, everybody's like, 'You can't toast with water!' So I'll toast with alcohol and just take a sip." she added.
3. Natalie Portman
In an interview with Marie Claire, Portman famously revealed she "didn't really go to high school parties.. and didn't get flat-out drunk until I went to college."
Since attending Harvard, however, she's been sober, instead prioritising both her mental health and career.
4. Bradley Cooper
After struggling with both a drug and alcohol addiction for much of his adult life, Cooper is completely sober and says his life is much better because of the change.
Back in 2013, he told GQ that he felt "if [he] continued it, [he] was really going to sabotage [his] whole life."
5. Blake Lively
Lively told People magazine that while she doesn't drink because she "doesn't like the effects of alcohol", she does like "being a part of [drinking culture]", which sometimes makes being teetotal challenging.
That said, the Gossip Girl actress also told Allure mag back in 2012 that she's never had a desire to drink, which makes social situations easier. "It's not like I decided on these strict lifestyle choices and I'm enforcing them. It's just something that I genuinely don't have a desire for."
6. Zac Efron
The High School Musical star went to rehab back in 2013 for his alcohol and drug addiction and three years later told Elle: "You get out of life what you put in. Crossing the line is what leads to greatness."
Now teetotal and passionate about health, fitness and the environment, Efron hosted his own series on Netflix called Down To Earth, where he meets leading figures to learn about protected lands and habitat conservation.
7. Naomi Campbell
The English supermodel is proudly sober, and told Vogue back in 2010, "To be honest, there were times I thought I wouldn't survive. I used to have a lot of problems... among others, I drank too much, so I joined Alcoholics Anonymous to get and stay sober."
Here's to getting the right help you need, if you do suffer from addiction. Know that support is out there.
8. Brad Pitt
Celebrities who are sober seem to have a lot in common. Just like Bradley Cooper, actor Brad Pitt opened up about alchol addiction for his GQ cover story.
Explaining why he went cold turkey after struggling with addiction, he simply said "I didn't want to live that way any more."
9. Eva Mendes
You might not know that Mendes too struggled with alcohol addiction, which she overcame through a stint in rehab in 2008.
Speaking to candidly to Interview magazine, she said: "I'm proud of people who have the determination and the fearlessness to actually go and face their demons and get better."
10. Miley Cyrus
Opening up about how her family have struggled with addiction, Wrecking Ball singer Miley Cyrus shares that she went full sober - in her own words, "sober, sober" back in 2020.
"I did a lot of [research into my] family history, [and we have] a lot of addiction and mental health challenges. By going through that, asking "Why am I the way that I am?", and understanding the past, [means] we understand the present and the future much more clearly," she told Variety.
11. Megan Fox
Did you know? Actress Megan Fox has been sober for over a decade, "I'm always completely sober. I don't even drink a glass of wine," she told Glamour. She's also shared that she doesn't smoke or drink caffeine either in order to maintain her spirituality.
Her decision to go sober came after one too many glasses of champagne at the 2009 Golden Globes. "I was belligerent and said a bunch of s--- I shouldn't have said on the red carpet," she revealed to Who What Wear.
Back in 2013, Fox explained to Esquire "I don't like drinking. I don't like feeling out of control. I have to feel like I'm in control of my body."
12. Anne Hathaway
Princess Diaries actress Hathaway is a celebrity who is sober for the sweetest reason, sharing that she gave up alcohol in 2016 when her son was born to make sure she was able to spend as much time as possible fully present with him.
Telling Lorraine she will be sober up until he goes to college, she joked on the show: "so far it's only been true for half a year. I have 17 and a half years to go!".
13. Matthew Perry
The beloved Friends star has long been open about his own struggles with alcohol addiction, which were well documented during the filming of the hit sitcom.
He first entered rehab in 1997 but didn't entirely give up alcohol until 2021, in time for the Friends reunion episode, for which he'd been clean 18 months.
Fun fact: he's given back to the community by opening up one of his homes to those who themselves are struggling with addiction, making it into a welcoming sober living space.
14. Fearne Cotton
The broadcaster turned wellness expert now speaks openly about experiencing anxiety and how, for her, drinking plays a large part
"I haven't been drunk for nearly two years... My husband doesn't drink so it's not like we're cracking open bottles of Pinot Grigio at home. We don't have alcohol in the house," she told The Mirror back in 2016.
15. Pharrell Williams
Did you know? The Happy singer has always been a sober celebrity, having only been drunk nine times in his entire life.
"Everybody else can do what they want, but that stuff isn't for me. I've been drunk nine times in my life, and I ate some weed brownies once," Williams told Paper.
16. Drew Barrymore
Barrymore is known for her love of health and wellbeing (and for her role in E.T.), but she only opened up about her sobriety after two years alcohol free.
Reflecting on the difficult cycle it's so easy to get into when it comes to drinking to TV host Gayle King, Barrymore explained: "When you are stuck in a pattern - or if you are going through things and.. you force yourself to say, 'I'm willing to make big changes' - [that's when changes happen]. I think we all think we're very weak when we don't make those changes.. [but we can]."
17. Chrissy Teigen
Model, social media royalty and queen of cooking Chrissy Teigen celebrated one year of sobriety in July 2022.
"Not a drop of alcohol in 365 days! I miss feeling loopy and carefree sometimes, but to be honest toward the end, it didn't give that fun feeling anymore anyhow," she shared on social media. "I drank to end crazy anxiety that later mostly went away when I – get this – quit drinking! Sigh."
Telling her one million followers how much better she feels mentally sans drink, she continued: "Anyhow I feel really good. Sometimes I get really frustrated looking back on days I should remember way better than I do because of alcohol."
18. Jack Harlow
Jack Harlow gave up alcohol in 2021 and calls it the best decision he's ever made. (Aside from sampling Glamourous I'm sure.)
Speaking to Rolling Stone, the First Class singer said that while he never had a problem with alcohol, he was around it too much. "I was sick of waking up with a dry throat, sick of feeling bloated and sick of the decisions I make on it."
19. Millie Mackintosh
Reality TV star Millie Mackintosh is well known for her boozy Made in Chelsea nights. But on Instagram, she recently shared that she's been sober for a while. Describing herself as "sober curious," she shared that she may not be quitting forever but is enjoying the benefits already.
"I had a breakthrough in therapy and decided to stop drinking alcohol," she explained. "I didn't want to admit it but it's a huge trigger for my anxiety. It has an instant negative effect on my mental health and right now I'm focused on feeling my best, finding happiness in my life and not trying to escape from it. It's been 12 weeks and I'm enjoying sober life, not missing the 'hanxiety', feeling more energised, my skin is looking great and I'm sleeping much better."
20. Tyra Banks
Another fun fact for you: supermodel Tyra Banks has never been much of an alcohol lover.
She once told Forbes, "I feel like I've been very lucky because I don't really have an addictive personality. I've never had any drugs, and I had a little taste of alcohol when I was 12 years old, but that's about it."
21. Jennifer Hudson
Similarly to Banks, singer Jennifer Hudson has opened up about the fact that she's simply never had an interest in drinking - so much so that she's never actually drunk alcohol.
"I've never had a drink in my life," she once told Chelsea Handler. Why? Well, "[She's] never been interested. Nobody ever believes it," she shared.
We believe you Jennifer!
22. Lana Del Ray
You'll know singer Lana Del Ray for her hit single Summertime Sadness, but you might not know that she struggled with alcohol addiction in her teenage years.
She decided to cut it out entirely when she was 20 and hasn't drunk since, she told GQ.
Celebrity news, beauty, fashion advice, and fascinating features, delivered straight to your inbox!
Dionne Brighton is a writer at Marie Claire UK, specialising in all things shopping, beauty and fashion. Born and raised in North London, she studied Literature at the University of East Anglia before taking the leap into journalism. These days, you can find her testing out the latest TikTok beauty trends or finding out what the next full Moon means.