I tried Harry Styles' go-to workout - and reckon it's the most fun yet effective sweat session I've tried in a while
FYI: Bouldering has soared from a niche sport to a bonafide A-list hobby.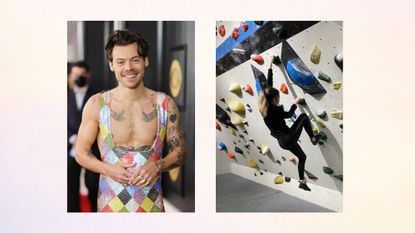 (Image credit: Getty Images)
As someone who writes about fitness for a living, I spend a lot of time working out. That said, I've always shied away from trying bouldering for beginners. Maybe it's the image of outdoorsy guys in their gorpcore gear, critiquing my form and mansplaining the "beta" (a technical word for the best way up the wall), but something's kept me from spending my Saturday mornings sipping flat whites at my local climbing spot.
But if there's one man who can influence me into stepping out of my comfort zone, it's Harry Styles. The Daylight singer was photographed back in 2019, chalk bag in hand, at a London climbing centre, and rumours have it that he's still a big fan of the sport. And he's not alone - the hashtag #bouldering has racked up an impressive 21 million views on TikTok, with everyone from Florence Pugh to Jared Leto expressing their love for the workout.
Keen for the possibility of sighting Harry Styles in the wild, it was time to slap some chalk on my hands and give it a shot. So, in the name of journalism, I headed to EustonWall, a climbing facility in central London, to learn more about Mr Styles' preferred choice of workout. Here's what unfolded. Keen to try other celebrity workouts? Click to read the ones a Health Editor actually recommends.
I tried bouldering for beginners - how I got on
First up, what is bouldering?
Unlike rock climbing, which involves ropes and harnesses, bouldering is done close to the ground with crash matting for protection to cushion any slips or falls. Fun fact: while it began as a way to train for outdoor roped climbing but has now evolved into a fully-fledged sport in its own right.
This style of climbing is all about nailing technical, hard-to-manoeuvre moves on short stretches of artificial wall that are generally no higher than about fifteen feet from the ground.
While classic rock climbing is a test of endurance, bouldering is all about raw strength, technique, and problem-solving skills. The routes feature colour-coordinated "holds" that range from easy to mind-bogglingly difficult, meaning there's always something you can climb, whatever your fitness level. And as holds come in different shapes, sizes, and textures, climbers need to use different techniques to swing and pivot their way to the end of the route successfully.
According to the Association of British Climbing Walls, there are now one million regular climbers in the UK. Interestingly, bouldering is also far more inclusive than I initially thought, with women now making up 35% of the gender split among regular, independent climbers in the UK.
What does a beginner bouldering session involve?
I'm taking a 1:1 bouldering class with Shiggi Pakter, an instructor at EustonWall who's been climbing for seven years. After a quick safety briefing and a few mobility exercises, I strap on my climbing shoes and nervously begin ascending a green "V0" route — the easiest level. It's equipped with large "jug" holds for an easy grip, a fairly direct path to the top, and simple movements that don't require too much lunging. Easy, right? I scramble to the top as fast and ungracefully as I can, touching the hold at the summit with both hands (the official "I did it" sign).
As I reach the bottom, my arms are already burning with fatigue. "Bouldering is all about being smart and engaging the legs, where you hold the most strength. If you're relying on arm strength alone, you'll tank out quickly," advises Pakter, demonstrating how to squat in the holds to shift the weight onto my lower body.
We progress to tougher routes, tackling Slopers (smooth, round holds that require clever use of friction) and Underclings — holds demanding an upward pull with an underhand grip. Each hold type requires different grips, strengths, and strategies, so I find myself tentatively moving each hand and foot like a game of Twister to see where I should strike out next.
From below, Pakter shouts guidance on footwork, handholds, and body positioning, helping me get across the wall without face-planting the crash mat. Even with an OK level of fitness, it's way more challenging than anticipated, pushing my strength and flexibility to the max and firing up muscles in my hands and forearms that I didn't even know existed. That said, I can totally see why Harry loves it - it's equal parts challenging and fun.
What are the fitness benefits of bouldering?
If you've ever seen a climber like Olympian Shauna Coxey in action, you'll know that climbing is one serious workout. "It's cardio, mobility, and strength training all rolled into one," explains Pakter. "You're working your flexibility, swinging legs and arms to grab that next hold, which seriously tests your core. The angle of the wall decides which muscles are getting the most action, but it's always a full-body workout — arms, legs, glutes, core, hands, and fingertips all working hard."
And it's not just physical gains. Studies suggest bouldering does wonders for problem-solving, communication, and mental health. I can totally see the appeal — I walk away from the session feeling happier and more energised. While I personally find your typical basement HIIT workouts punishing and monotonous, bouldering doesn't feel that way at all. It's all about pure fun and adventure.
"Even though bouldering can be done solo, it's a real community sport," adds Pakter. "We've got socials for women, meetups for non-binary, trans, and LGBTQ+ climbers, and kilter board sessions exclusively for women. It's a space where women can practise conquering the overhang board in a super-welcoming atmosphere — it can be intimidating otherwise. We also run sessions with ClimbMuz, specifically for Muslim climbers, and Climb XR, catering to BIPOC climbers. We're all about making climbing as inclusive as possible."
According to recent Sport Active statistics, there's been a surge in women taking up bouldering lately, too. "The sport is slowly becoming more gender-neutral, although there's lots more work to be done," agrees Pakter. "Shauna Coxey at the 2020 Olympics was a game-changer, showing that women can be badass at climbing."
Where can I try bouldering?
With climbing walls popping up all over the UK, it's never been easier to find an indoor gym with walls you can scale. Check sites like UK Climbing or The British Mountaineering Council to find spots nearby, and look for walls with beginner routes. Instagram can be a great place to find women's climbing communities too, like Pinnacle Club (@pinnacleclubuk).
Top bouldering tips for beginners?
1. Go in with a can-do attitude
"My advice for first-timers? Go in with a can-do attitude, start with somewhere that looks comfortable and just give it a go," advises Pakter.
2. Book an induction session
This one might sound obvious, but booking in a session where you learn the ropes before diving in at the deep end will likely lend itself to a more enjoyable experience.
"I recommend getting an induction session, to get a feel for bouldering, learn the basics, and start building skills and confidence on the wall," the instructor advises.
3. Don't be afraid to ask for help
Finally, don't be shy to ask staff to help, she adds. "Even the most experienced climbers get stuck on the wall - we're here to help you figure it out as you go."
Shop MC UK's go-to workout kit now:
Adanola Ultimate Leggings
Team MC UK are big fans of Adanola leggings for a reason - they're soft, supportive and sweat-wicking without breaking the bank.
Ocean Bottle Reusable Water Bottle
A brand founded by ocean lovers dedicated to preserving the ocean, this bottle alone stops 1000 plastic bottles from entering the ocean. Use for lemon water, tea, or protein shakes.
Do you get fit from bouldering?
Yes, you do. As bouldering instructor Shiggi Pakter highlights, it's a full body workout that promises to work all of your major muscle groups, from your legs and glutes, to your shoulders and arms.
One 2018 study further found that bouldering improves muscular endurance as well as flexibility. Not only that, but the challenges you face throughout the workout can boost your brain health, too, improving your problem-solving and communication skills.
Mental health-wise, as it's an incredibly social sport, it offers the opportunity to get a sweat on in a comfortable and fun environment, meaning you're more likely to go regularly and, in turn, workout more.
Celebrity news, beauty, fashion advice, and fascinating features, delivered straight to your inbox!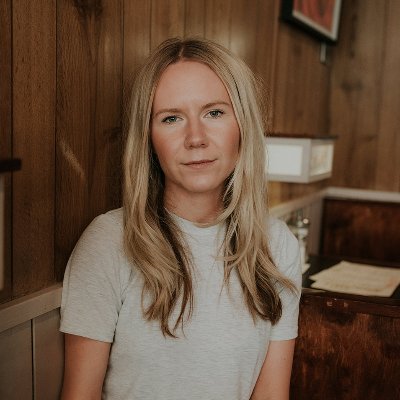 Liz started her journalism career reporting on fashion at ELLE, GQ and Fashion Beans before finding a love for all things fitness and travel.
Keen to report on her favourite topics, she moved over to the lifestyle desk at The Evening Standard before taking the reins as health and wellbeing editor at news and features agency PA Media. She has also been a senior commissioning editor for the publisher Penguin Random House, finding future bestsellers in the self-development field.
Liz's features have taken her from fashion front rows to the furthest reaches of the planet, via several hundred sweaty basement gyms in London. Her favourite aspect of her job is getting to write about new trends, whether it's an under-the-radar travel destination or a TikTok-inspired workout method.
Since going freelance, Liz has written for titles including The Independent, National Geographic Traveller, Stylist, Prospect, Yahoo, and MSN. When she's not writing on her laptop, you'll probably find her at a gig, eating at a new restaurant, or listening to Taylor Swift.