Hankies - real Indian street food in luxury surroundings
Indian cuisine is one of my favourites, as a child Friday night was always Indian take away night, I used to go and collect it with my dad while my mum and brother set the table, we ordered the same every week and loved it!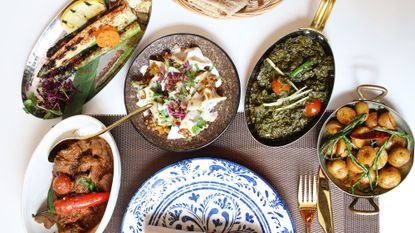 We're spoilt for choice in London, it's fair to say we have all our curry needs catered for. But Hankies took me by surprise. This is real Indian street food set inside the luxury surroundings of the Montcalm Hotel at Marble Arch. Just a short walk from the underground station set in the back streets, I discovered a real Indian gem! Based on a great new concept combining fuss-free, fresh, light and aromatic small plates which are all great value for money, in a top London hotel! What's not to love?
We are seated by a very friendly waiter who takes time to explain the menu and answer any questions we have, helping us choose a varied selection and letting us know when we are ordering too much of the 'small' plates!
As we wait for our food we are captivated by the chefs preparing the Hankies specialty Roomali Roti. This is a classic Indian roti which is hand spun until it's thin enough to read through and then cooked on a burning hot Roomali Taw and folded into 'Hankies'. It basically goes with any dish and is delicious! It's a real art watching them be spun round so fast and effortlylessly.
We start the evening off with a Lychee Rose Petal cocktail and traditional Mango lassi, both are fresh and tasty. As the dishes arrive in beautiful bowls and pretty china plates all sourced from Indian markets and antique stores by the chef and co-founder of Hankies Anirudh Arora, I realise we are in for a treat. The presentation of the food is so inviting. The food is tapas style and we have a table full of delights, here are our top picks of the menu not to be missed, don't judge we had lots! Lamb chops – marinated in Kashmiri chillies, paprika and mustard oil. Yellow chilli garlic prawns served on skewers. Mantu – spicey chicken and spring onion ravioli. Peshwari Tikka – grilled chicken, green chilli and yogurt. Stir fried masala crab meat, potatoes and spicy peppers. And Saag Krumb – Spinach and fresh fenugreek and braised mushrooms. The food really is the freshest and lightest Indian food I have tried, we enjoyed every mouthful. We rounded the meal off with a refreshing Asian fruit platter of papaya, dragon fruit, lychee and mango and the perfect Kulfi. With the most expensive dish on the menu just £9 and the majority around £4-6 you can really explore what's on offer.
Hankies chef and co-founder Anirudh Aurora has brought a wealth of experience and knowledge in the restaurant world to Hankies, after opening a number of restaurants in India with Oberoi Hotels he came to London in 2003 and opened Michelin-starred Mayfair restaurant Benares aswell as working as head chef in Moti Mahal. This man knows his stuff, Hankies really is North Indian street food at it's best – go try it!
Address: 61 Upper Berkeley Street, London W1H 7PP
Telephone: 02089583222
Email: reservations@hankies.london
Nearest transport: Marble Arch underground station
Opening times: Monday – Saturday 12pm-2.45; 5.45pm-10.45pm
Celebrity news, beauty, fashion advice, and fascinating features, delivered straight to your inbox!