'A new era in mobility' - introducing the Mercedes-Benz EQC
With the EQC, a new all-electric model, Mercedes-Benz is flipping the switch and bringing progressive luxury to a road near you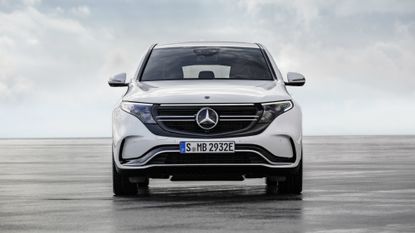 With the EQC, a new all-electric model, Mercedes-Benz is flipping the switch and bringing progressive luxury to a road near you
What Car's 'Car of The Year' was won by an electric car for the first time, and the Range Rover Evoque has destroyed stereotypes of what a sustainable car 'should' look like. Electric cars have officially taken over.
Our latest electric car-crush is the new Mercedes-Benz EQC. Through the ages, Mercedes-Benz has been a symbol of luxury and quality, and their upcoming 2019 release, the newest addition to Mercedes-Benz's range of all-electric cars, does not disappoint.
Britta Seeger, a member of the Board of Management of Daimler AG (Mercedes-Benz's parent company) responsible for Mercedes-Benz Cars Sales, put it simply, 'With the EQC, we are putting the first Mercedes‑Benz of our new product and technology brand EQ onto the roads.'
She went on to explain the reasoning behind the model's name, 'EQ stands for 'Electric Intelligence', and represents Mercedes-Benz in its most progressive way. We are systematically using human-centred innovation by incorporating intelligent services and networked charging solutions for our customers from the very start.'
Moving on to the car itself…a massive concern for most first-time electric vehicle buyers is how far they can drive without needing to charge the vehicle. Thanks to its electric range exceeding 450km (according to provisional figures), and the opportunity for drivers to find charging stations using the Mercedes me App, the EQC basically banishes range-anxiety to the history books.
On top of this, with a predicted carbon emissions of 0 g/km and a combined output of 300 KW thanks to the two electric motors at the front and rear axels, the EQC basically delivers all of the power, with none of the pollution.
Combine this with the fact that the EQC is the first Mercedes-Benz model under the new product and technology brand EQ, it's no surprise that the EQC's interior looks as avant-garde and stylish as it does. Special shout-out to the rose-gold features, and the instrument-panel interpreted as a driver-oriented cockpit.
In even more exciting Mercedes-Benz electric car news, they are becoming part of the Formula E family. At the beginning of the 2019/2020 series, the brand is fielding two fully electric cars through the Mercedes EQ Formula E team, joining brands such as Audi and Jaguar.
We repeat: electric cars have taken over… and with the looks and performance of the EQC, we're not surprised.
Celebrity news, beauty, fashion advice, and fascinating features, delivered straight to your inbox!