10 Fashion Looks From The Golden Globes That Were Actually Cool
Our Fashion Features Director Victoria Moss picks her favourite ladies from last night's eclectic red carpet offerings.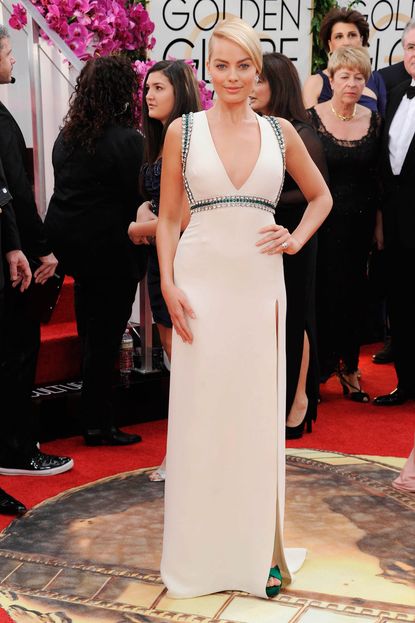 (Image credit: Rex features)
Our Fashion Features Director Victoria Moss picks her favourite ladies from last night's eclectic red carpet offerings.
1. Margot Robbie Amazing body, good eyebrows, chic hair plus a dress that says, 'Understated, sure, but also, check out my quietly luxe emerald and crystal details.' This woman used to be in Neighbours. She's now wearing custom Gucci and playing opposite Leonardo Di Caprio. We bow down.
2. Emma Watson The red carpet is not generally for 'fashion.' Not real fashion – we're not claiming any of those big brash numbers as anything to do with us. But, by Dior, this cheeky slashed up-throw with a pair of cropped pants underneath teamed with a perfectly clashing blue single sole court has us in raptures. This, Emma Watson you sly style devil you, this we'll take.
3. Emilia Clarke Dearest Khaleesi, Mother of dragons, and expert wearer of Proenza Schouler. In a sea of bad, strangely throwback set and over styled hair, we find your loose chocolate waves ideal.
4. Caitlin Fitzgerald This Emilia Wickstead asymmetric hemmed beaut is not an easy dress to wear. If one is frankly not tall, striking and with a long enough leg, it's tricky. On this lady it is very good. Well done on those genes, Ms Fitzgerald.
5. Lena Dunham Hell yeah, Lena Dunham. It's a big awards ceremony! Wear a fabulous canary yellow Zac Posen gown and own it! We would. This has cheered us up no end. To go fashion-forensic: OTT dress with casual hair, subtle jewels and a chic matching lip and nail is just right.
6. Sally Hawkins A darling one that just brings us such joy. It's a 1961 vintage Dior top courtesy of our favourite fashion fairy godfather William Vintage. Super-pretty, super-chic and totally fabulous in a 'what this old thing I just threw on?' kinda way.
7. Lupita Nyong'o Sometimes a little bit of drama is good. We're always seduced by a red carpet dress matched to the actual carpet. It screams confidence, and we think gives the wearer a visual advantage. This Ralph Lauren number is notable for it's cape detail. More dresses should have a cape. Very fashion superhero.
Extra thought: check out that excellent posture. We're straightening our backs just looking at her.
8. Allison Williams We love a Girls RCM* (Red Carpet Moment). Williams has gone for a subtle but, actually yes, do take another look at my fuzzy bustier topped Alexander McQueen column dress. Quietly avant garde, deftly pushing the boat out a bit, definitely nailing it.
9. Drew Barrymore How jolly and happy does Barrymore look? So jolly! The jolliest of all! Sometimes all you need is a genuine smile of joy. But a sweet little Monique L'Hullier gown doesn't hurt, too.
10. Emma Thompson We're so sold on this vintage Lanvin number on ET (another gem of a find from Mr Vintage). We're not quite as keen for the Hillary Clinton 'do, but are happy to overlook. A side note: we await with anticipation the day when women of the red carpet will let go of their dated compulsion to wear a bland platform court (we wonder not why Ms Thompson gave in and wrenched them off when she went up on stage). Let's all move on with our shoe lives.
See every single look from the Golden Globes red carpet...
Celebrity news, beauty, fashion advice, and fascinating features, delivered straight to your inbox!