Would you upgrade your engagement ring?
Practical or materialistic?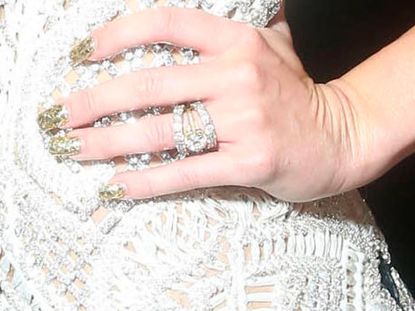 (Image credit: Rex Features)
Practical or materialistic?
YES - Digital Writer Rebecca Reid says she wouldn't rule out trading up
I'll happily admit that saying that you'd be happy to 'upgrade' your engagement ring, doesn't make you sound all that nice. In fact it makes you sound like a bit of a gold digger. But bear with me. It's really not about being grabby or materialistic. Promise.
When my dad bought my mum's engagement ring he strode into H Samuel and told the shop assistant that he had '£45 and 20 minutes' to spend. Romantic, eh?
Unsurprisingly my mum ended up with a less than stellar ring, a dull gold (allegedly) band with a small green stone in it. I'm not even sure what kind of stone it is. I found it in a drawer in her bedroom once, and asked her why she didn't wear it. 'Because I hate it' she said. Can't fault her for honesty.
But the truth is, she's not the same person she was when she got married almost thirty years ago, and a piece of jewellery that she liked aged 23 doesn't belong to the person she's become. She wears a wedding ring every day, the plain gold one that she got married with, because that doesn't change over the years. But in reality, engagement rings change year from year just like any other fashion, so it's no wonder you can end up falling out of love with yours.
My ring story is very different from my parents. After my fiancé proposed we went to Hatton Garden and chose it together. It's classic, it's beautiful and I love it. Ihope that I'll always feel that way. If I do love it forever then I'll wear it forever. But the truth is, I've got no idea what my style and taste will be like when I'm forty and there's a good chance that what I thought was beautiful might not suit me by then.
The word 'upgrade' sounds harsh, and the assumption seems to be that you're trading up to get a bigger and more expensive ring. In my case it's certainly not about size, but is it really so wrong to want a more statement piece of jewellery as your joint income grows? There's no point in getting into debt to buy a ring, but if in the future either of you have the disposable income and want to spend it that way? No-one should be judging you.
For me the prospect of upgrading wouldn't be about getting a massive diamond. It's about avoiding a situation where I feel tied to a piece of jewellery that no-longer represents me or my relationship. If your marriage is going to last it's essential for you both to realise that you're going to grow and change.
There's so much pressure when you get engaged, when you're planning your wedding and when you're eventually married. You're supposed to look a certain way, dress a certain way and feel a certain way. Wearing the same ring every day for the rest of your life is part of that pressure, just another expectation of society. But the truth is, your relationship should be done your way, right down to the jewellery it includes.
If you you feel sentimental about your ring, but it doesn't really suit you any more, you've got options that don't include retiring it. Lots of jewellers will reset the stone, meaning you could go for a different mental or style. Adding stones to your ring is another option, as are the new trend for 'party jackets' - rings that you wear surrounding your engagement ring to turn it into a cocktail ring. But whatever you opt to do, no-one should make you feel guilty about not wanting to wear something. Ditching your original engagement ring doesn't mean you're heartless or unsentimental and certainly isn't a reflection of how you feel about your engagement, your partner or your relationship.
NO - Entertainment Editor Lucy Pavia says she'd never change her ring.
My husband Will says having my engagement ring made was one of the most stressful things he has ever done. And this is from a man who has put himself through three rounds of CFAs. The process took months. He picked the stones from a Victorian diamond brooch which had been kindly donated by his grandparents. He then went a specialist jeweller in Hatton Garden who was happy to work with old cut stones and had them set in an intricate Edwardian shape with wide shoulders, centred around a row of three diamonds.
A few days after he had proposed he pulled out a sheaf of papers with dozens of different sketches on them. I was touched by how many times the design had been tweaked and redrawn until it was just right. I realised the process would have been a lot simpler for Will if my tastes in jewellery were a little cleaner and simpler, but I absolutely loved the result.
Antique jewellery might be in vogue right now - see Pippa Middleton's engagement ring for more details - but like all trends I'm sure at some point in the future won't be. I don't really give a hoot. Lots of things can be chosen for trend-driven reasons, but I don't think an engagement ring is one of them, and I hope to be wearing mine until I'm in my late 80s and it's prized off my fingers by a gimlet-eyed grandchild.
I understand that in my case there are several particular reasons why I would never 'trade up' (I'm not sure I like that term 'trade up' - it feels so mercenary, like the ring is an interchangeable commodity, like a car or a vacuum cleaner), there's the fact that he designed it himself and there's the honour of being asked to safeguard stones which have been in his family for years. But even if Will had bought the ring rather than designed it, and it had no family connection, I'm still not sure I could bring myself to change it.
(Unless, obviously, it was truly hideous. We're talking about 'trading up' here, not forcing yourself to wear something you loathe from the get-go.)
Fashions change - as do tastes - but an engagement ring shouldn't be beholden to that. It is (to me, anyway) a piece of your romantic history, an imprint of a moment in your lives when you both committed to each other for life - even if that imprint might come to look a bit outdated, or a little too small, or it's in a shade of gold you eventually decide really doesn't suit your skintone. Just in the same way old romantics hang onto ticket stubs from their first concert together (even though it was, embarrassingly, Nickleback) or the receipt from a Pizza Express dinner, or a funny note stuck to the fridge.
Because there will always be a 'bigger rock', or a shape and style you think might suit you just a tiny bit better now, but there will be only one ring that was picked by the person you love in one of the most romantic - and nerve-wracking - gestures a person can make. And after all, if it really bothers you, there are seven other fingers to dress...
Celebrity news, beauty, fashion advice, and fascinating features, delivered straight to your inbox!
The leading destination for fashion, beauty, shopping and finger-on-the-pulse views on the latest issues. Marie Claire's travel content helps you delight in discovering new destinations around the globe, offering a unique – and sometimes unchartered – travel experience. From new hotel openings to the destinations tipped to take over our travel calendars, this iconic name has it covered.