The timeless Christmas gift guide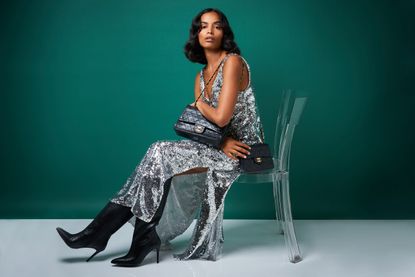 (Image credit: Open for Vintage, Nataha Pszenicki)
In partnership with Vanish
When it comes to Christmas gifts, few presents are more timeless or purposeful than vintage ones. Giving second-hand items a second lease of life is one of the most sustainable and meaningful ways to shop. With sustainability very much at the forefront of our minds, I thought I'd share how I've been making my Christmas shopping more sustainable.
For years the festive season was my favourite time of the year to shop, heading in-store and online to find the best gifts for loved ones and slowly ticking off my Christmas list with new-in and newly-made pieces.
But, over the past few years, I've become really focused on buying less and buying better. With overconsumption very much at the forefront of my mind, I've been investing in more intentional pieces both in my wardrobe and my home.
So, buying Christmas gifts for the sake of buying Christmas gifts just didn't sit right with me. I've always been intentional and well researched with my gifts but it still felt wasteful. I spoke with my family about it three years ago and instead of buying gifts for everyone we now do a secret Santa each year, setting a budget in advance and sticking to it. It's been so eye-opening and quite a fun new-ish tradition to look forward to instead of being torn financially and ethically in several directions in the effort to find the perfect gift.
Astonishingly, the UK spends an estimated £700 million each Christmas on unwanted presents, with £42 million worth of those ending up in landfills. So every small thing you can do helps!
Shopping second-hand is a really easy and accessible way to make your gifting more sustainable as you're not only keeping the already made and manufactured item in use you'll likely also be supporting a small business or charity - if you're shopping in-store at your local charity shop.
For a more considered, less consumerist Christmas scaling back, shopping smaller and secondhand is a great place to start.
If, like me, you're looking to be more intentional with your gifting this Christmas I've combed the best vintage and second-hand sites - think, Open For Vintage, Cudoni and HEWI - curating a vintage gift guide that's got something for everyone - at every price point. From vintage Chanel bags to Gucci belts and everything in between.
FULL FLAP CC CHAIN BAG, £2,675 CHANEL at OPENFORVINTAGE
Finding a Chanel bag under the Christmas tree is a dream of pretty much everyone I know. Open for Vintage have the best collection and oh-my, all of them are on my wish list.
LOVEHEART MINI DRESS, £290 CHRISTOPHER KANE at HEWI
A very literal way to show your love this holiday season, this minidress would make such a playful gift.
CASHMERE JUMPER, £50, 360 CASHMERE at CUDONI
360 Cashmere is a much-loved brand by our Marie Claire Editors, so when I spotted this jumper for just £50 I had to share. Move quickly, it'll be sold soon.
LARGE MAMA FOREVER BAG, £380 FENDI at OPENFORVINTAGE
Add a pop of colour into your loved ones everyday - especially if you're celebrating Christmas from afar this year - with this Fendi bag. A gorgeous carry-all.
WOOL BELTED TRENCH COAT, £185 BURBERRY at CUDONI
Every well edited wardrobe contains a great trench coat and noone does them better than Burberry.
ROISIN MIDI DRESS, £495 ERDEM at HEWI
This year it feels like we all deserve a bigger treat than usual, this gorgeous Erdem dress would be a gift to treasure and remember.
G BELT, £165 GUCCI at OPENFORVINTAGE
An ideal gift for your sister this vintage Gucci belt is adorned with the labels signature 'G' hardware.
CASHMERE SCARF, £280 HERMES at CUDONI
Cashmere is synonymous with Christmas. This sustainable style from Hermes would be a thrill to find under the tree.
BARCELONA BAG, £800 LOEWE at OPENFORVINTAGE
Nothing is more classic than a chic white bag. Loewe's Barcelona style would be a gorgeous gift to unwrap on the 25th!
VELVET BLAZER, £68, MAXMARA at HEWI
Maxmara is a firm favourite of our Editor's. Crafted from soft velvet and tailored for a structured fit this would make a gorgeous gift for your mum or sister.
SILK JUMPSUIT, £60, REBECCA TAYLOR at HEWI
Never worn this jumpsuit would usually retail at £450 so this is an incredible saving of 87%!
Celebrity news, beauty, fashion advice, and fascinating features, delivered straight to your inbox!
Sarah-Rose Harrison is the Contributing Fashion Editor at Marie Claire. A London based Fashion and Celebrity Stylist she works across commercial, editorial and advertorial projects as well as personal and red carpet styling. Don't miss her outfit's on Instagram @sarahroseharrison