Glitter, Wet Wipes And Kanye At Glasto – It's Gemma Cairney's Summer 2015 Festival Guide
Festival season is like 'another Christmas' for Gemma Cairney.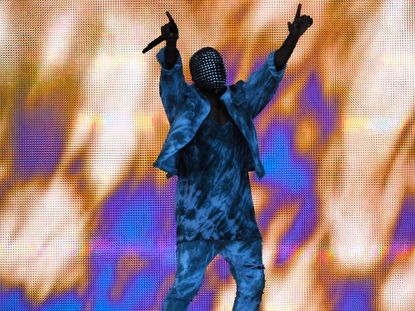 Festival season is like 'another Christmas' for Gemma Cairney.
The BBC and Radio 1 presenter is never more at home than when covered in that very special mix of dirt and glitter, while rocking out to her favourite bands, all in the name of work.
Here, she shares her tips for surviving in style, keeping up with Kanye and spotting the next big thing…
'I cannot wait to see what Kanye West has got for us at Glastonbury. I don't like all of his work, but I can't help but think he's going to bring it for that performance. He always pulls out all the stops. I adore Glasto, it's a definitive point of every summer for me. I get to work on the BBC coverage with the same crew each year - we all get ready in a silver Winnebago and catch up.'
'You can tell by the atmosphere if someone's going to be the next big thing. There's some kind of electrical current that reverberates from stage to crowd, no matter how small, or where the performance is. Be it a poetry tent, band stand or acoustic corner, when an act is about to make it big, they leave an addictive air that people want more of.'
'I was gutted when I missed Florence And The Machine's Glastonbury performance in 2009. Between filming, I hurtled over to the John Peel tent for the performance and it had just finished. I had to interview her after though and I could see that I had missed something mind-blowing - people were leaving the tent in awe, in tears even. When we got backstage Florence was hyper and sweaty, she planted a great big smacker on my lips as soon as the cameras turned on. I'd seen her play in London and knew she was fabulous, but there was something about this performance that I felt had been spectacular, it was only when I watched it back online that I saw why. She'd basically defied death by climbing the rig in 8inch heels, all whilst belting it out in badass black eye make up and a leotard.'
'The festival circuit is so important for smaller artists because it's the place to create a buzz. This 'electricity' can be honed on festival stages – an artist's confidence grows with every face they see appreciating the music. Plus it's a good time for them to experiment with new songs, try new stage get ups and performance quirks.'
'The new band everyone should look out for this year is a hell of a noisy duo from Kent called Slaves. I'm desperate to see them this year, they are anarchic, loud and brilliant. I don't decide to go to some festivals until the last minute, but I'm definitely heading to Edinburgh Fringe this year. It's a different offering but just as stimulating. Oh and the Margate Soul Weekender - they've got Roy Ayers headlining! ' 'A perfect festival outfit has sparkle, shine and function. I know those don't necessarily go together, but it's possible. I love a shiny metallic skirt with a cardi wrapped round your waist, a bumbag and some divine designer sunnies. Mixing it up is my secret – I love TK Maxx as each store has different stock and you can create an outfit that's unique. They also have an amazing range of designer sunglasses for less. I stand by sparkle as nothing looks better than glistening dancers in the day sunshine, all hazy and mermaid-like.'
'My festival beauty essential is multiple packs of wet wipes - one is never enough. At some point wet wipes will become your shower, make up remover, toilet roll, drink spillage sorter and sweaty brow saver.'
'The floral headband isn't dead. It doesn't matter if something is on trend or not, embrace your unique style and rock it. My tip is to go for gigantic blooms - the bigger the better. I'm loving the 70s trend this summer, too, so a floppy hat could make any look more on trend.'
'My festival style icons are all my friends who I follow on Instagram. My friend, accessories designer Fred Butler, is a rainbow of a human. You don't need to look at celebrities to get style inspiration, just look at all the amazing, unique festival looks that real people are rocking all around you.'
You can create your own unique personal festival looks for less at TK Maxx. For more style inspiration please visit your local TK Maxx store or shop online at tkmaxx.com.
Celebrity news, beauty, fashion advice, and fascinating features, delivered straight to your inbox!