I seriously doubted TikTok's coastal cowgirl trend, but now I wear cowboy boots with everything
Emily Ratajkowski and Kendall Jenner are big fans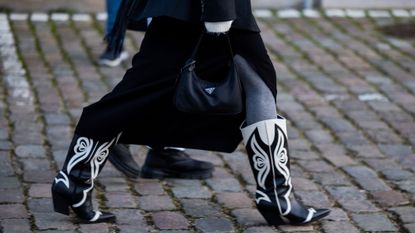 (Image credit: Getty Images / Christian Vierig / Contributor)
I'm usually the first one to jump onto every TikTok trend, but when I first saw TikTok's coastal cowgirl aesthetic, I was sceptical. If anything, I straight-up hated it.
But now I'm kicking myself because most of the Western-style boots I had my eye on are already sold out. When I first scrolled past the coastal cowgirl trend on TikTok, I rolled my eyes like a real hater. But now, #coastalcowgirl has over 160 million views on TikTok–and that's a lot for a TikTok fashion trend.
It's not the coastal cowgirl trend itself I disliked, per se. My apprehension was more about yet another TikTok trend popping up with no real expertise behind it. Although I love Tomato Girl Summer and TikTok's red nail theory, I doubted Coastal Cowgirl would really take off.
But boy, was I wrong to not step into this trend sooner: Every other photo on my timeline is someone in cowboy boots, and I spotted them in practically every Copenhagen fashion week snap.
Kendall Jenner has been coastal cowgirling all summer, and Dua Lipa's cowboy boots might be the best I've seen. They're also a hit with the style set, paired with everything from a blazer and shirt to cargo pants and shorts, and cropped up in almost every street style shot from the most recent Copenhagen Fashion Week.
Emily Ratajkowski perfected coastal cowgirl with black cowboy boots and a sheer dress, proving that the coastal cowgirl aesthetic is way more than a TikTok trend.
What is the coastal cowgirl trend?
"The coastal cowgirl trend isn't just about pulling out all the fringe, denim and suede you have and throwing it all together. The coastal cowgirl is all about laid-back fashion that mixes western and beach aesthetics for a super summery look," says Megan Watkins, Head Stylist at SilkFred.
It blends the 'coastal grandma' TikTok aesthetic with cowgirl energy and is all about mixing different textures and styles. Think denim, with leather topped off with a crochet dress.
How to wear the coastal cowgirl trend?
"Luckily, the coastal cowgirl style uses many staple pieces we already have in our wardrobes," says Watkins. Think "white tanks, denim jackets and linen dresses and midi skirts - it also uses some of this year's hottest items like cowboy boots, flower embellishments and crochet details. Think Western-influenced styles but in lightweight fabrics and neutral shades, which adds a beachy vibe," the Stylist explains.
"I suggest mixing a statement piece like suede cowboy boots with an understated item like a breezy linen shift dress. If you're dead set on rocking a cowboy hat, I would pair it with a maxi skirt and a simple crochet vest so you don't look too costume-y," SilkFred's Head Stylist explains.
Initially, I was worried about the wearability of the coastal cowgirl trend and didn't want to get involved for fear it would appear I was playing dress up. So I ditched the cowboy hat, but as soon as I wore cowboy boots for the first time, I instantly knew they were about to become a staple in my wardrobe. They are actually super wearable, and instead of feeling like I am playing dress up, I now only feel cool when I'm wearing a pair. I've worn them to festivals with a crochet dress, plain black pairs with a super coastal white flowy look, and in the evening with an LBD - versatile is an understatement.
"Summer is the coastal cowgirls' time to shine," says Watkins. "You won't be able to go to a festival this season without seeing this trend everywhere," she continues. It turns out she is absolutely right. Every festival I've attended this summer has been a sea of cowboy boots.
It's not just festivals; the coastal cowgirl look will work all summer. For holidays, "this aesthetic is perfect for beach days. Denim shorts paired with a crochet cover-up will give you the ultimate coastal cowgirl seaside chic," Watkins tells Marie Claire UK.
This week marks the start of fashion week, and it feels like every other attendee is wearing a pair of cowboy boots, proving I'm not the only one planning on wearing them all through Autumn and Winter.
Get the Coastal Cowgirl look
Cowboy Boots
The perfect pair of cowboy boots is the key to nailing the look.
For a boot that will stand the test of time and become an investment pair that you will always go back to, I suggest opting for a plain black boot in a Western style.
Opt for a plain black boot in a classic Western shape for a pair that will stand the test of time.
Especially the Free People pair tall boot with brown detailing. To really lean into the aesthetic go for a brown cowboy pattern pair, or if you're loving the metallic trend, you'll find some silver ones. I opted for a plain pair I know I'll wear all through winter (drop the coastal for cool cowgirl aesthetic in Winter).
Coastal Cowgirl dresses
White Vests for Coastal Cowgirl style
Skirts for Coastal Cowgirl style
Celebrity news, beauty, fashion advice, and fascinating features, delivered straight to your inbox!