Anarchy in the UK: A brief history of punk fashion
We take a look at the cult moment fashion anarchy hit the UK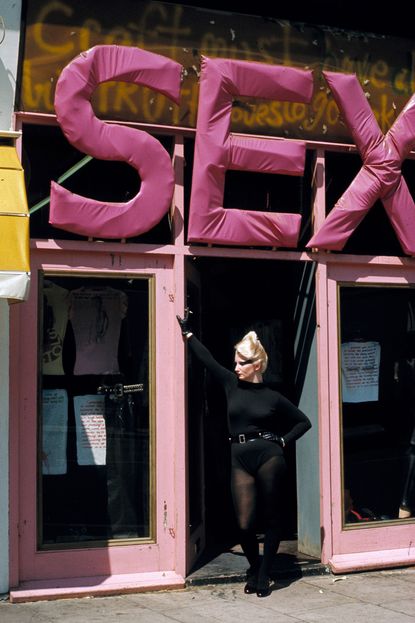 (Image credit: Sheila Rock/REX_Shutterstock)
In 1975, rebel band, New York Dolls were well on their way to crash and burn when then-manager, Malcolm McLaren, stepped on the accelerator onstage in New York City.
Words by Kat Lister
The theme was red - communist red - in their own words 'in co-ordination with the Dolls' very special 'entente cordiale' with the People's Republic of China'. Five guys dressed in tight, patent red leather struck their guitars in front of a backdrop of the hammer and sickle. The record labels response was quick and decisive, and a month later the band dissembled. The future punk aesthetic, however, was established here.
Punk may have burned bright on the King's Road in London but it was also ignited in New York City and soon took over in a sweaty, malodorous music club in lower Manhattan: CBGB's. Considered by many as 'the undisputed birthplace of punk', CBGB's gave punk its beer-soaked catwalk and a few other by-products besides, (how can we best say this? Well, CBGB's owner, Hilly Crystal, used to let his beloved dog Jonathan relieve himself all over the club.)
The counter-movement was a backlash against the etherealness established by the late sixties' Summer of Love ethos - all waves, flares, drapes, peace and love. In its place came super tight jeans, leather jackets, ripped tees, sweat and anger. Soft lines were replaced with sharp cuts; 15 minute prog-rock jams struck down by two-minute distorted bursts.
The clothes, as is always the case, reflected the music. Punk band The Ramones would command their sharp sound with a new sharp look and a 1-2-3-4! They ripped up their jeans just like they ripped up the sixties. Sneakers and leather completed the look. Their iconic band t-shirt - synonymous with teen rebellion - is still worn by college kids today.
Across the pond, anarchy was also hitting the UK in the early 1970s, hand-delivered by punk pied-piper Malcolm McLaren and his designer girlfriend, Vivienne Westwood. A year before McLaren donned The New York Dolls in red patent leather, he and Westwood rebranded their 'rocker' shop in 1974 - calling it 'Sex' - at 430 King's Road in London's Chelsea. Few would miss the rebrand - a four-foot sign of pink rubber letters spelt it out for pedestrians passing by, their motto scrawled above the door reading: 'Craft must have clothes but Truth loves to go naked'. Inside, graffiti and chickenwire were the interiors of choice. Its 'anti-fashion' philosophy would define the punk movement.
Selling fetish and bondage wear, including their own designs, McLaren and Westwood's boutique customers now read like a who's who of the era: the Sex Pistols, Adam Ant and Siouxsie Sioux all shopped here. The Sex Pistols' bass-player, Glen Matlock, and soon-to-be Pretenders frontwoman, Chrissie Hynde, were even shop assistants. Prostitutes rubbed shoulders with the Chelsea elite. Sex was selling.
In 1976, the shop was renamed yet again, this time called 'Seditionaries'. Rebellious fashion continued to evolve at the helm of punk's power-couple. They even caged a live rat within a specially-made table. Rubber outfits and bondage trousers were snapped up as Seditionaries' resident rat skuttled about.
McLaren was now the manager of the Sex Pistols, but it was Vivienne Westwood (now considered 'The mother of punk') who came to the fashion-fore with her sensational designs and made her name. Westwood and McLaren's streetwear t-shirts caused controversy, with slogans like 'Cambridge Rapist' and 'Paedophilia' sparking consternation and outrage. Another, 'Two Naked Cowboys', depicted just that - two cowboys, naked from the waistdown, their genitalia reaching out to greet each other.
The Nazi swastika quickly replaced the peace sign as a finger-sign held up to their World War II generation elders, led by Sid Vicious dressed in a red swastika tee and studded leather biker jacket. Debates still continue on the questionable subversion of such a symbol.
Despite an Atlantic gap between US and UK punk style, two trends survived the trip over: ripped shirts and safety-pins. The 'distressed look' became a punk-staple and the safety-pin trend has often been attributed to American musician Richard Hell. The UK's own Sex Pistol Johnny Rotten, however, gave a more practical reason for the accessory, claiming they prevented 'the arse of your pants falling out'. Whatever its origins, it was quickly adopted by design-duo Westwood and McLaren and radically transformed into both a fashion and political statement. Their 'God Save the Queen' t-shirts - the Queen passively sporting a safety pin through her nose - still provokes.
Led by Westwood and McLaren, distorted customisation such as rips, zips, studs, badges and armbands were now being used as a political statement on the street. These clothes had something to say - they carried slogans, not logos. Westwood and McLaren's 'anarchy shirt' is an apt example. At the heart of the British punk movement were the Sex Pistols and in 1976 the scene exploded when 'Anarchy in the UK' was released. The daring shirt embodies this moment in time: faded prison stripes are overlayed with a slogan that reads 'Only Anarchists Are Pretty'; a picture of Karl Marx is appliqued and a red armband reads 'chaos'. Its symbolism barely needs explaining.
As the 1980s landed and civil unrest intensified, punk fashion became even more politicised and 'street punk' created the image of punk we now all remember: mohawks, studded chokers, tattooes, Dr. Martens boots and tartan. Women donned leather skirts and ripped fishnets and many scrawled slogans and band logos on t-shirts with marker pens.
The catwalk soon took notice with a young 'enfant terrible' turning subculture into couture, inspired by London's daring street look. Jean Paul Gaultier challenged gender stereotypes with androgynous dressing such as his kilt-inspired 'man-skirts' in the mid 1980s.
A few years earlier, in 1977, designer Zandra Rhodes sandwiched 'punk' with a word few on the King's Road would be impressed with: 'Chic'. 'The Conceptual Chic collection' repackaged punk for those who could afford it: carefully placed rips and golden safety-pins neatly adorning boho sashes. The punk defiance of black was overlayed with purples and reds. This was Rhodes' commercial transformation of a movement rooted in battling the mainstream - Sixousie Sioux on her hols in a Moroccan souk, if you will. 17 years later, Elizabeth Hurley would echo Rhodes' designs in that Versace safety-pinned dress.
As punk fashion became more stylised, New Romanticism aimed to shine a light in the political darkness. 'We wanted to get out of that underground tunnel feeling of England, that dark feeling,' Westwood would later explain. 'Post punk' style was subsequently born. The Dr. Martens stayed around but they were worn with Gaultier-inspired corsets. Vivienne Westwood and McLaren's first 1981 catwalk show was called 'Pirate'. These two swashbuckling rule-breakers were finally sailing away from the Kings Road for the first time and docking on the catwalk.
A new golden age was beginning, but it owed everything to the turbulent rips, blood and sweat of the 1970s.
Celebrity news, beauty, fashion advice, and fascinating features, delivered straight to your inbox!
The leading destination for fashion, beauty, shopping and finger-on-the-pulse views on the latest issues. Marie Claire's travel content helps you delight in discovering new destinations around the globe, offering a unique – and sometimes unchartered – travel experience. From new hotel openings to the destinations tipped to take over our travel calendars, this iconic name has it covered.