Actress Sophie Rundle talks equality, friendships and embarrassing sex scenes
You've seen her in Peaky Blinders and Bodyguard, and now Sophie Rundle is starring in new BBC drama Gentleman Jack opposite Suranne Jones. Here, the actress talks to Sophie Goddard about working with the greats, dodgy hair cuts and awkward cab rides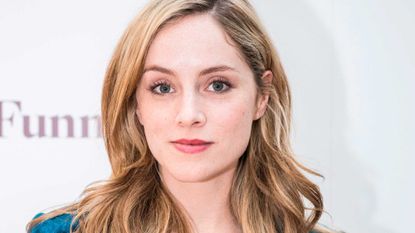 (Image credit: Rex Features)
You've seen her in Peaky Blinders and Bodyguard, and now Sophie Rundle is starring in new BBC drama Gentleman Jack opposite Suranne Jones. Here, the actress talks to Sophie Goddard about working with the greats, dodgy hair cuts and awkward cab rides
Thirty seconds into speaking to Sophie Rundle, we discover we went to the same after-school drama club in Bournemouth, and spend the next few minutes enthusing about it. 'Oh god, I sound like such a wanker, but doing drama as a kid makes you much more confident and brave,' she gushes. 'It's a real travesty that it's considered an "extracurricular" thing. It's vital for growing and developing, learning skills like proper eye contact, communication and speaking publicly. Some of my best friends now are from drama club,' she adds, admitting that thinking about them is 'making me homesick'.
It's not surprising – there hasn't been much time for trips back to the seaside lately. Now based in London with her actor and writer boyfriend Matt Stokoe (the couple are currently renovating their Victorian house together – see Instagram for updates), 31-year-old Rundle's career has positively skyrocketed since those drama-school days. Best known for her roles in Peaky Blinders (as Ada Shelby) and Bodyguard (as Vicky Budd), as well as credits on Jamestown, Episodes, Happy Valley and Call The Midwife, this month Rundle stars in Gentleman Jack, playing Ann Walker, the wealthy heiress Suranne Jones's character sets her sights on marrying.
Show business runs in the Rundle family. 'My granddad was a line producer, and we have pictures of him with Gregory Peck in the 60s, so I think it was in the air,' she explains. 'My mum and dad aren't actors, but we all sit around doing impressions,' she explains. Her parents, Fiona, a customer service manager, and Michael, a business consultant, fed her love of acting, too. 'As a family, we'd watch films and talk about people on screen – what was good or bad, and whether you believed them and their stories. I loved that.' The middle child of three, Rundle's older brother is a writer, and her younger brother is an actor, too, which begs the question: would they work together? 'No, I'd find it really weird. I'd get the giggles and so would he,' she mock-shudders.
After graduating from RADA in 2011, Rundle landed herself 'the tiniest part in a TV show' (she can't remember what). 'I had three lines, but filmed it in Budapest,' she says. 'I remember getting on a plane and I couldn't believe someone was paying me money to be there.' But it was landing the role of Ada Shelby in Peaky Blinders in 2012 that changed everything. 'I feel really loyal to that show,' she says. 'They gave me my first leg-up. When I went for my audition, I was skint and had dyed my hair myself. It went badly wrong and I had jet-black, Halloween hair. It was a disaster. I arrived thinking, "I'll never get this". It's an amazing cast and such a ballsy, wild show. I couldn't believe it when they gave me the part – I still can't. God, I sound really underconfident, don't I?'
Seven years on, being an actor clearly still hasn't sunk in. 'I get embarrassed saying what I do,' admits Rundle. 'If you're chatting to a cabbie and they don't know you're an actor, I cringe because it's always coupled with the inevitable, "So, what have I seen you in?" And you're left reciting your CV.' Working with the likes of Helen McCrory and Cillian Murphy hasn't hit home yet, either. 'It's totally surreal,' she says. 'They're brilliant and at the top of their game for a reason. You learn just being around them; it's a privilege watching the way they take what's on the page and add to it – they're so brave and creative.' But working with the greats also has its drawbacks. 'I feel like I make a tit of myself every day! I was so much braver when I was younger. You have to really put yourself out there, and some days, especially if you're doing a highly emotional or public scene, you feel like an idiot in front of everyone.' Which brings us on to sex scenes, AKA 'the worst thing in the world' (her words). 'It's a stupid thing for a grown person to be doing, but there's no way around it,' she explains 'I just did this scene in Gentleman Jack and the whole team worked hard to make sure everybody felt confident. If you do a fight scene, you have a stunt co-ordinator and safety precautions, and the entire day becomes about ensuring everyone feels in control. But sex scenes? No. It's such an exposing thing and it can go really wrong. There are so many horror stories where people have been taken advantage of.'
'You have to have a coping mechanism, sit down and have a chocolate biscuit'
There's also the uncomfortable preoccupation with aesthetics that is so much a part of the profession. 'I've always struggled with that side of things,' she reveals. 'I was so young when I started acting, and it never occurred to me that my image would have such a huge impact on my career. Putting on a sample-size outfit for a shoot seems so incongruous to me. I'm not particularly comfortable with it and I can't watch myself back…' she trails off. 'But it's a necessary part of the job, so you have to be pragmatic and separate yourself from it, otherwise it would make you go insane. You might stop and think, "God, I look awful", but then you go, "Well, it's just encroaching on vanity here, I should just stop thinking about my face". It's especially hard when you've got your period, a big spot, or you're just not feeling great. The last thing you want is a camera stuck in your face. But that's when you earn the money, so you have to figure out a coping mechanism. Have a sit-down and a chocolate biscuit, grit your teeth and get on with it.'
The week Rundle and I speak, Emma Thompson has pulled out of upcoming animation Luck in response to John Lasseter's hiring (following accusations of sexual misconduct), and Rundle doesn't shy away from talking about inequality in the industry. 'There's this thing as a woman where if you are vocal or have an opinion, you're often seen as being difficult, annoying or overly emotional,' she says. 'And I think it takes other women saying, ''Well, actually, I'm going to make a stand". The more people like Emma who speak up and have a voice, the more it helps others in the future.' Does she now feel in a position to speak up, too? 'The older I get, the more confident I feel putting my foot down and taking control, absolutely. When I was younger, I was just so grateful to be there I'd say yes to everything. It's really important as a woman to feel empowered enough to call the shots, so you're not being taken advantage of.' That goes for pay too, she adds. 'It's such a tricky one because people are, rightly so, private about what they're paid, and you have to be sensitive about that. But transparency is key to making a difference. When it's hidden away, that's when people take advantage. You have to talk, and it's important to bring men into these discussions; it shouldn't just have to be women sharing their pay packets. If you're working with a guy and feel comfortable being open about that with each other, that's the way forward.'
Clearly, Rundle is putting her money where her mouth is. Along with Stokoe (an 'incredibly talented writer'), the pair (who worked together on Jamestown and Bodyguard) have set up a production company, Bone Garden Films. 'We just made our first feature film, Rose,' she says. 'We started it when we were on a job – as friends – and frustrated with the lack of input we had. Last year, we got funding and began filming. We have a couple of other projects in development, too.' Her reasoning is clear-cut. 'I think young people are realising you don't have to have just one career avenue. If you've got a voice and something to say, you can go out and create your own content. It's not elitist, it's open to anyone, and that's so vital in diversifying the work we're seeing. If we only allow a certain demographic to be in positions of power, then the content we are creating is always going to be skewed in a certain way. It's really important that work is representative of the world that we actually live in. I think it's pulled back the veil a little on this industry.'
It also helps that Rundle's network includes best friend and fellow actress Hannah Arterton (sister of Gemma), who she credits with keeping her sane. 'Those two as sisters are brilliant women,' she says. 'Gemma is my best mate's really cool big sister and I think she's impossibly fantastic. She navigates her way through the industry very well, she's figured herself out and how she wants to present herself. I think you learn from all of your contemporaries. You talk, swap stories and watch how other people deal with things and you take inspiration, definitely. Last night, Hannah and I went to the pub and spoke for six straight hours about everything. I think women particularly need to unburden and talk until you feel better – or until someone is insightful and says something that makes you think about it differently. To me, that's absolutely vital.'
Gentleman Jack is coming soon to BBC One
Celebrity news, beauty, fashion advice, and fascinating features, delivered straight to your inbox!
The leading destination for fashion, beauty, shopping and finger-on-the-pulse views on the latest issues. Marie Claire's travel content helps you delight in discovering new destinations around the globe, offering a unique – and sometimes unchartered – travel experience. From new hotel openings to the destinations tipped to take over our travel calendars, this iconic name has it covered.