Exclusive: Justin Theroux On Fame, Family And Why He's Much More Than Jennifer Aniston's Plus-One
'What's the weather like? Have you had your vacation yet?' asks Justin Theroux in an upbeat, throaty East Coast drawl when he calls on a grey Monday evening. It's certainly one of the more exciting phone calls I've received at my desk, but we're not here to talk about me, I tell him. Nobody would read that.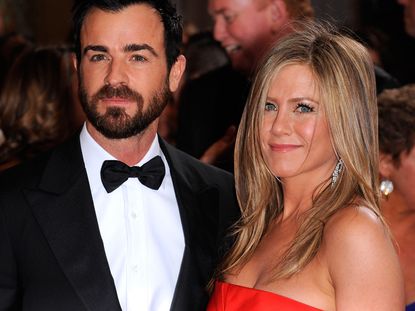 (Image credit: Rex)
'What's the weather like? Have you had your vacation yet?' asks Justin Theroux in an upbeat, throaty East Coast drawl when he calls on a grey Monday evening. It's certainly one of the more exciting phone calls I've received at my desk, but we're not here to talk about me, I tell him. Nobody would read that.
'I'm sitting in my office at home in LA,' he says of his idyllic Californian backdrop. 'Yep, that's one pretty picturesque lawn.' By home, Theroux means the $21 million Bel Air mansion he shares with his fiancée Jennifer Aniston, who he proposed to in 2012 on his 41st birthday. But while the tabloids and gossip sites have been losing their heads over when the pair might/might not marry and have babies, Theroux has been quietly getting on with what he does best. Namely, taking the lead role in The Leftovers.
Adapted from the novel by Tom Perrotta, it is the brainchild of Lost co-creator Damon Lindelof, which is evident from episode one with it's dark undertones and apocalyptic, ambiguous narrative. Theroux plays a small-town police chief, Kevin Garvey, juggling being a single dad to two teens alongside pacifying a community left dumbfounded by the unexplained disappearance of two per cent of the world's population.
Family is a running theme and I wonder how Theroux, not yet a dad himself, prepared for the role of a parent. 'The strange thing is that I've started to feel oddly parental towards my on-screen children. They've just moved to New York for the show and I've got a little protective, making sure they get home OK. I find myself checking in on them at the weekend – are you doing alright? Did you work that out? Wait, when are you moving? Who's moving you? I'm a real protective fake dad.' Good practice, I venture? 'Well, I'm great with teenagers but the in-between bit… at least I didn't have to deal with any diaper changing.'
For a man whose stock lies largely in comedy (he wrote the screenplays for Tropic Thunder, Rock of Ages and Iron Man 2) was this a strategic move into drama? 'No, this show was just so well written, frankly,' he says, not missing a beat. 'I always follow my gut. I learned early on that whenever I've taken someone's advice and not trusted my gut, it's put me in a miserable place.
Theroux waxes animatedly about collecting new friends. He's a guy who likes people, and likes to be liked: 'Your circle grows larger as life rolls along. And because of the carny [nomadic] lifestyle of working on a show, there's 30 more people I adore – cast, crew members, camera men - who I didn't know before. The tent goes up, then the tent comes down and you're off to the next town. But hopefully you get to see those people again.'
One such co-star in The Leftovers is Liv Tyler, who caused a Twitter storm when she confessed she was distracted by Theroux's 'bulge' when she re-watched a jogging scene in the pilot episode. He laughs hard when I mention it. 'You know, this has gotten way more attention than I'd like,' he deadpans. 'Can we focus on the art please! Eyes up here, please.'
Theroux's love affair with New York is a common thread, and he's almost gushingly affectionate about the place he still calls home. 'It's the spontaneity of New York. You can spill out onto the street, bump into a friend, grab a coffee, see a show. Everything's spur of the moment.' But since his relationship with LA-based Aniston began, Theroux has become what he describes as 'bi-coastal', admitting that choosing between the two cities is practically impossible.
'Luckily I don't have to choose because I can have both. I've actually been in LA far more recently, only visiting New York to shoot the show. But I consider them both equally my home. The great thing about LA is that you can move a little slower when you need to.'
Though his public profile undeniably soared thanks to the Aniston effect, Theroux has long been respected in the industry as both screenwriter and actor, having worked with everyone from Ben Stiller to Tom Cruise. Of the latter, he says: 'That guy doesn't get nearly enough credit for what a fearless actor he is. When we were doing Tropic Thunder he'd constantly kick the script back to us and say, "Go further". I'd be like, "Really? You do realise you're already saying some pretty crazy shit?" So every day was basically, what can we make Tom Cruise do today?'
The Theroux dynasty is an interesting one. His cousin is British documentary-maker Louis Theroux, and his uncles and other cousins form a long line of novelists, travel writers and poets. That's one hell of a dinner party line-up, right? 'There's definitely merriment,' laughs Theroux. 'We haven't spent Christmas together for a long time but I saw Louis a couple of weeks ago. He's a real hero of mine. We all bring something different to the family table. Except for me – I might just bring a bottle of wine.'
It's this self-deprecating humour that normalises Theroux in a way that works for only a handful of Hollywood types. He's very real. Despite the flashbulbs, he's surprisingly nonplussed by the endless scrutiny he and Aniston face. 'I don't pay much attention unless I catch a glimpse [of a tabloid headline] at the checkout,' he says casually. 'It's usually someone else telling me what's happening with my life. The man on the street clapping me on the shoulder, saying congrats, and I'm like, oh-kay, I have no idea what that's about. [Fame] It's like having your own cartoon strip constantly running that you can't control.'
Perhaps it's the promise of a classic Hollywood romance or just the sheer glamour of this A-List power couple, but despite our best convictions, we can't stop watching. Quite possibly the only ones who aren't obsessing over the Jen and Justin Show are Theroux and his fiancée themselves. They're far too busy tending to their growing brood of chickens kept at their LA home. 'They're just like kids really,' Theroux jokes. 'Though I think they're better behaved. And you get beautiful fresh eggs every morning.' Crucially though, who does the dirty work, I ask? 'Ahhh, we both walk down there to collect the eggs. It's a joint effort. We do it together.'
One of the most surprising thing about Justin Theroux is that, behind the tabloid caricature, is a rather warm, unassuming yet introspective man. A charming man, who in the jaded world of Hollywood, remains laced with laid-back optimism. If the critics are putting pressure on The Leftovers to follow HBO giants such as Game of Thrones, The Wire and The Sopranos, Theroux isn't feeling it. 'The pressure is on the creators, which I'm relieved to not have. But it's distributed across all of our shoulders in a way. I don't think of any character in terms of being the lead guy because then you feel a different set of responsibilities, like you should look great holding a gun or something.'
For the record, at the risk of sounding predatory, he does look particularly good in uniform. But you can't judge a man by a tabloid image any more than you can judge a relationship that we know nothing about. As Theroux signs off to tend to the chickens and "scramble up some nice fresh eggs for breakfast", the image of arguably the most scrutinised couple in Hollywood heading off towards their boutique chicken coop, hand in hand, is a nice one to leave with. The good life indeed.
The Leftovers starts mid-September on Sky Atlantic HD.
Celebrity news, beauty, fashion advice, and fascinating features, delivered straight to your inbox!
The leading destination for fashion, beauty, shopping and finger-on-the-pulse views on the latest issues. Marie Claire's travel content helps you delight in discovering new destinations around the globe, offering a unique – and sometimes unchartered – travel experience. From new hotel openings to the destinations tipped to take over our travel calendars, this iconic name has it covered.