Hugh Grant wasn't a fan of this amazing dance scene in 'Love Actually'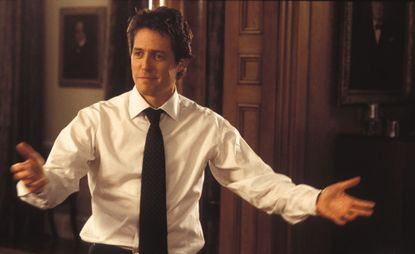 (Image credit: Snap Stills/REX/Shutterstock)
Words – Johnni Macke
Thought you knew Love Actually inside out? Well, remember that dancing scene from Love Actually? Hugh Grant wasn't a fan and it's very disappointing.
http://gph.is/2cjw1kD
How could the man who played the Prime Minister not like the iconic dance scene? It makes no sense! For those of you who are a little lost, we'll recap. In Love Actually there are SO many stories to follow, but that of Grant's political bigwig is one of the best.
http://gph.is/1lv2wxK
After telling off the President of the United States, the prime minister is at his home when Jump (For My Love) by the Pointer Sisters comes on the radio as a song in his honour. He then starts to dance in a white, button down shirt and nice trousers. It's not really relevant what he's wearing, but when he shakes his butt you can't help but notice.
It's one of the most memorable scenes in the British film, but for the actor it wasn't really the most fun thing to film.
'He was hugely grumpy about it,' writer/director Richard Curtis recalled in an interview with The Daily Beast. "He was so wanting his bit not to be fake; he wanted to feel as though he could be prime minister.'
http://gph.is/1lv2Cp2
'Whenever I said, 'Do it a bit sweeter' or 'do it a bit more charming,' he thought he was being tricked. I told him, 'I'm going to mainly be giving you a very magisterial point of view, but I just want to make you a bit sweeter once in a while,' he explained.
Because Grant wasn't sold on the fact that the prime minister would do a dance like that — we totally think he would — it was hard for him to film.
http://gph.is/1lv2xS6
'The fault line was the dance, because there was no way he could do that in a prime ministerial manner. He kept on putting it off, and he didn't like the song — it was originally a Jackson 5 song, but we couldn't get it — so he was hugely unhappy about it,' the director revealed to the publication.
Despite the 56-year-old actor's resilience in filming the hilarious dance sequence, he nailed it…almost a little too well.
http://gph.is/1lv2yWr
'We didn't shoot it until the final day and it went so well that when we edited it, it had gone too well, and he was singing along with the words,' Curtis admitted.
'When you edit a dance sequence like that, it's going to be a third of the length, and the bit he's singing the words to isn't going to be the bit of that moment, so it was incredibly hard to edit.'
Okay, we understand that Grant was trying to be the prime minister in every sense of the word, but the bit worked and it worked well. In fact, we're going to turn on Love Actually right now and watch that scene.It'll definitely put anyone in the holiday spirit!
From the editors of Hello Giggles
Celebrity news, beauty, fashion advice, and fascinating features, delivered straight to your inbox!