Have you ever noticed this huge Clueless movie mistake?
AS IF nobody spotted this sooner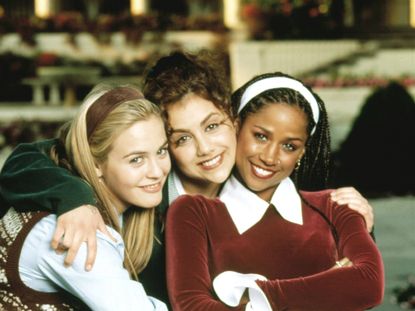 AS IF nobody spotted this sooner
Clueless will forever be one of our all time favourite films. Seriously, those outfits are still giving us major wardrobe envy and not a day goes by when we don't reel off one of the many hilarious Clueless quotes from Cher herself.
However, eagle-eyed fans have recently pointed out a significant mistake made in the scene where Cher hands over her report card to her father. And it's left us totally buggin'.
In one scene, Cher's report card has her listed down as Cher Hamilton. Now we don't know about you, but we've always known her to be Cher Horowitz? Even more confusingly, her father also has post addressed to Melvin Hamilton.
So where on earth has the surname Hamilton suddenly appeared from?
The logical explanation is that Hamilton was most likely the original surname of choice for Cher, and some poor soul in the props department forgot to update her report card once it had been swapped out for Horowitz.
As always, though, there are other theories floating about on the Internet as to why the scene shows Hamilton instead of Horowitz.
Thought Catalog writer Nico Lang has suggested that the surname Hamilton is actually a reference to Fast Times At Ridgemont High. The 1982 film just so happens to be the directorial debut of Amy Heckerling, who wrote and directed Clueless.
In Fast Times At Ridgemont High, Jennifer Jason Leigh (recently in The Hateful Eight) starred as Stacy Hamilton, who also narrated her teenage years throughout the movie. So perhaps this Clueless movie mistake is simply paying homage to Amy's other teen movie?
Whatever the reason behind the blunder in this cult classic, Clueless still remains one of our must see movies. And now we just have another reason to re-watch it, right?
Celebrity news, beauty, fashion advice, and fascinating features, delivered straight to your inbox!