The most hilarious Clueless quotes from Cher Horowitz
Whether they're sung or just, like, spoken, these Cher quotes better make it into the musical...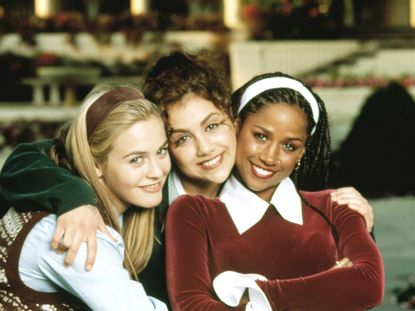 Oh Cher, never change.
Twenty years ago it gave us serious (computerized) wardrobe envy, introduced words like 'Betty' and 'full on Monet' into our vocabulary and had a soundtrack so cool we're (unashamedly) still listening to it. Still one of today's most quotable movies, these are our favourite clueless quotes from the films leading lady, Cher Horowitz.
'Miss Stoeger, I would just like to say that physical education in this school is a disgrace. I mean, standing in line for forty minutes is hardly aerobically effective. I doubt I've worked off the calories in a stick of Carefree gum.'
'So okay, I don't want to be a traitor to my generation and all but I don't get how guys dress today. I mean, come on, it looks like they just fell out of bed and put on some baggy pants and take their greasy hair - ew - and cover it up with a backwards cap and like, we're expected to swoon? I don't think so.'
'He does dress better than I do, what would I bring to the relationship?
'Unfortunately, There was a major babe drought at my school. The evil trolls from the math department were actually married and in the grand tradition of P.E. teachers, Ms. Stoger seemed to be same-sex oriented.'
'A watch doesn't really go with this outfit, daddy.'
Josh: 'In case you've never heard of that, a contribution is...'
Cher: 'Excuse me, but I have donated many expensive Italian outfits to Lucy, and as soon I get my license, I fully intend to brake for animals, and I have contributed many hours to helping two lonely teachers find romance.'
'That's Ren and Stimpy. They're way existential.'
'Until mankind is peaceful enough not to have violence on the news, there's no point in taking it out of shows that need it for entertainment value.'
(Heather: 'It's just like Hamlet said, "To thine own self be true."') 'Hamlet didn't say that.' (Heather: 'I think I remember Hamlet accurately.') 'Well, I remember Mel Gibson accurately, and he didn't say that. That Polonius guy did.'
'Dionne and her boyfriend Murray are in this dramatic relationship. I think they've seen that Ike and Tina Turner movie too many times.'
'Tai, how old are you?' (Tai: 'I'll be 16 in May.') 'My birthday is in April and as someone older, can I please give you some advice? It is one thing to spark up a doobie and get laced at parties, but it is quite another to be fried all day.'
'So like, right now for example. The Haitians need to come to America. But some people are all, "What about the strain on our resources?" Well it's like when I had this garden party for my father's birthday, right? I put R.S.V.P. 'cause it was a sit-down dinner. But some people came that like did not R.S.V.P. I was like totally buggin'. I had to haul ass to the kitchen, redistribute the food, and squish in extra place settings. But by the end of the day it was, like, the more the merrier. And so if the government could just get to the kitchen, rearrange some things, we could certainly party with the Haitians. And in conclusion may I please remind you it does not say R.S.V.P. on the Statue of Liberty. Thank you very much.'
(Josh: 'You want to practice parking?') 'What's the point? Everywhere you go has valet.'
(on virginity) 'You see how picky I am about my shoes and they only go on my feet.'
'If it's a concussion, you have to keep her conscious, okay? Ask her questions.' (Elton: 'What's seven times seven?') 'Stuff she knows!'
'Ugh. Skateboards. That's like so five years ago.'
Celebrity news, beauty, fashion advice, and fascinating features, delivered straight to your inbox!