From Amy to Iris: 11 of the best documentaries of all time
We attempted the impossible: to list the greatest documentaries that have challenged our preconceptions and opened our eyes...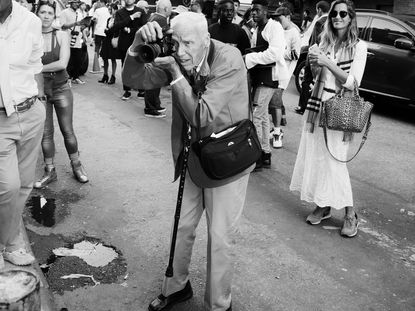 (Image credit: Rex)
We attempted the impossible: to list the greatest documentaries that have challenged our preconceptions and opened our eyes...
"You should bear in mind that almost all my documentaries are feature films in disguise," iconic German filmmaker Werner Herzog once said. The same could be said of all great documentaries, especially the ones we're celebrating today.
What makes them great isn't always easy to quantify, but there's definitely more to it than the facts they convey. Maybe Herzog's right and it's all about the disguises they wear to bring us some kind of truth. In a fictional world where 007 is still capable of dropkicking his baddies in hijacked helicopters 60 years after he ordered his first martini (which would make him about 110, right?), it's no surprise that cinemagoers look to documentaries to give them something different – something real.
Whether it's Bill Cunningham cycling through Manhattan to snap wonderful strangers on his old-school Nikon FM2 or Philippe Petit highwire walking between New York's two towers: non fiction provides as much playground for our imagination as any Hollywood blockbuster. Only these stories are real, they're flawed, they're human. It happened. Which is what makes these films even more exciting than a fictional superhero with a cape.
So, let's put the fiction to one side and delve into the real world of inspiring artists, everyday heroes and thrill seekers. We've put together a small selection of documentaries we think deserve to be called truly 'great'…
Ready? Let's go.
FASHION
Bill Cunningham New York (2010)
"We all get dressed up for Bill," says Vogue editor Anna Wintour in this unexpectedly moving portrayal of an octogenarian man with a camera. For decades Bill has captured impeccable high-society parties and eccentric street fashion for the New York Times' style columns, armed simply with an old-fashioned Nikon and a bicycle. Bill Cunningham New York is a love song to a lost art. We'd happily watch it again and again.
Signe Chanel (2005)
It's worth hunting down this five-part TV mini-series that work-shadows the House of Chanel as they put together their fall/winter 2004-2005 couture collection. Not only does it give unique insight into the inner-workings of Karl Lagerfeld's brain, it shines an illuminating spotlight on the unsung heroes at Chanel: the tireless women who dedicate their lives to making Karl's sketches a reality. This is a must-see for any fashion enthusiast.
Iris (2014)
Frankly, what Iris Apfel doesn't know about layering isn't worth knowing. This 93-year-old fashion icon is a self-confessed "geriatric starlet" and free-styling fashion muse. This documentary doesn't claim to move mountains, but what it does do is capture the minutiae of everyday life from the perspective of a fearless woman who has always refused to subscribe to the status quo. Our time spent with Iris is a delight from start to finish.
The September Issue (2009)
We could dub this one "The Devil Wears Prada: The Return" and it wouldn't be too far from the truth. Documenting the making of Vogue's most important edition (yes, you guessed it, 'the September issue'), R.J Cutler's film made a star out of flame-haired Grace Coddington: a force to be reckoned with and the voice of reason in a sea of kale smoothies. Andre Leon Talley steals the film in a tennis scene to rival Liberace himself, but what truly makes this documentary stand-out is the fascinating relationship between two formidable women: Grace and Anna Wintour. It's electric.
L'amour Fou (2010)
This is as much a film about the nature of love as it is a statement on fashion. In L'Amour Fou we see the life of an iconic designer through the eyes of his personal and professional partner, Pierre Berge, as he struggles to break up and sell off the large art collection they built together. Filmed a year after Saint Laurent's death, L'amour Fou is a melancholic ode to a life shared and a love lost. It's a desperately beautiful thing.
ART
Hockney (2014)
Much has been said and a lot has been written about our beloved David Hockney over the years, but very few people have captured him with such tenderness as filmmaker Randall Wright. Wright's film does something extraordinary: we see David Hockney's world through his multi-faceted, kaleidoscopic lens. Call us Alice but we defy anyone not to get lost in his vibrant wonderland.
Ai Weiwei: Never Sorry (2012)
Defiance personified. Alison Klayman's documentary follows the extraordinary life and artistic work of Chinese artist and activist Ai Weiwei. Giving unique insight into the injustices he – and many others – continue to battle in China, this film gives us a greater understanding of the man behind the art exhibits and headlines. Watch this film, get angry and get tweeting.
Finding Vivian Maier (2013)
The documentary format was made for stories like Vivian Maier's: a mysterious nanny who secretly took around 100,000 illuminating photographs over her lifetime and then boxed them away. Discovered decades later in an auction house in Chicago, John Maloof made it his life's quest to find the real Vivian Maier and tell her story. Be careful what you wish for. This is a fascinating and deeply troubling film that has a lot to say about social isolation - it'll hook you in immedately.
STAGE AND SCREEN
Pina (2011)
What do you get when you combine the filmmaking brilliance of Wim Wenders with the dancing genius of Pina Bausch? An exquisite and breathtaking documentary, that's what. So breathtaking, in fact, that somehow words don't quite do it justice. But we will say this: step into Pina's hallucinogenic world of movement, texture and abstract narrative, and you'll see the world refracted. It's a glorious achievement.
Lost In La Mancha (2002)
What happens when everything falls apart? Terry Gilliam knows and he even made a film about it. If's hard to believe all this happened, but the truth is it did and it's bonkers. Giving us an unflinching insight into the realities of filmmaking, when flash floods in Spain wash away Gilliam's film set, they wash away his dream too. It's heartbreaking, it's wickedly humorous and it's a must-see for all film buffs.
La Danse: The Paris Opera Ballet (2009)
In true Frederick Wiseman style, there are no voiceovers involved here. We follow the comings-and-goings of the Paris Opera Ballet as if we're there – and it's left up to us to decide what we think about it all. It's a daring concept - and not something for everyone - but it's a treasure of a film that will pay off for ballet fans.
The Story Of Film: An Odyssey (2011)
Directed and narrated by film critic Mark Cousins, this landmark series (comprised of 15 episodes) is as good as it gets. The Story of Film is pure poetry: hypnotic and lyrical. It's an odyssey alright...
MUSIC
The Punk Singer (2013)
This documentary is going to get you shouting "girls to the front!" in the bus queue after you've watched it – and that can only be a good thing. The Punk Singer charts the life and career of feminist activist and all-round badass riot grrrl Kathleen Hanna – whose band Bikini Kill pioneered a rare thing in rock: it championed women and drop kicked the male gaze. Hanna, we love you.
Searching For Sugar Man (2012)
Two Cape Town fans are on a mission to find out whether their American musical hero, Rodriguez, is still alive. What they discover makes for a thrilling and uplifting documentary. This one will definitely make you smile. Searching for Sugar Man is full of hope.
Don't Look Back (1967)
Three words that have defined Bob Dylan's entire career. This film is considered by many music fans to be one of the greatest music documentaries of all time - and with good reason. D. A. Pennebaker's is a fly on Bob Dylan's wall in 1965 - it's a fascinating insight into the strangeness of fame and Dylan's refusal to pander to it.
Amy (2015)
It's impossible not to watch Amy and feel complicit in her tragic story - which is exactly how this film packs its punch. Much like Don't Look Back, Amy also delves into the nature of fame. Amy's is a different story, however - vulnerable and raw - as we now know all too well. The noise of the papparazzi cameras explode and flash on our screen like grenades. Her face says it all but the music expresses her truth with poetic precision. This is a devastating reminder of a great talent who we lost too soon. It's an impossible watch.
HISTORY
Man On Wire (2008)
We all know the story by now, but just in case you've been locked in a bunker at the back of your garden for decades: in 1974 Philippe Petit highwire walked between the twin towers in New York and stunned the world. It was dubbed "the artistic crime of the century" and when James Marsh came across the story it struck him immediately as a "heist movie". Watching Man on Wire it's hard to believe this isn't fiction. Spine-tingling stuff.
The Black Power Mixtape 1967-1975 (2011)
Göran Olsson's powerful film documents the development of the Black Power Movement in the US (1967-1975). What makes this truly fascinating is that it comprises of lost footage, filmed by a group of Swedish journalists and rediscovered 30 years later in Swedish Television's cellar. The footage of activist Angela Davis, in particular, is spectacular.
Shoah (1985)
French director Claude Lanzmann dedicated 11 years of his life to creating this landmark documentary about the Holocaust, interviewing survivors, bystanders and perpetrators, and refusing to use any archive footage at all. What this creates is an unforgettable testimonial.
Celebrity news, beauty, fashion advice, and fascinating features, delivered straight to your inbox!
The leading destination for fashion, beauty, shopping and finger-on-the-pulse views on the latest issues. Marie Claire's travel content helps you delight in discovering new destinations around the globe, offering a unique – and sometimes unchartered – travel experience. From new hotel openings to the destinations tipped to take over our travel calendars, this iconic name has it covered.