I started ballet lessons aged 26 - this is how it changed my body
To mark the release of Rudolf Nureyev biopic, The White Crow, Victoria Fell started four weeks of intensive ballet training - and the results were amazing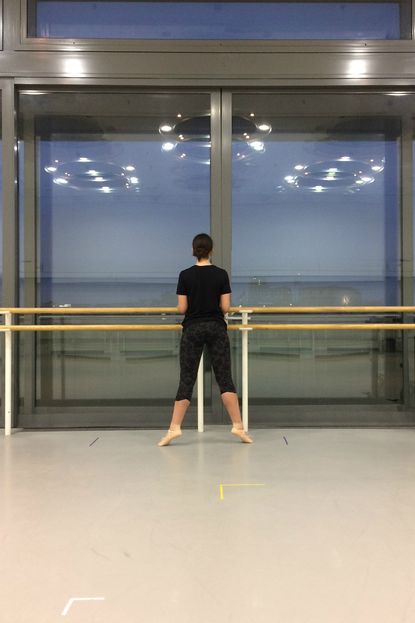 To mark the release of Rudolf Nureyev biopic, The White Crow, Victoria Fell started four weeks of intensive ballet training - and the results were amazing
Surprising fact: I never attended a ballet class as a child. As a slightly more robust kid, I gravitated more towards climbing trees and pony camp, where I spent rainy afternoons eating packed lunches in old caravans.
So ballet, which is often a rite of passage for young girls was something I never got into: no tutu, no pink tights, none of those impossibly tidy hair buns. Apart from a two-month foray into the world of classical dance at the age of 11 when I had ambitions of becoming a musical theatre sensation, my experience with the art form is zero.
Which is why when offered the chance to train with Bennet Gartside, I jété'd (sorry, not sorry) at the chance. A Principal Character Artist of The Royal Ballet, who also runs Everybody Ballet, Bennet coached Ralph Fiennes leading up to the production of his new film based on the life of ballet legend Rudolph Nureyev, The White Crow, so that he could get a better understanding of the art form. Safe to say then, that I would be in good hands.
Would I be sugar plum failure, or would it turn out that ballet was the pastime I was born to do? Only time would tell.
Week 1, Day 1
I am anxiously lurking outside the Royal Opera House in Covent Garden, and I'm pretty sure that at this point, I'm the personification of imposter syndrome. However, Bennet is an absolute pro at making even the most inexperienced beginner (me) feel welcome. We start with the first few basic positions of arms, then move on to legs, and I am immediately using muscles that have pretty much lain dormant for the last 26 years, AND using them all simultaneously. By the end, I had managed a plié and learned what turnout is, and how important it is. Not bad for Day 1.
Week 1, Day 2
Ballet takes mental, as well as physical strength, and the fact that I'm up at 6.30am to do a class before work proves this. After a quick warm-up, today we ventured into the realms of tendus and battements – the latter involving lifting your leg off the floor. It's so much harder than it looks, and I feel a wave of pride when I manage to bring my straight leg and pointed-ish toe to the heady heights of about 5cm off the floor.
Post-class, I am raring to go for the work day ahead. Outside of classes, I've also started thinking about my posture more - the muscles in my back are frankly, killing me, but I already feel that I am sitting and standing more upright.
Week 2, Day 1
The muscles in my back are finally back to normal, but the fact that it's taken a week is a pretty worrying sign of how bad my posture actually was before. Today's class was filled with jétés, battements, and even the odd grand battement, but the most fascinating thing for me has been seeing how my body has responded to the training. Bennet has been catering for an old injury in my left knee (I sledged into a wall on a Norwegian mountain aged 9, as one does), yet ballet is the only sport I've undertaken where my left leg has a noticeably weaker side... it's no exaggeration to say that ballet uses every muscle.
Week 2, Day 2
Today we moved away from the safety of the barre into no man's land, where we worked on jumps, and this is some serious cardio. Thankfully, having played netball at school definitely helps with the jumping, however the muscle memory for flailing my arms around (interception queen) also remains, which isn't particularly balletic.
Leaving the class, I felt pretty positive about my new-and-improved posture, but then I see actual Royal Ballet company members gliding into the studio incomprehensibly gracefully as I leave, and realise that I definitely need to keep on practising.
Week 3, Day 1
Today we faced a milestone in my ballet training: the pirouette. However, like most things in ballet, the effortless appearance of these spins is very, very deceptive. The checklist of muscles to keep engaged is lengthier than usual, so means that pirouette prep takes a lesson – there is balancing, there is turnout, there are toes that need to be pointed. This element of ballet is as much as a cerebral workout as it is a physical one, and I've noticed that the mornings where I have my ballet lessons before work are often the most productive.
Week 3, Day 2
Last lesson's prep came to fruition today... well, sort of. I spun, and I spotted and I almost succeeded at a pirouette (again, see the Marie Claire Insta channel for the evidence). I don't think I'll be able to master pirouettes by the end of the challenge, but trying to is amusing enough.
From the way my clothes are fitting me, I am seeing the toning effects of ballet first-hand. This is only with two sessions a week: imagine what the professionals go through, working and training six days a week.
Week 4, Day 1
The final week is here. The pirouettes are still as hard as they were the week before, but my muscle memory has developed to the point where the mental checklist of muscles to squeeze and tighten is being ticked off so much quicker than at the beginning.
Today also saw me attempt what can only be described as 'speed tendus', which illustrates the general position I find myself in with ballet, where my mind understands what I need to do but my body just won't play ball. Having said that, I've noticed a definite improvement in my stamina and my consistency, which makes doing 14 of these moves in a row a fraction easier.
Week 4, Day 2
We went all out for our last sessions: think jumps, think turns, think chassés across the diagonal of the floor. All this in The Clore Studio, an incredible rehearsal and performance space in the Royal Opera House, which has hosted such names as Princess Margaret in the audience… no pressure then.
An hour of putting what I'd learned into action, and the mental checklist that I went through with every balance and tendu was getting quicker and quicker. It's also probably rose-tinted glasses, but in this session, it felt like I was able to balance for longer and could lift my legs higher and more accurately than even the session before. And with a final chassé smiling at my imaginary Royal audience, our final lesson was over.
So, what did I learn?
Even in four weeks, a lot. Firstly, a huge thanks to Bennet Gartside, whose knowledge and patience made what could have been a fairly embarrassing challenge (I am that clumsy) so much fun. Post-challenge, my posture is noticeably better and I have so much more awareness of what each muscle in my body controls and is capable of doing: even something as simple as trying to stand in the middle of a tube carriage during rush hour without taking anyone out is easier.
Add on to this a somehow even greater respect for just how intense ballet is, and just how much effort it takes to make an art form so intensely difficult look so breathtakingly easy, and I'm sold.
I'll see you at the barre.
The White Crow is out on March 22.
Celebrity news, beauty, fashion advice, and fascinating features, delivered straight to your inbox!