Tom Holland opens up about feeling 'obsessed' with alcohol and why he's thankful for his sobriety
"I started to really worry that maybe I had an alcohol problem."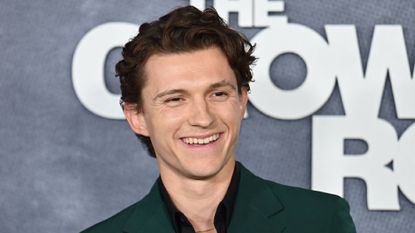 (Image credit: ANGELA WEISS / Getty)
Tom Holland has become a household name after landing the role of Peter Parker in the latest Spider-Man films. The actor took on the iconic character in 2017 in Spider-Man: Homecoming, and has starred in a number of MCU movies including Captain America: Civil War, Avengers: Infinity War and Avengers: Endgame.
While the 27-year-old has built a growing fanbase over the years thanks to his fun-loving and bubbly personality off screen, Tom has revealed that in private he has been making a number of changes to his lifestyle for the sake of his physical and mental health - one of those being quitting alcohol.
In recent years a number of celebrities have spoken about their experiences with sobriety, and during an interview on Jay Shetty's podcast On Purpose, Tom opened up about why he decided to quit drinking.
He said: "I didn't one day wake up and say, 'I'm giving up drinking.' I just, like many Brits, had had a very, very boozy December.
"[It was] Christmas time, I was on vacation, I was drinking a lot, and I've always been able to drink a lot. I think I get my genes from my mum's side... I can drink. And I decided to just give [it] up for January."
Some may be familiar with Dry January, which involves avoiding alcohol after the festive season.
But this movement was difficult for the actor.
He continued: "All I could think about was having a drink. That's all I could think about. I was waking up thinking about it. I was checking the clock, when's it 12 p.m.?
"It just really scared me. I just was like, 'Wow, maybe. Maybe I have a little bit of an alcohol thing.'
"So I sort of decided to punish myself and say, 'I'll do February as well. I'll do two months off. If I can do two months off, then I can prove to myself that I don't have a problem.'"
Tom likened his withdrawal from alcohol as a 'punishment', but he soon feared there was a deeper issue underneath.
He openly shared his fears, and said: "Two months go by and I was still really struggling. I felt like I couldn't be social. I felt like I couldn't go to the pub and have a lime soda. I couldn't go out for dinner. I was really, really struggling and I started to really worry that maybe I had an alcohol problem."
Tom kept up his sobriety for six months, which was a turning point for him.
He shared: "I said to myself, 'If I can do six months without alcohol, then I can prove to myself that I don't have a problem.'
"And by the time I got to June 1, I was the happiest I've ever been in my life.
"I could sleep better. I could handle problems better. Things that would go wrong on set, that would normally set me off, I could take in my stride. I had such better mental clarity. I felt healthier, I felt fitter.
"I just sort of said to myself, like, 'Why? Why am I enslaved to this drink? Why am I so obsessed by the idea of having this drink?'"
However, Tom's lifestyle changes has had an impact on other areas of his life, in particular socially as he felt he had to give up certain sports because of the drinking culture around select sports.
He said: "I just felt so much pressure, and this is one of the [reasons] why I've sort of distanced myself from the rugby community because so much of it is about how much can you drink. Let's get you as drunk as possible.
"It's honestly been the best thing I've ever done."
If you have been affected by any of the issues raised in this article, advice and support is available at Drink Aware.
Celebrity news, beauty, fashion advice, and fascinating features, delivered straight to your inbox!
Maisie is a writer and editor, covering Royal News, Showbiz, Lifestyle content, as well as Shopping Writing and E-Commerce, for print and digital publications, including Marie Claire, Hello!, Fabulous, Mail Online and Yahoo!.