Who are REN Clean Skincare's eco-conscious allies?
Meet the brand collective that is pledging to clean up the industry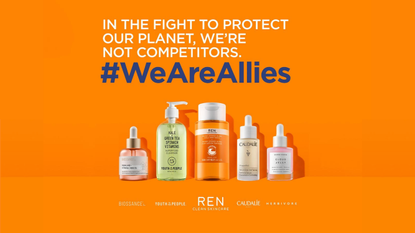 Meet the brand collective that is pledging to clean up the industry
This year, we have seen the beauty industry improve by leaps and bounds when it comes to eco-conscious packaging, ingredients and supply chains. Loads of leading brands have banished palm oil from their products, collaborated with recycling programmes and have a carbon-neutral head office.
That said, there's still a lot to do if conglomerates and indie brands alike are to hit their targets of a green, clean, net-zero industry in the coming decades.
That's where REN's group of beauty industry allies come in.
In May 2021, REN Clean Skincare harnessed the industry's packaging problem as a springboard for collaboration. The brand is the brains behind the #WeAreAllies campaign which encourages industry competitors to unite in their goal to reduce beauty's plastic footprint.
What is the initiative?
REN Skincare, which is set to fulfil its own Zero Plastic Pledge by the end of this year, extended the olive branch to three of its biggest rivals; Biossance, Caudalie, Herbivore and Youth To The People. Together, the cult beauty names are committed to more planet-friendly packaging by the end of 2025 - only three years away.
Lisa Oxenham, Beauty and Style Director at Marie Claire commends the project saying, "Although we can all do our bit, it's impossible to solve the climate crisis single-handedly and the #WeAreAllies campaign shows that we don't have to. Creating a community is equally as important as sharing planet-friendly technology and design ideas. Together, the industry can make a difference."
Knowing that 70% of plastic waste still ends up in landfills, CEO of REN Clean Skincare, Arnaud Meysselle, hopes that the campaign encourages more brands to make pledges to protect the planet too.
Meysselle says: "Taking action to reduce waste in the beauty industry is a challenge; together we can share ideas and pioneer new solutions to reduce packaging waste. It is the sharing of the knowledge of the collective industry that has the power to make a real, meaningful and scalable difference."
What has the campaign achieved?
Over the last seven months, while the industry has been hit with the pressures of the pandemic and Brexit, REN has continued to dedicate itself to making conscious beauty the norm.
As well as developing their recycling programme, the packaging team at REN have shared the secrets behind their aluminium sample pack technology. From the bottle to the screw top, the packaging is made from 100% recyclable aluminium which means all the allies can sample without waste - a world first.
To date, the founders have received 20 applications from other brands that want to join the eco-program, proving that this is just the beginning.
Shop our top products from the five allies:
REN Clean Skincare Brightening Dark Circle Eye Cream, £42 | REN
The first product to use the brand's Infinity Recycling technology, this eye cream brightens your under-eye and the future of the planet. Housed in a bottle made from 100% regenerated plastic, the formula is designed to limit irritation and even skin tone. The combination of 95% natural origin ingredients really does reduce dark circles in seven days.
Caudalie Vinosculpt Lift & Firm body cream, £27 | Caudalie
It can be tricky to find sculpting products that deliver real results but this whipped cream really does leave skin toned and firm. Made from 97% natural-origin ingredients including organic shea butter, antioxidant grapeseed polyphenols and iris extracts, the cream is full of active ingredients. Scented with subtle orange blossom, it's as luxurious as it is effective.
Biossance squalane and phyto-retinol serum, £55 | Cult Beauty
Sharks have long been slaughtered for their squalane-rich livers. Now, Biossance is at the forefront of protecting them, thanks to their 100% plant-based squalane. This serum is as active as it is ocean-friendly and it will leave your skin feeling plump and elastic. Enhanced with a plant-derived retinol alternative, the product boosts your natural collagen.
YOUTH TO THE PEOPLE Superclay Purify and Clear Power mask, £31 | Cult Beauty
As well as nailing their branding, this California-based brand formulates supercharged, vegan and cruelty-free products. This cream-clay mask is designed to unclog pores and clear the skin of dirt and excess oils. The concoction of niacinamide, salicylic acid and kombucha leaves the skin is purified, exfoliated and balanced so that breakouts are prevented before they even begin.
Herbivore pink clay gentle soap bar, £11 | Cult Beauty
Pink clay is known for its deep cleansing qualities which is why it takes centre stage in this gentle, body and face friendly, soap bar. The product lathers up to leave skin clean without stripping it of natural oils, making this a great addition to your everyday shower rotation. Made from all-natural ingredients, the vegan body bar is also safe for people with sensitive skin. If that wasn't tempting enough, you'll generate less bathroom waste by opting for a bar of soap too.
Celebrity news, beauty, fashion advice, and fascinating features, delivered straight to your inbox!
Grace Warn is the at Commercial Producer & Writer Marie Claire UK. From organising cover shoots and uncovering the latest news to creating social content, she loves the fact that no one day is the same!
Growing up just outside of London, Grace made the leap at 16 and started to intern. Juggling education, earning money, styling, producing and organising numerous fashion cupboards was as intoxicating as it was challenging and it's what's brought her here today.
After graduating in the pandemic, the only option was to take on as many freelance roles as possible. From demystifying health jargon to keeping up with the latest footwear drops, a strange concoction of health and footwear journalism became Grace's bread and butter but she always wanted a break in lifestyle journalism and production. Then she landed her dream role!
When she's not racing to deadlines, Grace can be found on anything that could pass as a dancefloor dancing to Diana Ross or scouting out vintage sales on the outskirts out South London - believe it or not, Beckenham is the place to go!