Trust me, this nail art design is set to be huge for autumn
As the seasons change, so too should your French mani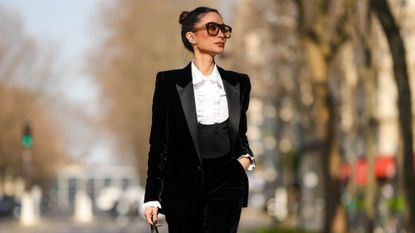 (Image credit: Getty Images/Edward Berthelot / Contributor)
Let's be honest: at the rate new nail trends are emerging these days, many of us may be experiencing mani fatigue. From blueberry nails to the milky nails, it's hard to keep up with the current 'it' design from TikTok.
To counter said fatigue, I'm going to introduce you to what I consider an 'anti-trend trend' for autumn: the tuxedo French manicure. Now, before you jump down my throat, I acknowledge I'm still giving airtime to a nail 'trend,' but this one really is timeless.
If you're looking for the perfect transitional, understated nail look to see you into autumn, the tuxedo French might be the one for you (also be sure to look into espresso nails). I spoke to some of my favourite nail artists to determine why this one is about to be ultra-popular and how to recreate it from home (spoiler alert: it's really pretty easy).
What is the tuxedo French nail trend?
Essentially, this trend is like a 'black tie' version of the classic French manicure; instead of white tips, there are black. The trend can be interpreted in a number of different ways, however. For example, Harriet Westmoreland—the queen of minimalistic, super-fine lines—embraces the trend by hand-painting delicate tips in black on a clear nail. She tends to do this on a soft square shape.
It can also look lovely on an almond nail shape too—but in this case, the French tip is a little wider for more of a statement.
Other iterations of the trend can play with monochrome graphics, proving it's not just about the classic tip. Negative space, double Frenches and cute designs with kitsch details are all part of the tuxedo nail look.
"It's incredibly versatile and accommodating to the wearer's personal style," says nail artist Alex Philamond. "Devotees of extreme nail art can opt for monochromatic designs of white and black geometry, whereas minimalists can simply elevate their beloved French with a black tip," he adds.
Another of my favourite manicurists Marissa Marsh "can see it being popular coming into the autumn/winter", while Alex explains he thinks it's the perfect anti-trend trend. "Now that Barbiecore is behind us, I think clients are looking for something that feels like the antithesis of the twee, bubblegum-hued tones that have dominated nail trends for the last few months. Monochromatic tuxedo nails could just be it," he says.
How to do tuxedo nails from home
Unlike complicated glazes and intricate nail art, tuxedo styles are relatively easy to achieve from home, if you're up for some D.I.Y.
You can play with clear, white and black hues in any pattern or shape you desire, but if you're a beginner, you can't go wrong with a simple French. Simply paint a fine (or chunky) line at the tip of the nail and go over with a clear, glossy polish. Pick up a super-fine nail art brush for this, and if you're shaky on one hand, maybe invite a friend over to help!
Marissa also suggests the following for simple tuxedo nail art: "You can use a toothpick or a hair pin dipped into the nail polish to create a cute dot effect, and finish off with a glossy top coat."
Keeping scrolling for the best tuxedo nail inspiration
Classic French styles
Harriet Westmoreland nails these tips, complete with a milky base colour.
Try an almond shape with a slightly thicker tip for more of a statement.
This is the perfect 'in-between' style if you can't decide between fine or chunky lines.
Proof that square is a foolproof shape for the tuxedo French, Harriet Westmoreland does it again; this time on a clear base.
This half'n'half style truly embraces the trend.
The words 'sleek, chic and cool' come to mind here.
Other takes on the trend
This Dryby creation screams 'classy Black Tie affair.'
A double Frenchie is a super modern way to wear the trend.
Get graphic and try this look—it may be better to leave this one to a professional, however!
Want to do something even more fun? These comic book nails are incredibly cool.
Keep it simple but do something a little different with this one.
If you want to add a cute edge to your classic fine-line tuxedo French, ask for hearts at the centre or bottom of the nail.
Described as a 'diagonal French', a design such as this will impress your friends.
A look that's super minimalist and easy to create from home? Check and check.
Sleek yet bold, you can't beat a classic.
Celebrity news, beauty, fashion advice, and fascinating features, delivered straight to your inbox!
Rebecca is a freelance beauty journalist and contributor to Marie Claire. She has written for titles including Refinery29, The Independent, Grazia, Coveteur, Dazed, Stylist, and Glamour. She is also a brand consultant and has worked with the likes of The Inkey List on campaign messaging and branded copy. She's obsessed with skincare, nail art and fragrance, and outside of beauty, Rebecca likes to travel, watch true crime docs, pet sausage dogs and drink coffee. Rebecca is also passionate about American politics and mental health awareness.