These are the 7 most asked questions about acne, according to a dermatologist
And they might surprise you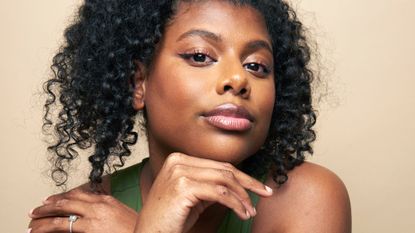 (Image credit: Getty Images Tara Moore 1371951075)
Many of us will experience acne from time to time, and we know just how confusing and stressful it can be to navigate. From figuring out what the best acne treatments are, to working out what type of acne you are dealing with and what the best skincare routine for acne is, there are lots of questions that come with it.
However, it's important to know that you're not alone. In fact, consultant dermatologist and acne expert, Dr Anjali Mahto, frequently gets asked the same questions about the skincare condition, and she's shared her top tips with Marie Claire UK.
Keep on scrolling to find out more, and for more inspiration, don't forget to check out our guide to the best acne patches to help battle those breakouts.
1. Why is my acne worse during my period?
One of the most common questions Dr Mahto gets asked is 'why is my acne worse during my period?' According to her, "This is a very common issue for women and one that many have simply come to accept as part and parcel of that time of the month.
"Though women have female hormones circulating through their bodies throughout their menstrual cycle (oestrogen predominating in the first half of the month and progesterone in the second half), the androgen testosterone is also present – albeit in smaller quantities – at all times. Shortly before the onset of menstrual bleeding, female hormones reach their lowest levels; the level of testosterone, however, remains fairly constant at all times and so its proportion is relatively higher at these points. Such higher proportions of testosterone, in turn, are known to cause the changes in the skin's complexion that bring about acne."
Unfortunately, Dr Mahto says that there's not much we can do to help this, but it's important to know that it's completely normal, and around two-thirds of acne-prone women will note worsening of their acne anywhere from a week to a few days before the start of their period.
2. Can I still wear foundation? If so, what should I look for?
Another question that you might find yourself asking is if you can still wear foundation. There's definitely a fear that make-up will make acne worse, but it's all about which foundation you go for.
"Those with acne-prone skin need to be careful about the types of base make-up and foundation they use, as we don't want to cause further issues with our skin," explains Dr Mahto. "Look for products labelled as non-comedogenic as these are less likely to clog your pores. Light, mattifying formulas are also likely to be better for acne-prone skin, as opposed to foundations that are very thick and creamy. Opting for a mineral-based foundation containing zinc, silica or titanium can also be very useful as they help absorb excess oil, as well as helping to camouflage redness."
Why not check out our guide to the best foundation for acne-prone skin while you're here?
3. Why am I suddenly breaking out during the menopause?
"Acne breakouts can occur as one approaches the menopause due to hormonal fluctuations during this period," says Dr Mahto. "Overall, falling levels of oestrogen lead to a relatively high ratio of androgen hormones to oestrogen which can drive acne.
"Managing acne during the menopause requires the same general measures as acne during other times of life, e.g. puberty. The main difference is being aware that the skin may also be dry and sensitive so using gentle, fragrance-free cleansers and moisturisers can help alongside active treatments."
4. How can you prevent your pores from clogging?
No one likes clogged pores, so Dr Mahto recommends ensuring you are cleansing your skin properly to help prevent congestion from happening.
"Cleanse once in the morning to remove any sweat/sebum that's built up overnight, and then in the evening to remove sunscreen, pollution, and make-up etc. Introducing an exfoliating acid can also help. I like the Paula's Choice 2% BHA Liquid Exfoliant which contains salicylic acid."
Paula's Choice 2% BHA Liquid Exfoliant
5. I've heard that acne on my lower face is due to hormones. Is this true?
"Fundamentally, all acne is hormonal," says Dr Mahto, "but in adult women it has often been reported – anecdotally – that it occurs more commonly on the lower half of the face, jawline, chin and neck.
"Actually, this is something I have noted from personal experience in my clinics; however, the scientific evidence is inconclusive on this point as we haven't yet determined the precise causes of such distribution. On a similar note, some observations have suggested that acne type also varies by age in women, with adults usually suffering from tender, inflammatory (cystic) spots. They also seem to have fewer numbers of blackheads or whiteheads compared to teenagers. Again, however, not all scientific studies have confirmed this observation."
6. Will I ever 'grow out' of my acne?
Something we've all wondered is if we will 'grow out' of our acne as we get older. As Dr Mahto explains, while some individuals will grow out of their skin problems, for many others, acne can recur over the years.
"Speaking from my own personal experience, having suffered from acne for over twenty-five years, I think much of the distress that it causes stems from the belief that you should have grown out of it by the time you reach a certain age," says Dr Mahto. "It can be incredibly frustrating when it's back yet again after a round of what you thought was a successful treatment, but the reality is that it is often a condition that requires control rather than being amenable to a permanent cure. Acne is much easier to come to terms with when we realise that our real goal should be to minimise its impacts so that we can get on with life. If it comes back, worry not; there are ways we can deal with it, and we needn't let it hold us back."
7. What foods should I avoid if I want to get rid of my acne?
"The acne and diet story is controversial and interesting in equal measures," says Dr Mahto. "Before the 1960s, dietary advice to acne sufferers was a standard part of care and dermatologists recommended avoidance of things such as sugary foods and carbonated drinks. The turning point in the acne and diet story was in the late 1960s and early 1970s after two pivotal scientific studies, which reported the two were not connected.
"Diet was long forgotten by dermatologists until the turn of the 21st century with new research and a thorough critical analysis of the old data. Although the total number of studies carried out over the past 40 years is relatively small, there appears to be a growing body of support for the idea that certain types of food may aggravate acne. Emerging data suggests that high glycaemic index diets may have a role to play in how acne develops. There is also limited evidence that some dairy (in particular skimmed milk) may also have some influence."
Celebrity news, beauty, fashion advice, and fascinating features, delivered straight to your inbox!
Grace Lindsay is currently Junior Beauty Editor at Who What Wear UK and previously was Marie Claire UK's E-Commerce Writer. With over three years of experience in the fashion and beauty industry, she covers everything from the best make-up and skincare deals to how to shop the stand out trends of the season. When she's not typing away at her laptop, Grace can be found shopping her favourite vintage markets IRL, or catching up on her never-ending list of books to read.