Winter is on its way, and I'm relying on this highly effective skincare trend to keep my skin hydrated
Got milk?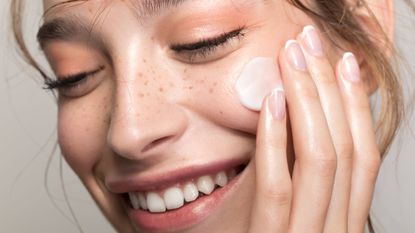 (Image credit: Getty Images/svetikd)
As a beauty editor with oily-combination skin, I tend to be pretty well-versed on what kinds of products are going to work for my complexion (particularly the best moisturisers for oily skin). Typically speaking, that means steering clear of heavyweight formulations like oils and butter-rich moisturisers (best for dry skin) and opting for more lightweight textures like foaming cleansers and gel-creams. But as the temperature starts to nosedive and the chill of winter lingers in the air, there's a new texture of skincare that I've noticed emerging as a bit of a trend—milky skincare products. And I can't get enough of how soft they make my skin feel.
While milk being used as part of our beauty rituals is, of course, nothing new—Cleopatra's famous skin-softening milk baths date back thousands of years—this new wave of milky skincare products are actually totally free from milk itself. "Milky skincare products are great for dry and sensitive skins, are easy to absorb and won't clog the skin. And, funnily enough, don't actually have milk in them—it's all about the texture," explains Ruby Hammer MBE, Founder of Ruby Hammer Beauty.
Which skin types would benefit most from using milky skincare products?
For me, the best thing about the milky skincare trend is that it's pretty universal, and most skin types will be able to enjoy using these products and the hydrating benefits that they offer. "Often this kind of product is a milky hydrating essence ( a K-beauty staple) or a toner, which is suitable for anyone who wishes to add a hydrating step to their skincare routine," explains Dr Beibei Du-Harpur, Dermatologist at Skin + Me.
And they work brilliantly at both ends of the skincare spectrum—whether you're oily like me or more dry. "We love the popularisation of milky-textured skincare as these products can be very beneficial for dry skin—layered under a moisturiser or sunscreen for a boost of hydration—but are also suitable for other skin types, like oily, when used on their own because of their lightweight nature," says Dr Adel Rammal, Chief Scientific Officer at Indeed Labs.
Do milky skincare products work well with other products?
Generally speaking, milky skincare products are focused on hydration and therefore tend to be rich in ingredients like peptides, ceramides, and softening extracts which are quite stable in nature. "In Japanese skincare they use milk-like emulsions in light, thin layers to lock in moisture and they are great for layering within your current skincare routine," says Ruby.
And if you use active ingredients then milky serums or lotions can make a great additional step. "Milky-textured skincare pairs well with actives like peptides, niacinamide and vitamin c," explains Dr Adel. "The texture keeps the skin moist and often helps the products applied after to better absorb into the skin."
If you use something more intensive like a retinol? "I would use a milky skincare product after your key active, as generally you want to maximise the penetration of your treatment product, but before your moisturiser," advises Dr Du-Harper.
The best milky skincare products
1. Rhode Glazing Milk
Rhode Glazing Milk
Best milky essence
I'd pretty much credit Hailey Bieber's skincare brand Rhode with the resurgence in popularity of milky skincare products, and this lightweight, milky essence perfectly captures why they're so damn good. It has a beautifully silky texture infused with nutrients like ceramides, magnesium, zinc, copper and beta-glucan to improve your skin's barrier function, lock in moisture and provide the building blocks for all-round healthier skin.
2. Dr Jart+ Ceramidin Skin Barrier Serum Toner
Dr Jart+ Ceramidin Skin Barrier Serum Toner
Best milky barrier-restoring toner
When it comes to hydration you really can't go wrong with the Dr Jart+ Ceramidin range, and the latest addition to the line-up comes courtesy of this milky serum. It's brimming with ceramides and panthenol to deeply hydrate, soften and support the skin barrier. Plus, it preps your skin for the rest of your routine. The result is a soft, plump and deeply moisturised skin.
3. Zelens Omega Shiso Replenishing Serum
Zelens Omega Shiso Replenishing Serum
Best milky antioxidant serum
A great serum for all skin types, this has a deeply comforting texture that offers up major hydration for parched complexions without any heaviness. Its enriched with shiso, a Japanese plant that's act as a natural antioxidant, anti-inflammatory and anti-bacterial, along with omegas to restore and protect your skin.
4. Good Light Moon Glow Milky Toning Lotion
Good Light Moon Glow Milky Toning Lotion
Best milky glow-boosting toner
More than just a hydrating treat for skin, this milky toner contains skin-strenghtening ceramides alongside alpha hydroxy acids to gently slough away dead skin cells for smoother, brighter skin. There's also meadowfoam seed oil to ease inflammation and snow mushroom to pull moisture into the skin, plus niacinamide to minimise excess oil. It's a a great option for oily to combination skin types.
5. Kate Somerville Hydrakate Recharging Serum
Kate Somerville Hydrakate Recharging Serum
Best milky hydrating serum
Think of this as a glass of water, or milk, for dry skin. It's milk-like in texture, but rich in hardworking ingredients like moisture-retaining hyaluronic acid to quench skin's thirst and a rosemary peptide complex to plump and smooth the skin. Even more impressive? There's an innovative blue light-activated algae extract that reduces the appearance of dark spots and brightens skin for radiant results.
6. Dermalogica Daily Milkfoliant
Dermalogica Daily Milkfoliant
Best milky exfoliator
Sensitive skin types might typically avoid exfoliators, but this one has been formulated with sensitivity in mind. It uses oat and coconut to form a powder texture that transforms into a milky lather on contact with water. Once massaged into the skin, grape extract and arginine which are naturally rich in exfoliating acids polish away dead skin cells to reveal soft, smooth and bright skin without irritation.
7. Oskia London Rest Day Cleansing Milk
Oskia London Rest Day Cleansing Milk
Best milky cleanser
As a beauty editor that tries a lot of different products each week, I rely on this hydrating cleansing milk for when my skin feels overly sensitised or is being a bit reactive. It makes for a beautifully calming cleanse and contains a soothing blend of oat ceramides and probiotics to reset and soothe tired skin.
8. Herbivore Milky Way 10% Lactic Acid + Oat Exfoliating Milk Serum
Herbivore Milky Way 10% Lactic Acid + Oat Exfoliating Milk Serum
Best milky exfoliating serum
Proving that milky skincare products can be as efficacious as they are hydrating, this hardworking serum uses alpha hydroxy acids to exfoliate, even skin texture, and boost glow. At the same time, there's oat, hyaluronic acid and ceramides to pamper, moisturise and inject some juiciness into dry skin.
Celebrity news, beauty, fashion advice, and fascinating features, delivered straight to your inbox!