This French skincare brand has nailed eye cream formulas—here's the proof
Sensitive undereye girlies, listen up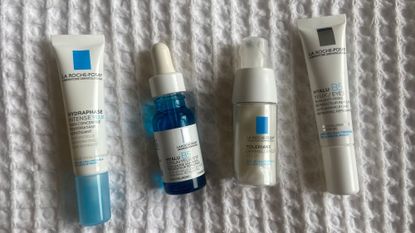 (Image credit: Tori Crowther)
If there's one skincare brand I'm always going to count on (and recommend to friends), it'll be La Roche-Posay. My rosacea-prone skin just can't get enough of the brand's cleansers, moisturisers, and facial sunscreens. But there was one category I was late to the party on: eye creams. Turns out, the formulas in that category are unsurprisingly fantastic, too—whether you're looking to treat puffiness or wrinkles.
La Roche-Posay has a pretty wide selection of eye creams tailored to every need and concern. For me, when it comes to my undereyes, although I'm not (yet) in need of tackling fine lines, I'm after a mega moisture boost, thanks to my dry skin. But also formulas that are light enough to not cause milia, which I'm prone to. And of course that doesn't cause irritation to my super sensitive skin. Seems like a lot to ask, right? For La Roche-Posay, it's what the brand does best. Here's what happened when I put each eye cream from the brand to the test.
---
Best La Roche-Posay Eye Cream Winner
---
How I tested La Roche-Posay eye creams
Each eye cream had to tick a few boxes to win the seal of approval.
Hydration - As someone with dry skin, the main thing I wanted out of each cream was hydrated under eyes. I have incredibly dry skin so these formulas needed to quench my thirsty skin.
Sensitive skin-approved - Next up was making sure each product was gentle enough for my sensitive skin; they had to give zero irritation. Though, given La Roche-Posay's track record with sensitivity, I knew this wasn't going to be a problem.
Work under make-up - Since I like to wear eye cream both in the day and at night, these formulas had to perform well underneath make-up. I kept a close eye on (pun not intended) pilling and how each interacted with concealers.
1. La Roche-Posay Hyalu B5 Eye Serum
La Roche-Posay Hyalu B5 Eye Serum
Best La Roche-Posay eye cream for instant relief
If you find yourself getting tired, itchy and irritated eyes then an eye cream with a cooling wand applicator is the way forward. It might seem like an unnecessary step in your routine, but trust me when I say, this will be part of your beauty routine that you'll look forward to the most.
This is a serum formula, so the consistency is runny and a little sticky (most hyaluronic acid-based products are) and a little goes a very long way. I ended up popping the serum across my whole face because I found there was so much to go around.
As for the promises, I can't say I noticed fine line and wrinkles reduced in two weeks, but I will say my eyes did look 'more open' as it claims (probably mostly due to the cooling effect from the wand).
This product is particularly good if you suffer from hayfever, working as an instant reliever and has earned a place in my skincare stash; and for really warm days, I'll pop it in my fridge.
2. La Roche-Posay Hyalu B5 Eyes
La Roche-Posay Hyalu B5 Eyes
Best La Roche-Posay eye cream for brightening
Now, this is one that I instantly slapped on in a thick layer, and while it was extremely comforting and hydrating, I soon started to notice it pilling, which is never ideal. Turns out, a little goes a long way and isn't best when packed on.
In my opinion, it almost acts like a priming filler to reduce fine lines, which definitely needs a careful hand to apply it correctly. It's slightly tinted, which I personally like as it reduces the blue-ish appearance around my eye area. It dries down to a semi-matte finish so is a great option if you don't like dewy eye creams.
All in all, it does what it promises with brightening the area and minimising signs of ageing but needs careful application before makeup; if you're a slap on and go kinda person, you might not get on with this one.
3. La Roche-Posay Hydraphase Intense Eye Cream
La Roche-Posay Hydraphase Intense Eye Cream
Best La Roche-Posay eye cream for puffiness
Reasons to avoid
-
Gel not a cream consistency
After hours on end spent staring at my laptop screen, at the end of the night, there's nothing quite like layering on a cooling gel around my eyes and this does just the trick. Promising to hydrate sensitive, tired, puffy eyes, I can attest to them all. The key ingredients include hyaluronic acid, caffeine and the brand's famous thermal spring water to de-puff and moisturise.
The formula feels a little sticky and is one I tend to use at the end of the night versus prior to make-up in the morning. A little goes a long way and the application tips helps to target key areas. My tip: pop this on and then stand in front of a fan for a few seconds and your exhausted eyes will have immediate relief.
4. La Roche-Posay Dermallergo Soothing Eye Cream
La Roche-Posay Toleriane Dermallergo Soothing Eye Cream
Best La Roche-Posay eye cream all-rounder
Reasons to buy
+
Great for repairing skin barrier
Reasons to avoid
-
Harder to pump small amount out
Saving the best until last, this is my perfect all-rounder. I already knew I was going to be a fan of this eye cream because I use the Toleriane Dermallergo moisturiser for my rosacea-prone skin, and I wasn't disappointed.
First, let's take a moment for how adorable the tiny tube is, that's almost reason enough to buy it. This formula is all about barrier repair, which for sensitive, irritated skin is like a welcomed comforting hug. The fragrance-free formula works to rebuild the barrier, which essentially means ridding dry, flaky and itchy skin. Although you'll find relief immediately, I find there to be a noticeable difference after a week of one-a-day use. It works well both at nighttime layered with other products as well as underneath concealers in the daytime.
Although it's a thicker cream, it's still quite lightweight in consistency, never feeling heavy on the eyes. It's approved by Allergy UK for use on skin conditions like eczema and dermatitis, and can even be used if you're experience an allergic reaction to something. It's an excellent everyday option, or one to have in your bathroom cabinet for SOS scenarios.
Celebrity news, beauty, fashion advice, and fascinating features, delivered straight to your inbox!
Tori is a freelance beauty journalist and contributor for Marie Claire. She has written for various titles, including Allure, Glamour, Elle, Refinery29, Brides, and more. Currently training to be a nail tech, Tori is a total nail enthusiast and always has time to talk all things nail art. When she's not writing about beauty and testing products, Tori can be found walking her rescue dog Pip, drinking great coffee, and eating as many croissants as humanly possible.