Marie Claire is supported by its audience. When you purchase through links on our site, we may earn commission on some of the items you choose to buy.
They're glittery too...
Written by Hannah Gransden
This is not a drill – Game of Thrones inspired dragon egg bath bombs are real.
Bath bomb fanatics Soaprise Me have changed our lives with their new range of dragon's egg bath bombs with glitter & shea butter (talk about dreamy), which will literally make you feel like the Mother of Dragons herself.
Sadly no eggs contain actual baby dragons, although we get that that would be really cool. They do include an explosion of glitter though and we're pretty into that.
Just when we thought bath time couldn't get any better, especially after learning how many calories you can burn in the bath, soaprise me have created these dragon bath bombs packed will soothing essential oils and decorated in greens, pinks and blacks with a marbled exterior and glitter interior (bath bomb perfections basically, don't argue with me).
You can choose from Jasmine & Patchouli, Viper, Nessie and Night Magic. All equally intriguing, but at this point, we're pretty sure we want them all.
To hatch, simply run under warm water to release a whirlpool of glitter and naturally occurring essential oils into your bath. You're then free to recover like a queen after a particularly nail-biting, sofa-squeezing episode of Game of Thrones (bath bomb best served with a glass of wine). Heck, why not team your egg with these other relaxing best bath products?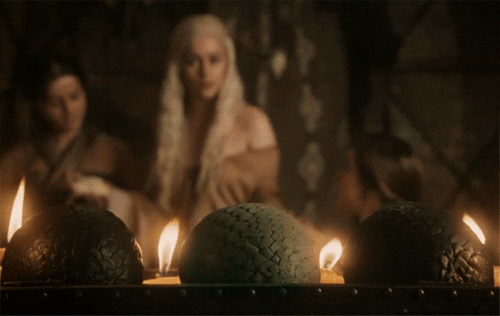 Not convinced? Let me ask you this, what other bath experience leaves you dreaming of Jon Snow as a dragon egg fizzes around you leaving a magically trail of glitter while emitting a sweet and spicy scent? Exactly.
To quote Game of Thrones itself, 'Winter (read: bath season) is coming.'