Experts and beauty editors swear by this simple (but effective) skincare ingredient
The skin repairing hero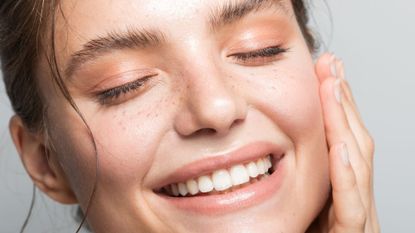 (Image credit: Getty Images/svetikd)
It would be an understatement to say that ceramides are popular these days. You can't go far researching the skin barrier or the best night cream without stumbling across ceramides. The reason? They work incredibly well at hydrating and repairing the skin, which everyone needs, no matter your skin type. Although the humble ceramide is nothing new (or that sexy), it really is the MVP of skincare right now. Although you can find ceramides at every corner for the skincare world now, it was Elizabeth Arden who first formulated products using ceramides in the '90s.
To give you the lowdown on everything ceramides, we called in the help of two skin experts to explain exactly what they are, how they can help your skin and how best to incorporate them into your routine. Then we rounded up 12 of the Marie Claire editors' favourite ceramide-based products.
What are ceramides?
Ceramides are a class of fatty acids called lipids found in the stratum corneum, the outermost layer of the skin, and are naturally occurring in the skin (but made synthetically for skincare), forming approximately 50 percent of the epidermis. "Their role is to hold the skin cells together and retain the moisture," says Dr Ash Soni, plastic and reconstructive surgeon and owner of The Soni Clinic. "They're essentially integral to your skin barrier function for that but also help block environmental pollutants and protect our skin from getting sensitive from other active ingredients," he adds.
"As we age, their stores become depleted, but they can also be lost through the use of products that strip the skin of its oils and through environmental and lifestyle factors," explains Ridah Syed, senior medical aesthetician at Skinfluencer London.
What are the benefits of ceramides?
There are many benefits of using ceramides, the main being that they help repair an impaired skin barrier and keep skin healthy. Often experts ask us to think of it like the ceramides are the mortar that holds the skin cells (the bricks) together.
An impaired barrier can lead to acne, irritation, sensitivity, and can exacerbate existing skin conditions like eczema and rosacea. This means our skin is unable to keep hold of the good stuff, including ceramides, so we need to help it along by adding them to our skin topically. Thanks to their barrier repairing properties, ceramides are particularly good for "those with inflammatory conditions like eczema, psoriasis and rosacea by protecting the skin from water loss," says Dr Soni.
Although ceramides are fantastic for dehydrated and ageing skin, they're also great for those with oily and acne-prone skin to add a boost of hydration and reduce irritation and inflammation.
Who are ceramides best for?
Best of all, ceramides work for everyone. "There are no known side effects, but it is still theoretically possible to have an allergic reaction or sensitivity," says Dr Soni. So with all new skincare products, do a patch test or proceed with caution if you have particularly sensitive skin but the ingredient works for the majority of people and skin types.
They're super easy to slot into your routine, often found in moisturisers, serums and masks. They doesn't interact with any other ingredients so you can use any ceramide-containing product while using retinoids and acids. In fact, using a ceramide moisturiser after a retinoid can help with any potential irritation.
How do they appear on the ingredients list?
You'll find that ceramides can appear on the ingredient list of products in a few ways, including "ceramide AP, ceramide EOP, or ceramide NP," says Ridah. "Although the structure of these ceramides may differ slightly, they all act in the same way and offer the same benefit to the skin," she adds.
Best ceramide-based skincare products
There are heaps of ceramide products to choose from, so it was difficult to narrow down our favourites. As beauty editors and journalists, the beauty team at Marie Claire UK are always testing out the latest and greatest skincare products to help make sure we're only recommending the best products out there. As a result, we're often damaging our skin barrier with products that aren't for us. That's why every skin expert and editor we know (ourselves included) keeps a fast-acting, barrier-restoring ceramide product on their shelf at all times.
It's needless to say, therefore, that we know a thing or two about the best ceramide products. These are the ones we reach for time after time to help keep our skin in tip-top shape.
1. Dr.Jart+ Ceramidin Cream
Dr.Jart+ Ceramidin Cream
Best ceramide cream for dry skin
Reasons to buy
+
Soothes angry skin instantly
+
Tackles dryness expertly
Reasons to avoid
-
Strong scent
-
Has a rich texture that might not be suitable for oilier skin
There's a reason this yellow tube is loved by beauty editors, make-up artists and skin experts and has won so many awards. It's because it's become somewhat of a hero product for repairing angry, damaged skin in need of some serious TLC. It contains a complex of ceramides paired with panthenol to give skin a much-needed boost of moisture. Use a thick layer of this at night and you'll wake up with skin feeling much more comfortable and glowing—promise!
2. Indeed Labs In-Ceramide Daily Moisture Cream
Indeed Labs In-Ceramide Daily Moisture Cream
Best lightweight ceramide cream
Reasons to avoid
-
Not rich enough for dry skin types
If you prefer a formula that's a little more on the lighter side but is still super hydrating, this is the one for you. Alongside its 3 ceramides, this contains hyaluronic acid to boost hydration. I like to use this one in the morning before SPF to keep moisture levels high without feeling suffocated by a thick cream.
3. Ceramide Barrier Defence Face Cream
Ceramide Barrier Defence Face Cream
Best affordable ceramide cream
Reasons to buy
+
Great for all skin types
One of my personal favourite, no-nonsense affordable skincare brands is Q+A and the Ceramide Barrier Defence Face Cream is a staple in my routine. It's not an incredibly thick cream so can be used day and night and truly works for all skin types. It's also fragrance-free, cruelty-free and vegan too so ticks many boxes.
4. Skin Rocks The Moisturiser
Skin Rocks The Moisturiser
Best all-round ceramide cream
Leave it to Caroline Hirons and her team to create our new favourite all-rounder cream. I simply can't fault this product (aside from the price being on the higher end but you get what you pay for, friends). The Moisturiser contains a bunch of hard-working ingredients like pro-vitamin D3, hyaluronic acid, squalane and of course, ceramides—all working to maintain and repair skin barrier function. Although the formula is on the richer side, it doesn't feel heavy in the slightest, which is no easy feat. Available in both fragranced and fragrance-free, I personally go for the fragrance-free option because of my fussy rosacea-prone skin.
5. Marie Reynolds London Ceramide Complex Super Charger
Marie Reynolds London Ceramide Complex Super Charger
Best ceramide booster
Reasons to avoid
-
On the expensive side, given it's a booster
Effective, luxurious and easy to use is exactly how I'd describe Marie Reynolds's new ceramide complex super charger and it's everything I look for in a booster. It's definitely on the more expensive side but is highly effective, even when used sparingly. A little goes a long way and I find that I don't need to pack it on to get full benefits. I personally like to either layer this underneath my moisturiser or mix it in with my moisturiser and top with an oil at night.
6. Dermatica Nourishing Ceramide + Peptide Moisturiser
Dermatica Nourishing Ceramide + Peptide Moisturiser
Best multi-hyphenate ceramide cream
Reasons to buy
+
Packed with excellent ingredients that do it all
Reasons to avoid
-
Leaves an ever so slight greasy film
To support your skin while using prescription treatments, Dermatica's ceramide moisturiser does just the job. It's effective, easy to use and great for all skin types so you really can't go wrong with it. Because it works so well to hydrate the skin after using prescription treatments, I reach for this at night. It does leave a slightly greasy film but I personally really like this; something to consider if you don't love that feeling.
7. Beauty Pie Happy Face Extreme Relief Cica Moisture Cream
Beauty Pie Happy Face Extreme Relief Cica Moisture Cream
Best ceramide treatment
Reasons to buy
+
Gives a great moisture boost
Reasons to avoid
-
Not great for under make-up
Price shown is members' price.
Now, if your skin is really angry because you've overdone it on the actives, reach for Happy Face. This, as the name suggests, is much more of a balmy, comforting texture. For me, this can be a bit heavy for everyday use but it works fantastically well when my skin is in need of some serious TLC. I slather it on before bed and wake up with much happier skin than I went to bed with.
8. The Inkey List Ceramide Serum
The Inkey List Ceramide Serum
Best ceramide serum for layering
Reasons to buy
+
Great for using alongside other products
Reasons to avoid
-
Not thick enough for very dry skin
When I feel like my skin needs a hydration boost, I always reach for this Inkey List number. It does what the brand does best, works really well without any bells and whistles. The formula is incredibly elegant, lightweight, and layers well under other products and never breaking me out. It's in my stash at all times.
9. CeraVe Hydrating Cleanser
CeraVe Hydrating Cleanser
Best ceramide cleanser
Reasons to buy
+
Non-irritating, so suitable for sensitive skin
Reasons to avoid
-
Needs a second cleanse to remove make-up
Of course, it wouldn't be a ceramide roundup with a mention of trusty CeraVe and Dr Soni agrees, "the brand has a comprehensive range of products." We particularly love the cleanser, which helps wash away dirt and grime for the day without leaving skin feeling stripped thanks to the inclusion of ceramides. However, this won't remove make-up. It works best as a second cleanser at night or a quick morning wash.
10. Naturium Plant Ceramide Rich Moisture Cream