8 editor-approved cleansers that truly deliver and soothe dry skin
Itchy, dry complexions be gone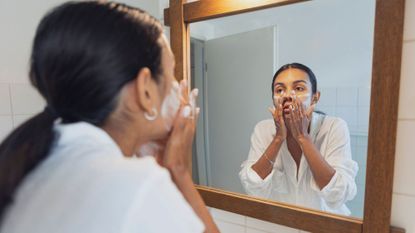 (Image credit: Getty Images / royalty-free)
Although it's one of the most 'boring' categories, as a dry skin girly, cleansers are one of my favourites to review as a beauty editor. We ask a lot from our best cleansers to be successful: we need it to, well, cleanse (getting rid of leftover product and grime from the day), we need it to feel nice on the skin and enjoy using it, and finally, we need it to not deplete our skin of its natural oils. "If patients have dry or sensitive skin, then it becomes increasingly important to pick your cleanser wisely, and to have one that is gentle and will protect the skin barrier," says reconstructive and plastic surgeon, skin expert and founder of The Soni Clinic, Dr Ash Soni.
The great news is that many do this very well. There are lots of types of cleansers to choose from, including balms, creams, gels and oils. If you're looking for a new cleanser that does a great job at cleansing without stripping the skin or leave it feeling uncomfortable or dry, then here's your comprehensive list of the ones I lean on time and again. But before that, let's get the lowdown from Dr Soni on all things cleansers for dry skin.
What to look for in the best cleanser for dry skin
When looking for a cleanser the first thing to be mindful of is the consistency and formula. "My recommendation is to pick a cleanser that is gel-based or has a milky consistency," says Dr Soni. The reason being is that they're much less likely to disrupt the skin barrier (basically keeping the good stuff in and the bad stuff out), plus they're "more effective at removing dirt from the face," he adds.
Next, you want to consider ingredients. You don't need to go all detective on it but there are a few key ingredients to keep an eye out for; the good news is that these are typically listed on the front of the packaging as key selling points of the cleanser. Look for: "ceramides, niacinamide, glycerin, sodium hyaluronate (salt form of hyaluronic acid)," to protect the skin barrier and hydrate effectively.
What to avoid in a cleanser for dry skin?
It's no secret that dry, sensitive skin is fussy by nature so there are a few things that are better avoided in cleansers.
"I would personally avoid any cleansers that are fragranced," says Dr Soni. This is because fragrance can be a trigger for sensitive skin types, especially if you have a condition like rosacea. In addition to fragrance, Dr Soni recommends avoiding cleansers containing "alcohol, sulphates and parabens, as these can trigger those and sensitive skin[...] and can lead to redness and increase irritation," he adds.
Of course, like with all skincare, there is an element of trial and error. You might find that you're absolutely fine with parabens or fragrance, however, removing all from your routine is a good place to start because you can introduce these slowly and you'll know for certain what is a trigger if irritation occurs.
That's why you'll find a bunch of various cleansers in this list, some are fragranced, some aren't and the same with parabens. Pick and choose based on what you know your skin can and cannot tolerate.
Best cleansers for dry skin, reviewed by a beauty editor
1. CeraVe Hydrating Cleanser
CeraVe Hydrating Cleanser
Reasons to buy
+
A morning or second cleanse
Reasons to avoid
-
Not for eye make-up removal
A total classic. Where would the dry skin gang be without CeraVe's hydrating cleanser?! Now, this doesn't do a great job at removing make-up in my opinion, but that's not really the point of it. This is best as a second cleanse or morning cleanse to get grime and sweat from the face rather than breaking down stubborn make-up. It's also a great one to use post-treatment if you want to give your face a quick wash without disrupting the skin barrier. I'll always have a bottle of this in my bathroom cabinet.
2. Then I Met You Cleansing Balm
Then I Met You Cleansing Balm
Reasons to buy
+
Beautiful experience using it
Reasons to avoid
-
Not great if you don't like scented products
This cleansing balm is a total delight and excels in so many ways. It's got a lovely balm to oil texture that when water is added turns into a creamy milk. The smell is divine with rosemary, persimmon and grapefruit making the cleansing experience much more enjoyable. It removes every scrap of make-up whilst still being gentle on the skin and fine to use on the eye area. Make sure whenever using a balm-like cleanser to do a second cleanse to remove any oils that have stayed on the skin.
3. e.l.f. Pure Skin Cleanser
el.f. Pure Skin Cleanser
Reasons to avoid
-
Not great at removing stubborn make-up
For me, the magic of this product is in the gorgeous jelly texture, it feels hydrating and comforting on my dry, irritated skin. The inclusion of ceramides, oat milk and niacinamide help to keep skin feeling hydrated whilst cleansing. This isn't one I tend to lean on to remove stubborn make-up with (that's not to say it doesn't but I think oils work better in this instance), so think of it more as a second or morning cleanse.
4. Kate Somerville Goat Milk Moisturising Cleanser
Kate Somerville Goat Milk Moisturising Cleanser
Reasons to buy
+
Creamy texture
+
Fresh scent
Reasons to avoid
-
Not for removing stubborn eye make-up
I forgot how much I, and my skin, love this cleanser. It's creamy, comforting and turns into a lovely, non-foaming lather when water is added. It contains milk proteins and Manuka honey, as well as jojoba and avocado oils.
It's not one for removing really stubborn make-up but it doesn't claim to be. It's USP is all in gentle cleansing so I really like to use this as my second step. It leaves my skin feeling incredibly soft and free from irritation. Honestly, it's just a total joy to use.
5. Skin Rocks The Cream Cleanser
Skin Rocks The Cream Cleanser
Reasons to buy
+
Creamy and comforting
+
Comes in a fragranced and fragrance-free formula
Reasons to avoid
-
Ummm... I'm yet to find one
The great thing about Skin Rocks products is you can choose most of the brand's formula with or without fragrance to best suit your skin. Comprised of eight amino acids, jojoba seed oil and squalane, it works to hydrate and support the skin barrier whilst removing grime from the day. It's one of the few creamy cleansers that I find removes all of my make-up well, which deserves all the brownie points.
6. The Inkey List Oat Cleansing Balm
The Inkey List Oat Cleansing Balm
Reasons to buy
+
Thick, soothing texture
+
Affordable
Reasons to avoid
-
Got to make sure you remove it all properly
A total dry skin saviour, this is one of the thickest balm cleansers out there and after a long day with desert dry skin, massaging this in is one of the best feelings. I find the combination of 3% oat kernel oil and 1% colloidal oatmeal helps to relieve those dry patches and soothe my rosacea. I always use a muslin cloth to remove this as you can have a little residue left over otherwise.
7. Dr Sam's Flawless Cleanser
Dr Sam's Flawless Cleanser
Reasons to avoid
-
Not to be used on the eyes
One of the only true jelly textured cleansers in the roundup, this is in a category all of its own. It works as well at removing make-up as an oil or balm cleanser whilst being as comforting as a cream. If you dislike double cleansing, find it dries your skin out or prefer to steer clear of balms and oils this is the one for you as Dr Sam is pro single cleanse when it's done correctly with the right product. It also now comes in a handy refillable pouch to reduce bottle waste.
8. Tatcha The Camellia Cleansing Oil
Tatcha The Camellia Cleansing Oil
Reasons to buy
+
Stunning oil texture
+
Brilliant at removing make-up
This is my "treat myself" cleanser. It's everything I love about an oil cleanser. The consistency is not too thick and not too thin, it massages into skin so beautifully, removes every scrap of make-up gently and leaves my skin feeling smoother than any other cleanser. Everyone who has tried this cleanser from my recommendation has adored it too. It's definitely on the pricey end so is one to buy if you're looking to treat yourself or spend a little more on your cleansing routine. Having said that, you only need a single pump so the bottle lasts a surprisingly long time.
Celebrity news, beauty, fashion advice, and fascinating features, delivered straight to your inbox!