The Facial Finder: How To Choose Exactly The Right Type For Your Skin
There are few things better in life than finding a facial that truly works for your skin. We've been busy testing to find the best facial for your skin concerns.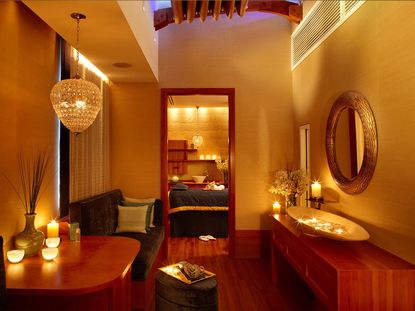 (Image credit: Elemis)
There are few things better in life than finding a facial that truly works for your skin. We've been busy testing to find the best facial for your skin concerns.
The Radiance Giver
THE PROBLEM: Sluggish circulation and slow cell-turnover results in a flat and dull complexion.
THE SOLUTION: Elemis Biotec Sonic Skin-Radiance Facial, £60 for 60-minutes.
After the prerequisite cleansing and toning an Ultrasonic Peel is applied to my skin which starts a gently exfoliation and boosts my blood flow and lymphatic drainage – the idea is to reduce puffiness and restore some natural luminosity to my dull skin. Then comes the hands-on part where my therapist massages my skin, I'm also treated to a very relaxing neck and shoulder massage using a combination of Balinese, Swedish and Hawaiian movements. Bliss. Next up is a Radiance Activator which uses antioxidants, hyaluronic acid and peptides to re-plump and tone my skin. Things then take a futuristic turn with galvanic currents which encourage all these skin-loving ingredients further into the skin.
THE RESULTS: I'm here for my face, I know this, but the very happy and relaxed neck (thanks to a spot of massage) is a welcome outcome. But back to my skin; it's noticeably plumper, juicy almost and there's a radiance to it that I haven't seen in a while.
BOOK: biotec.elemis – a course of six is recommended with one treatment every three weeks.
The Instant Lift
THE PROBLEM: With age, connective tissue in the skin weakens, muscle definition lessons and collagen and elastin production takes a nose-dive – all contributing to a down-turned look.
THE SOLUTION: Carita Cinetic Lift Expert, from £125 for 90-minutes.
Praised as an alternative to fillers and going under the scalpel, this treatment is designed to perk-up facial fillers. This high-tech treatment involved running electrical currents into my skin to boost microcirculation and kick-start the muscles in my face – it sounds uncomfortable but actually felt rather soothing. My therapist also donned a rather ingenious metallic glove – made of what looks like finely woven chain mail – to expertly direct the currents into my skin where it's most needed. Again, this feels really quite soothing with the texture of the glove being so fine that you barely notice that she's wearing it. LED light therapy follows: blue light to cleanse, yellow to brighten and red to stimulate skin cell metabolism. And if that wasn't enough, ultrasound follows to stimulate oxygen flow in the skin cells and a round of micro-dermabrasion removes the dull outer layer of skin.
THE RESULTS: I'm not kidding you, the results following this treatment really are not far off a face lift. Naturally, the effect doesn't last as long. My cheek bones were instantly more defined and the overall lifting affect makes my eyes look wide-awake.
BOOK: carita.co.uk
The Re-Hydrator
THE PROBLEM: Perpetually dry and dehydrated skin can be caused by the skin's inability to either retain moisture or attract moisture to it.
THE SOLUTION: Aromatherapy Associates Essential Rose Facial, £120 for 90-minutes.
Before Laura - my therapist - gets down to business with my skin, she treats my back and shoulders to a deep tissue massage with De-Stress Muscle Gel. It feels heavenly and, I'm told, relieving stress is good for my skin. Once thoroughly relaxed, my skin is cleansed with Rose Exfoliating Cleanser, which contains solidified beads of jojoba oil to lightly buff the skin without scratching it. An intensely hydrating mask with aloe vera and sodium hyaluronate follows to infuse my skin with much-needed moisture and calm a skin barrier weakened by dehydration. Once tissued off, the Nourishing Face Oil is the perfect partner to some expert facial massage which leaves my skin feeling re-plumped. The Hydrating Rose Radiance Serum – with its rosewater and geranium oil – soothes my skin and a generous layer of the Triple Rose Renew Moisturiser seals in all this new moisture with shea butter and sweet almond oil.
THE RESULTS: My skin is noticeably smoother and free of visible dry skin thanks, I think, to the super gentle exfoliation. The mask has also topped up my moisture reserves so my skin feels more resilient and the dry patches of skin that normally plague the areas around my nose and forehead have been completely obliterated. Even days later my skin is still looking healthy and my make-up is a dream to apply thanks to a smoother surface.
BOOK: aromatherapyassociates - a course of six is recommended.
The Decongestor
THE PROBLEM: I want fresh, juiced-up skin that would rival a baby's. Only light can't bounce off skin with bumps so I see a smooth complexion as my biggest hurdle for a glowing complexion.
THE SOLUTION: Urban Retreat The Signature Facial, £120 for 80 minutes.
The beauty of this facial is it can be tailored to your skin's needs so after a quick consultation, my therapist Kirstie and I decide that she'll focus most of her time and energies on the deep cleansing and exfoliation elements. The facial begins with a hefty dose of steam to open pores and prep my skin, before she gets to work on me with not one but two Foreo sonic cleansers that rhythmically pulse to massage my face, chest and neck and cleanse even more thoroughly. Next comes the extraction which isn't pleasant but really is the only way to immediately rid skin of any impurities and only lasted a few minutes at most. Time for the science bit and Kirstie works the high frequency ultrasound wand systematically over my face, neck and chest, to close my pores and create an overall antibacterial condition. It feels like tiny little zaps of heat but doesn't hurt at all. Whilst a luxurious mask works its nutrient-delivering magic on my skin, there's a very welcome foot massage and exfoliation, something that always thoroughly rejuvenates me. The treatment concludes with a complete skincare regime of facial oil, eye cream, moisturiser and even lip balm as the finishing touch.
THE RESULTS: I expected to leave typically red and blotchy from all the different techniques but as I glance in the mirror on exit, I see my skin is only the slightest bit pink. It feels so fresh that I even feel guilty for being on the underground, subjecting my newly pure skin to the London smog. Four days later and my skin still looks perky, and more importantly, super smooth. The bespoke nature of this facial gives it a universal appeal for any skin complaints and I can't think of anyone I wouldn't recommend it to.
BOOK: urbanretreat
The Blemish Beater
THE PROBLEM: Acne scarring and breakouts.
THE SOLUTION: Skinceuticals Bespoke Medi Facial, from £80 for approx 60-minutes.
After a thorough consultation about my skin's problems areas, my therapist talks me through the treatment. It's worth mentioning at this point, that if you want a fluffy facial with oils and massages then this is not the one for you. This is very much a results-driven facial and parts are a little, shall we say, uncomfortable. My face is thoroughly cleansed and a medical-grade salicylic acid peel is worked into my skin to penetrate deep into my pores. There is a fleeting discomfort as it's removed because when wet, salicylic acid heats up it causes skin to feel very hot. This lasts less than 60-seconds though, and is quickly soothed when the Skinceuticals Serum 10 is massaged into my skin. Up next is a tingly fresh vitamin C mask to brighten my complexion. To finish, I'm put under blue light which quickly kills off any blemish-causing bacteria on the surface of my skin, it also does the job of calming inflammation brought about by the odd breakout. A session of radio frequency minimises excess sebum which otherwise would clog pores and result in spots, which should give lasting results.
THE RESULTS: The phrase 'you've got to suffer to be beautiful' couldn't be more apt. It takes a couple of days for the redness to subside, but after a quick inspection of my skin my colleagues assure me that I'm looking smoother and more radiant than ever. Any residual blemish bumps have been smoothed over and are now virtually unnoticeable.
BOOK: efmedispa for London and DestinationSkin for nationwide.
Celebrity news, beauty, fashion advice, and fascinating features, delivered straight to your inbox!
The leading destination for fashion, beauty, shopping and finger-on-the-pulse views on the latest issues. Marie Claire's travel content helps you delight in discovering new destinations around the globe, offering a unique – and sometimes unchartered – travel experience. From new hotel openings to the destinations tipped to take over our travel calendars, this iconic name has it covered.