How to shave your legs: the 7 tips to getting it right
A close shave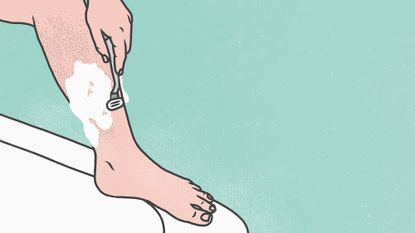 A close shave
There is so much more to shaving your legs than you think. You might well have nailed your technique over the years, however keep reading our how to shave your legs guide as you never know we could make things easier for you.
Dr Anita Sturnham, Venus Skincare Ambassador, shared some of her top hair removal tips with us, including how best to shave those hard-to-reach areas, how to avoid red bumpy rashes and which razors to avoid...
1. Use the right razor
It might be tempting to run into the supermarket and buy a pack of those super cheap orange disposable razors, but you pay for what you get. As Dr Sturnham, explains: 'There are some things in our home beauty routines that really are worth investing in.' And a good razor is definitely one of them. The key things to look for when buying a razor are: how many blades does it have, does it have a moisture strip, does it have a stationary or rotating head?
The number of blades will cut down the time and pressure needed for each shave. The moisture strips will help the razor glide over skin, as well as conditioning the skin preventing it from drying out. And a rotating head won't get stuck on those tricky areas, like knees and ankles.
Gilette Venus Comfort Glide Spa Breeze 2-in-1, Amazon
2. Shave in the right place
This might seem like a weird one, but we're pretty sure that at some point in life you've been in a rush, whacked out a razor and started to dry shave to save time. Dry shaving is one of the biggest causes of shaving rash and irritation, so just don't do it. Unsurprisingly, you want to be in the shower or the bath. You want to make sure that your skin is super hydrated and that the hair is completely damp. Dr Sturnham recommends you soak the skin for 2-3 minutes before tackling your stubble with the razor.
3. Invest in a shaving cream
In the past you might have used your shower gel or your conditioner, which is definitely better than nothing. However, shaving creams or gels have been specifically formulated to work in conjunction with the razors and your skin, as they're super hydrating and lubricating. Other products can also blunt your razors, so don't leave shaving cream off your next shopping list.
Omorovicza Soothing Shaving Cream, Cult Beauty
4. Scrub, scrub and scrub some more
Exfoliating is the step that most people are likely to skip, as they don't see the relevance it has to hair removal. However, it is in fact one of the most important, as it improves the texture and tone of your skin, lifts away dead skin cells and helps prevent ingrown hairs. Ingrown hairs are caused by clogged hair follicles and, so regular use of the best body scrub will stop them occurring. Try and do it once or twice a week, in between shaves.
5. Change up your blade
How often do you change the blade on your razor? When your remember? When it starts to cut you? A blunt razor causes more damage than it's worth - you'll find your skin gets more irritated, it will end up nicking your skin and causing small cuts and you won't get the smooth shave you want (hello random patches of hair). Dr Sturnham recommends changing your blade after 10 uses. If you can't remember how many times you've used it, be sure to change it at least once a month.
6. Keep skin taut
When shaving your knees or ankles, be sure to straighten your legs to keep the skin stretched. This will help keep your razor in good contact with the skin, making for a smoother shave. There are some razors now with flexible heads, like the Gillette Venus Swirl Flexiball, which more with the contours making for a much nicer shave.
7. Finish with some moisture
The final step after shaving your legs should always be to apply a soothing and hydrating moisturiser. Opt for one that's rich in natural oils that will lock in the moisture.
Did you learn something new?
Say goodbye to shaving fails.
Celebrity news, beauty, fashion advice, and fascinating features, delivered straight to your inbox!
Katie Thomas is the Senior Beauty Editor at Marie Claire UK. With over 10 years of experience on women's luxury lifestyle titles, she covers everything from the best beauty looks from the red carpet and stand out trends from the catwalk, to colonic irrigation and to the best mascaras on the market. She started her career on fashion desks across the industry - from The Telegraph to Brides - but found her calling in the Tatler beauty department. From there she moved to Instyle, before joining the Marie Claire digital team in 2018. She's made it her own personal mission to find the best concealer in the world to cover her tenacious dark circles. She's obsessed with skincare that makes her skin bouncy and glowy, low-maintenance hair that doesn't require brushing and a cracking good manicure. Oh and she wears more jewellery than the Queen.