These are the only 10 products beauty editors admit they *actually* shop for (despite receiving hundreds of free samples every year)
The crème de la crème of beauty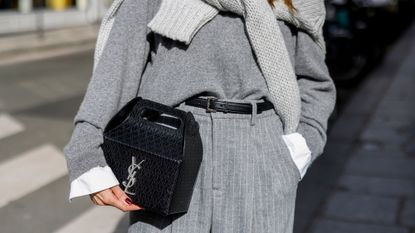 (Image credit: Getty Images/Streetstyleshooters / Contributor)
Beauty editors try a lot of new beauty products. I mean, it is our job after all. For that reason, it also takes a lot to impress us. But there's a bigger indicator as to whether a product is worth parting your cash with and that's if we buy the product ourselves—on repeat.
See, because reviewing products is part of our job, we get them for free. That means our desks, floors and even our kitchen cupboards (yep, it's a well-known place for beauty editors to stash the latest launches) are overflowing with beauty samples. But that doesn't stop us from spending our money on the very best products—from cleansers to perfumes—which we need to top up over and over again. And that's how you know it's a true beauty editor favourite.
To find out the best of the best, I asked 9 of my fellow beauty editors to share the beauty products they think are so good they continually buy it, despite having hundreds of free samples at their fingertips. From colour-changing blush to detangling conditioner, some might argue these are the beauty beauty products in existence.
Katie Thomas, Senior Beauty Editor at Marie Claire UK
"I have written about my love of these tanning drops so many times, I'm surprised the brand hasn't hired me as a salesman. As a mother of two on such little sleep it's criminal I can often look weary and my skin appear completely devoid of colour. However, nothing perks my skin up more than this wonderful bottle of joy. A couple of drops inside my moisturiser and I am back to the land of the living, a couple of drops more and my gosh I am health personified and just a few more after that and I look like I've been on a beach for two weeks with only a book for company."
Vanese Maddix, freelance beauty journalist
"I first discovered Youthforia's BYO Blush back in 2021 and it's held top spot in my make-up bag ever since. The unique oil formula reacts to the skin's natural pH level and this is what attracted me to the blush and the brand overall. I feel like this blush has paved the way for a lot of other pH activated make-up products.
"With just one swipe, cheeks are coated in a beautiful pink, which is unique to everyone's skin tone. The formula is infused with 20 plant-based antioxidant oils to keep the skin feeling non-greasy and hydrated with a radiant glow.
"This blush looks incredible on its own or layered with another blush. (I personally love layering it with a powder blush.) Anytime I have this blush on, people always stop and ask for the brand. I've lost count of how many bottles I've gotten through, but it's a repeat purchase for me. If it were ever to be discontinued (I hope this never happens) I would purchase every last bottle—it's that good." — Vanese Maddix, freelance beauty journalist
Lucy Abbersteen, freelance beauty editor
"I'm not exaggerating when I say that I've used the Bobbi Brown Corrector for about half my life. It was the first counter make-up brand I started shopping from and I still use this particular product to this day. It's creamy, easy to blend and doesn't rely on light-reflecting particles to disguise under-eye shadows (nothing against these as a product category, but I need something with full coverage for my dark circles). My shade, Light Bisque, contains just the right amount of colour-correcting pigment for my pale skin—I've found many others on the market to be far too peachy for me personally. At a glance it may not seem particularly affordable, but trust me when I say that the little pot lasts ages even with daily wear. I will never be without it." — Lucy Abbersteen, freelance beauty editor
Shannon Lawlor, Executive Beauty Editor at Marie Claire UK
The Body Shop Camomile Sumptuous Makeup Cleansing Butter
"I have tried every cleansing balm that has ever come my way, and I want you to know this: anyone who names any cleansing balm that isn't this one as 'the best ever' is wrong. There is no make-up removing cleanser out there as hardworking (and generally lovely to use) as this one. If you're using micellar water to remove your make-up, trust me when I say you'll never look back if you switch to this stuff. It feels unbelievably luxurious, given the price, and everyone I've ever recommended it to has thanked me for the introduction." — Shannon Lawlor, Executive Beauty Editor at Marie Claire UK
Nateisha Scott, beauty editor
Rhode Lip Peptide Treatment
"There are a select few product categories in beauty that I will invest my money in and that's body care, nail care and skincare—and in particular lip products. Essentially, hydrated, nourished and healthy skin is my beauty goal and constant mission. So I say all this to say I have extremely high expectations and Rhode's Peptide Lip Treatment exceeds them every single time. In a single swipe, my lips are hydrated, nourished and conditioned and the shea butter and peptide formula ensures I'm not repeatedly topping up every 30 minutes. Instead, I can go for hours without needing to add more. The comforting scent and super chic packaging are just a bonus." — Nateisha Scott, beauty editor
Valeza Bakolli, Junior Shopping Editor at Marie Claire UK
Function of Beauty Wavy Hair Shampoo
"Ever since I first tried the Function of Beauty Shampoo and Conditioner, I've never looked back. My hair is a unique (read: complicated) mix of fine yet densely-populated strands, it's naturally wavy but is easily weighed down by nourishing formulas targeted at curly or wavy hair, which often make it fall flat. This shampoo and conditioner duo gives my hair volume while keeping flyaways at bay, plus it smells absolutely incredible. I love how you can easily tailor the formulas to your personal haircare needs—I use the strengthen, shine and volumise boosters myself—and they come in straight, curly and coily hair options too." — Valeza Bakolli, Junior Shopping Editor at Marie Claire UK
Madeleine Spencer, freelance beauty and wellness editor and make-up artist
Laura Mercier Secret Camouflage Concealer
"Laura Mercier Secret Camouflage. As someone who's suffered from acne for years, I have tried so many concealers. This is by far the best I've ever used—it has two colours you can blend for the perfect hue every time, looks like skin when on, and I've used it to cover all manner of things on my skin." — Madeleine Spencer, freelance beauty and wellness editor and make-up artist.
Amerley Ollennu, freelance beauty and lifestyle editor
Trepadora Coconut Almond Detangling Conditioner
"As a mixed kid whose mum had straight blonde hair, I never knew how to style my curly locks. Even if I did, haircare formulated for my curls was hard to find on the high street. So, like so many people with curls that felt unmanageable I got hooked on relaxer, a chemical hair treatment that breaks the bonds in the hair shaft to permanently straighten strands. I wore my hair this way for well over a decade, so when I ditched relaxer and vowed to wear my hair curly more often my haircare needs completely changed.
"Curly hair is inherently dry as the natural oils produced by our scalps have a hard time working their way down our helter skelter hair. But load your locks up with oils and heavy creams and curls can look limp and lacklustre.
"I've spent years trying to find a conditioner that makes detangling a breeze, because who has 20 minutes to comb through knots every time you wash your hair? It also needed to revitalise my curls post rinse, to leave them frizz-free, soft and shiny, yet voluminous and bouncy to boot. I found that in the Trepadora Coconut Almond Detangling Conditioner. It's rich and creamy and smells like you're on a tropical island. It's also protein free to ensure you don't overload your hair with the stuff as in large doses it can do more harm than good - think frizzy, fragile and dry hair. I've bought two since I was given the first one as part of my day job as a beauty editor, and each time I've neared the end of a tube, I've cut it open to get every last drop, that's how much I love what this conditioner does for my hair." — Amerley Ollennu, freelance beauty and lifestyle editor
Tara Ledden, beauty editor
Naturium Niacinamide Serum
"Niacinamide is probably my favourite skincare ingredient—it's suitable for pretty much all skin types,and works in the background to soothe skin, reducing water-loss to keep skin hydrated as well as redness and inflammation associated with breakouts and sensitivity. It's an ingredient I've been using for years, but I wasn't loyal to any specific brand or product until Naturium launched in the UK last December. I was immediately drawn to the no-nonsense but chic packaging, and the accessible price tag is an added bonus. Since then, I have used Naturium Niacinamide Serum 12% Plus Zinc 2% solidly almost every night. In fact, I'm now on my fifth bottle—so each one lasts around two months. It's the perfect texture that's not too runny, so it's easy to apply, and doesn't leave skin feeling sticky or pill under other products. It's one of those clever products you don't realise is brilliant until you stop using it. Every time I've run out, I've ended up with multiple breakouts, so now I'm wedded to it for life." — Tara Ledden, beauty editor
Tori Crowther, freelance health and beauty journalist
La Roche-Posay Cicaplast Baume B5
"Although my pick isn't the most glamorous, it's the single thing that keeps my rosacea under control so I make sure I'm never without it. La Roche-Posay's Cicaplast has a unique, thick texture that's both creamy and balm-like, which works to instantly soothe my angry complexion.
"I have had sample tubes of this many times, but I've bought tons more in between and now always have a spare tube stashed away to make sure I don't run out. I like to use this most nights after applying any serums or actives, using a 5p sized amount, warming it up in my fingers before pressing into my skin.
"I always look out for the deal on this tube of magic, and luckily, you don't need much to get the benefits from it so a tube lasts a decent amount of time." — Tori Crowther, freelance health and beauty journalist