I tested nearly 100 beauty products last month—these 11 are the only ones I would actually pay for
It's time for this month's Beauty Desk Drop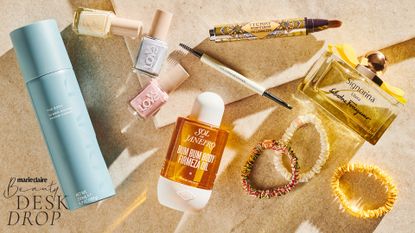 (Image credit: Future)
For the first time since I've been writing this Beauty Desk Drop column, I feel confident enough to say that summer is knocking. The days are getting warmer, the sun is out more than it's not and the Marie Claire UK beauty cupboard is brimming with the latest summer beauty products. The shelves are full of SPFs, fake tans, nourishing hair masks and glow-boosting bronzers—and I am ready to embrace summer beauty and all it has to offer.
As a result of the impending change of season, as a beauty editor, May is one of my busiest months. While the rest of the beauty world is slowly swapping out their go-to formulas for lightweight alternatives in preparation for the warmer months, I'm testing and trialling all the upcoming summer beauty launches so that I can ensure I'm only recommending you the best of the best.
I like to make sure that the Marie Claire UK beauty cupboard is cleared of old product by 1st June, ready to start fresh for the new season. This means every upcoming summer beauty launch has to be thoroughly tested before we decide whether it stays or goes (all of our beauty products get donated to good causes). It's for this reason that my beauty routine has been a little hectic over the past month. I've been testing new beauty products more than ever before.
In fact, I'd say I have tested nearly 100 beauty products this month. I've swiped everything from lipstick to body cream and blasted countless hairsprays and fake tans. While some were cult classics, most of the beauty products I tested were new (like I said, May is a busy month for beauty launches). And truthfully, out of all of the products I tested, there were only 11 I would actually part with my hard-earned cash for. So here they are—the best new beauty products that I tested in May...
1. Salvatore Ferragamo Signorina Libera
Salvatore Ferragamo Signorina Libera Eau De Parfum
Best new perfume
Specifications
Size: 100ml
Key notes: Velvet pear, Calabrian bergamot, orris, rose, pink sugar
I'm a total sucker for summer perfumes and this new addition is up there with the best I've ever tried. It's juicy and sweet without smelling cheap or sickly. Instead, it's sparkling like a cool, fizzy lemonade but has a soft, floral nature that makes it feel undeniably expensive and luxe. It's the sort of perfume I've found myself reaching for when I'm heading out for late afternoon drinks while the sun is still shining—it oozes summertime joy.
2. Essie Love By Essie Nail Polish
Essie Love By Essie Nail Polish
Best new nail polish
I've never met an Essie nail polish I didn't like. Trust me, I've tried every nail polish out there and very few formulas compare to Essie's. This new vegan formula is 80% plant-based and I can safely say there is no sacrificing of results. The coverage is great, it's easy to apply and it has an impressively glossy finish. Plus, it comes in 20 summer-ready shades.
3. Olivanna London Sun Defence Drops SPF50
Olivanna London Sun Defence Drops SPF50
Best new SPF
I don't say this lightly—this is easily my favourite facial sunscreen launch of the year so far. I take SPF seriously, and I'm never going to lie to you when I think a formula is too thick, too greasy or leaves a white cast. So let me first get the negatives of this product out of the way. If you have really oily skin and like a matte finish, this isn't for you. It's also worth noting that the mineral-based formula will leave a white cast at first (as all do)—although it does slowly dissipate. These points aside, it is a lightweight, glow-giving wonder. It floods the skin with moisture that gives glow for days. I couldn't love it more if I tried.
4. Beauty Pie + Kathy Phillips The Reboot Blend
Beauty Pie + Kathy Phillips The Reboot Blend Revitalizing Skin-Nourishing Aromatherapy Bath & Shower Oil
Best new bath oil
Price shown is members' price.
Kathy Phillips isn't just a seasoned beauty journalist, she is also Founder of This Works—a trailblazing aromatherapy brand. So when this collection of bath and shower oils launched, created by Beauty Pie in collaboration with Kathy, it's safe to say I was more than just a little bit interested. I'll be frank: if you're not a Beauty Pie member, it's not worth the £80 the brand is charging. However, if you do have a membership, the £25 price tag feels like a steal. The formula is luxe and rich without leaving a greasy film on the skin. The best bit, however, is of course the scent. This particular blend is like a soothing tonic for mind, body and soul.
5. Davines Heart of Glass Instant Bonding Glow
Davines Heart of Glass Instant Bonding Glow
Best new hair treatment
As someone who has heavily bleached hair, I'm always looking for hair treatments which cater to blondes specifically. I want a product that promises to take away brassiness and condition my super-long lengths. Having said that, I find a lot of purple shampoos quite drying, so finding a product that does both is difficult. This product is unlike anything I've ever tried. Sitting somewhere between a conditioner and a serum, you squeeze the creamy formula directly onto lengths after shampooing and let it sit for a few minutes. It isn't colour-depositing, so don't expect any impressive toning effects. However, it leave strands feeling stronger and looking sleeker, while colour is noticeably more luminous.
6. By Terry Brightening CC Luminizer
By Terry Brightening CC Luminizer
Best new highlighter
I'll admit, I'm probably By Terry's biggest fan. Having said that, I wasn't majorly excited about this product when I first saw it. I assumed it was going to be a highlight which would no doubt get stuck in the attached brush and leave my skin looking shimmery. How wrong I was. For those who don't know, By Terry Founder, Terry de Gunzberg, created YSL's iconic Touche Éclat—and this is same same but better. The formula is creamy and hydrating, while the light-reflecting pigments are far from chunky or glittery. Instead, it delivers the most beautifully convincing lit-from-within glow I've ever laid eyes upon.
7. Sol de Janeiro Bum Bum Body Firmeza Oil
Sol de Janeiro Bum Bum Body Firmeza Oil
Best new body oil
If you haven't experienced the joy of Sol de Janeiro Bum Bum cream, trust me when I say you're missing out. Like salted caramel, vanilla, pistachio and creamy piña colada all wrapped into one mouth-watering fragrance, it is in my opinion, the summer scent. Having said that, I'm not wild on the fact the iconic Bum Bum cream contains shimmer. I want the skin-nourishing goodness without the risk of shimmer transferring onto my clothes. Enter, Bum Bum Firmenza Oil. It smells every bit as delicious, leaves skin looking hydrated and happy and isn't uncomfortably greasy. I'm in love.
8. Victoria Beckham Beauty BabyBlade
Victoria Beckham Beauty BabyBlade Microfine Brow Pencil
Best new brow pencil
The fact this product has made this list is truly extraordinary. You see, I don't use brow pencils. In fact, I really don't like them. My eyebrows are thick, very dark and unruly, and using brow pencil has, in the past, made them look a little too bold. This product, however, has really impressed me. The pencil is thin enough that it's almost impossible to go too hard with it, and I love the attached spoolie to help lift and shape.
9. Slip Pure Silk Skinny Scrunchies in La Dolce Vita
Slip Pure Silk Skinny Scrunchies in La Dolve Vita
Best new hair accessory
If you've ever met me, you'll know that I'm never without a Slip Silk Skinny Scrunchie. Seriously, I don't use anything else in my hair (my strands are fine so I have to be super cautious of breakage). This limited-edition collection for summer fills me with unparalleled joy. I've been doing braids, buns and bubbled ponytails with these bright bands, and I'm in love.
10. ARKIVE The Body Hybrid Mousse
ARKIVE The Body Hybrid Mousse
Best new hair styling product
I am not a hair mousse person at all. I hate any sort of added weight when it comes to styling my super-fine, thin hair, and mousse adds serious weight. However, I'm also someone who is constantly wanting more hair volume, and I know that mousse is one of the best ways to achieve that. This product has changed the game for me. It boosts my roots in a way like no other, and although it does add a little weight and grit, it's malleable and doesn't leave things looking drab.
11. Susanne Kaufmann Lash & Brow Serum
Susanne Kaufmann Lash & Brow Serum
Best new lash serum