Lady Gaga on troublesome beauty standards and using make-up as self care
Haus Labs by Lady Gaga is finally available in the UK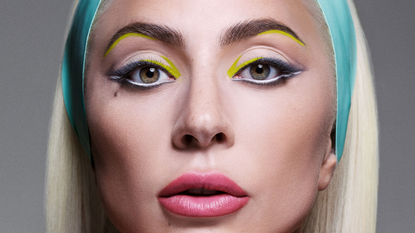 (Image credit: Inez and Vinoodh)
When Lady Gaga greets me on the screen, my first impression is of her milky blonde hair and vivid fuchsia lip stain.
The second is that this is a woman who means business, and more specifically the beauty business. Haus Labs by Lady Gaga lands today at Sephora in the UK and it covers all categories from lips to brows to foundation—all with a focus on nurturing skin.
What made you want to venture into beauty?
"I was always excited about the power of make-up, fashion, art and the ability to transform. It started when I was really young, watching my mother transform. She was such a strong and smart woman, but she always used to say it's important to take care of yourself. I never heard her say it's important you wear make-up, it's important that you get your hair dyed or it's important you are in fashion. It was actually just about self care and I realised over the years that make-up, for me, was a form of self care.
"I wanted to get into the beauty industry because I wanted to explore my love of make-up with the community that I had fallen in love with over the years through my music. I began this startup with an initial idea of celebrating inclusivity. As I learned more about make-up, I decided it was really artistry. Then I discovered through my education of beginning a startup that I was actually fascinated with the science of make-up and the science of skin. I would say that all this happened because I believed in my mother's motto at a young age and I explored it throughout my life. Then once I started this company, I realised the true passion that I had was to combine artistry and science and make make-up that was inclusive, artistic and also really good for your skin."
How do you think make-up and mental health merge?
"I think I might be giving a bit of a disruptive answer, but that's okay. I actually think make-up can both improve or potentially, like the beauty industry, be harmful for your mental health. I definitely found a sense of freedom, being able to express myself with make-up. I love learning about the difference between beauty make-up, fashion make-up, editorial make-up and drag make-up. But also at one point in my career felt like I was held to a certain standard of beauty that was really bad for my mental health. I think that lots of people feel that way as well.
"I think that beauty and mental health just affect each other and I care a lot about being a company that is taking a positive position when it comes to what make-up means. I just want our customers to know, in Sephora, that we're there to provide them with tools if they want. I hope people will feel like we're creating something that's meaningful."
You infuse your make-up and skincare with healing ingredients—where did this idea stem from?
"The idea to include really good ingredients to our make-up actually came from my experience with chronic pain. I've had chronic pain since I was about 25 and I used arnica for inflammation. I wondered if one of the leading causes of poor skin health is inflammation and if arnica could improve skin function in some way to improve redness or inflammation, so we went into the lab, and I started to do some research, formulation and testing and now, after making it 860% more potent and adding it to our foundation, it actually does reduce redness.
"Everywhere I went there was a roadblock when it came to innovation and it made me feel more and more challenged to rise to the occasion to educate myself to read about skin science and cosmetic science, the history of cosmetics and understand more about novel active ingredients. Eventually I arrived at this place where art and science create an experience for the customer where artists who didn't just care about the way it looked but how it was made—the artistry of formulation. I feel like that's something that's usually more affiliated with fragrances."
What's the most difficult aspect of building a make-up brand for you?
"Building startups is tremendously difficult. I feel very blessed that I have the resources that I have to do it this way. The biggest challenge and the biggest triumph for us has been to make a brand that's great without me. This foundation is so, so good, but it doesn't need me to be great. My face and name being attached to this brand is not what makes it powerful. My vision for the brand along with all the visionaries at this company is to have the power to be disruptive in this space.
"I consider myself an artist, people would call me a celebrity most likely, and like putting a celebrity next to a make-up line and saying, 'Oh, well, if you put a celebrity next to the make-up, the make-up will sell'. I always say, 'We should be able to completely remove my name and my face off all of this and it be like an absolutely hands down slam dunk of a product.' Even though I'm doing an interview with you today, my intention is for the brand to stand on its own feet."
Do you believe in the joy of make-up?
"I've worked hard with my community, it's also an artistry community. They are beauty lovers and hearing what they love, what they're interested in, what makes them feel excited, and what brings people together. Make-up is joyful and this is the reason everything is so colourful here, and the reason you'll see our colourful gondolas at Sephora. We didn't want everything to be beige, we really wanted to celebrate the joy of make-up, and the joy of artistry, which to me is an abundance of colour, a total spectrum. It could be as much or as little as you want. I just want to give people good tools, if they want them."
Why is it so important brands take measures to help tackle the climate crisis?
"I think it's a tremendous responsibility to consider being a consumer products company. If you're not taking care of what your packaging is made up of you're being irresponsible. To me it's very important that we are always pushing the boundaries of how to have a sustainable and clean supply chain soon. I don't want to profit off doing something that's bad for the planet."
Talk to me about having 51 shades of foundation
"We're really grateful to Sephora that they are extremely inclusive and celebrate those 51 shades in their store. They took all of our shades. The team spent a lot of time on medium and medium to deep tones, because we found that a lot of the undertones from many other brands were difficult to shade match for people and we wanted people with skin tones in that range to feel like they had really beautiful options."
Haus Labs by Lady Gaga launches exclusively in Sephora today.
Haus Labs By Lady Gaga Triclone SkinTech Medium Coverage Foundation
A medium buildable coverage, weightless foundation infused with fermented arnica that helps reduce redness, even out skin tone and protect from environmental stress. Suitable for all skin types including sensitive and acne-prone.
Haus Labs By Lady Gaga Bio-Radiant Gel Powder Highlighter
The highlighters are a talc-free and a hybrid gel-powder that seamlessly glides onto skin, imparting a radiant, next-gen glow. Fermented arnica and silver vine extract helps to reduce inflammation and therefore redness.
Celebrity news, beauty, fashion advice, and fascinating features, delivered straight to your inbox!
An award-winning health and beauty writer, stylist and creative director, Lisa Oxenham is one of the UK's top beauty editors and the Beauty and Style Director at Marie Claire UK. With 20 years of editorial experience Lisa is a brand partnership expert, and a popular speaker, panelist and interviewer on a range of topics from sustainability to the future of beauty in the digital world. She recently spoke at Cognition X and Beauty Tech Live and is on the Advisory Board for the British Beauty Council's Sustainable Beauty Coalition.
A well-respected creative director she works on celebrity, model and influencer shoots with the highest calibre of photographers, filmmakers, make-up artists and hairstylists to create timeless images, attention-grabbing videos, digital events and masterclasses. Most recently Lisa has directed covers such as Lily Cole and Jameela Jamil, films such as Save The Arts featuring Francesca Hayward and sustainable fashion shoots such as Be The Change. Supporting the beauty industry over the pandemic has been a top focus, directing the British Beauty Council's six inspirational short biographical films for their Bring Back Beauty campaign.
Lisa is a wellbeing and beauty influencer with a focus on mental health and a large and engaged audience on Instagram, Facebook and Twitter.