BodyHoliday St Lucia: The Joy of Wellness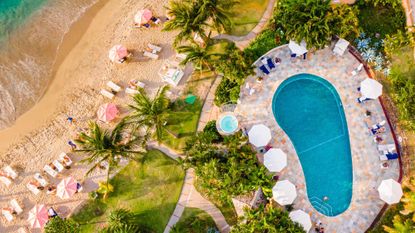 (Image credit: Bodyholiday)
On the north western tip of the Caribbean Island of St Lucia lies BodyHoliday, offering an experience like no other. Set within a private cove of white sand and calm turquoise seas, BodyHoliday is a unique concept combining award winning spa facilities, endless fitness and wellbeing opportunities and a glut of gastronomic treats. The name of the game: to bring joy into wellness.
The Vibe
I don't really go in for organised fun, nor is a new set of LuluLemon leggings the first thing I throw in my suitcase, so there was a tiny part of me that worried this might not be the holiday for me. That said, I was growing tired of the endless accounts from friends and colleagues about how great BodyHoliday was, so when they announced their new Joy of Wellness package I thought it was about time to throw caution to the wind and drag myself kicking and screaming to the 5* retreat.
Within moments of arriving at the idyllic tropical resort any preconceptions vanished off into the horizon. Yes, there is an activities schedule as long as your arm but there's zero pressure to take part and if lying on a sunlounger sipping a daiquiri is more your scene then that's equally encouraged. However, I challenge even the most dedicated lounge lizard (hello) to still be horizontal come day 2!
The resort is adults only and is set up to accommodate friends, couples and singletons alike. Whoever you are, whatever you want from a break, the focus is on you and your needs. Whether a week of pampering and relaxation, or an action packed week of watersports and exploration, the goal at BodyHoliday is to change lives (one holiday at a time!) There's no sight of starvation, wheatgrass shots or strict unachievable regimes, instead the resort's aim is to help guests find balance and allow a shift in perspective for people to incorporate into their daily routines when home.
(Daily watersports)
The Joy of Wellness
The new joy of wellness package aims to give you a taste of everything on offer at the resort, to open you up to new experiences and give you a full mind and body reboot. BodyHoliday says "give us your body for a week and we'll give you back your mind", big claims, but after just a few days I challenge you to disagree.
Depending on your needs and goals, specialists create a bespoke package pre arrival tailored around the resorts key pillars of The Joy Of Movement, The Joy of Mindfulness, Nature, Balance, Connection and Relaxation.
We all know that rush of endorphins and the feeling of smugness post workout and wish there was a way of bottling it up. Well The Joy Of Movement is here for just that. Of course you can partake in the usual HiiT or Spin classes but why not try something just for fun? Caribbean Dance Fit, Aqua and Zumba will have you burning extra laughter and smile calories whilst yoga and tai chi on the sundeck leave you feeling that little more zen. When I saw 6.45am beach bootcamp scheduled for my first day let's just say I wasn't buzzing with excitement, but the energy from instructor Mindy was contagious and before you knew it I'd signed up to lunchtime Aqua and was researching the next tubing times.
Destress and reset your joy levels with meditation or breathwork. Enjoy nature in arguably some of the world's most beautiful surroundings and find balance and relaxation at the world renowned spa.
(Sunset yoga on the deck)
The Spa
Perched at the top of the resort overlooking the bay and inviting coastline, the 33 room wellness centre is arguably the jewel in the resort's crown. Every guest is offered a daily treatment as part of their stay, a commitment to relaxation that we wish every hotel shared. With studies showing that massage significantly reduces cortisol levels, whilst increasing the "joy hormones" dopamine and serotonin, who was I to argue with the science - sign me up.
New treatments include synchronised abhyanga, shirodhara, serenity massage and Hawaiian Lomi Lomi massage. I was lucky enough to try a mix of the all inclusive treatments as well as some of the more specialist ayurvedic treatments at Pavitra. The Chavutti Massage where I lay virtually naked to the elements whilst massaged with just the practitioner's feet was a new experience that won't be forgotten - designed to alleviate muscular pain and stiffness in the joints it was just what the doctor ordered.
As well as the ancient practices and rituals, the wellness centre also boasts state of the art Body Science and Skin Care centres. Body Science specialises in functional medicine with the aim to "fine tune body and mind and bring balance and optimal health". Guests can book in for individual treatment plans (at an additional fee) and are invited to use the infrared saunas as often as they wish. The name of the game here is preventative health, with diagnostic testing available in all areas from stress management to fitness and weight management, digestive health, detox health and healthy ageing.
The new, bright and ultra modern Skin Care centre delivers virtually every beauty treatment under the sun. Products are from specialist brands Thalgo, Eve and Skinceuticals and treatments range from non surgical face lifts, to body sculpting wraps, post sun soothers and all the usual pampering in between - absolute heaven.
The Food
With so much attention paid to fitness and wellbeing you'd be forgiven for thinking the food could be an afterthought. Well fear not, with 6 restaurants each offering a new and delicious cuisine you won't be going hungry any time soon.
(Terrace at the Wellness Cafe)
Try Tao for a tempting east-west fusion menu, think sushi and sashimi platters, tempura and gyoza or for a special occasion check out Cariblue Windows and indulge with fine dining paired tasting menus. For something more casual we particularly enjoyed the wraps, salads and smoothies on offer at the Wellness Cafe (don't worry a couple of sides of chips made their way to the table too). And for evening drinks, cocktails under the stars at the Pavillion Grill were a great way to catch up and connect with others.
The international cuisine at the resort's central restaurant, Cariblue, is available for breakfast, lunch and dinner, and the piano bar stays open until the last guest leaves (a claim several residents put to the test whilst we were staying).
For a unique experience take a tour of the resort's gardens and share a meal with other guests at I-TAL (meaning vital). The restaurant is organic and plant based, following the principles and philosophies of the Rastafarian culture. Even die hard carnivores will leave feeling full, both in body and in spirit, as you learn about the Rasta ways of life and beliefs. The experience is breath-taking - not only the people and the food, but also the beautiful hillside setting and views, and at the very least you can steal some recipes and inspiration for the next time you're catering for a veggie crowd.
(I-TAL)
The Rooms
Accommodation ranges from garden view and oceanfront rooms, to suites and hillside private villas (if you want to live the A-list lifestyle). Solo rooms are also available and offer all the same amenities but without having to pay a single supplement - result! All rooms were renovated in 2018 meaning that wherever you choose you won't be disappointed.
I went for an ocean view room complete with a private terrace, king size bed, and no TV. That's correct, no TV. If there's an important show or football match you cannot live without then you can park up in the communal lounge to satisfy your fix, otherwise BodyHoliday recommends switching off from the outside. Similarly, wifi is available in your room and some of the resort buildings but elsewhere it's a no scroll zone. Whilst this creates mild anxiety and draws flashbacks from the 90s when meeting up with friends meant agreeing to "meet you by the palm tree at 11", overall it's a welcoming and refreshing break.
(Ocean view room)
What are you waiting for?
It's one of the first and only holidays where I've given myself licence to turn off my phone, switch off from work emails and to truly dedicate a week to myself. The feeling of rejuvenation, of happiness and like they promise: of reclaiming your mind and body, is infectious. No wonder then that everyone I spoke to were return visitors. One morning when collecting snorkels for a trip to the Pitons there was a rapturous welcome as staff dropped what they were doing to virtually bundle a lady in her 80s "she's been coming back for over 20 years!" If a trip to BodyHoliday each year keeps me scuba diving into my 80s, and keeps my smile as broad as hers, then tell me where to sign!
An experience like no other? Tick.
Will I be back? Try and stop me.
Mind, body and life changing outcome? I'd probably have to agree.
How To Book
Visit bodyholiday to book. Rooms start from £320 per night on an all-inclusive basis including daily spa treatment, meals, water sports, classes and activities.
Celebrity news, beauty, fashion advice, and fascinating features, delivered straight to your inbox!
Sarah Hayman is a contributing food and travel writer at Marie Claire UK, covering everything from UK breaks to far flung destinations, the best greasy spoon to Michelin star dining.
Growing up on the Kent coast Sarah spent virtually every day of her summer holidays frolicking on the beach so it's no wonder that a life living and working in London leaves her yearning for sand between her toes and cool wines on summer eves.
To ensure she's ordering the right thing in a restaurant and knowing her lefts from her rights, Sarah has since dabbled in languages being conversational in Spanish and currently studying Arabic at SOAS.