Married At First Sight UK season 8: Meet the cast and the first couples
It's back!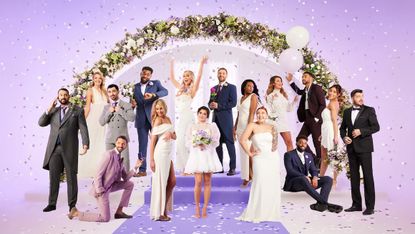 (Image credit: E4)
Married at First Sight UK is back on screens in what already promises to be an explosive season. After the popularity of last season, this is set to be the longest series yet, with the finale taking place on Thursday, November 16.
While it may sound like a wild concept, we have seen some success in the past. 2021's MAFS contestants Tayah Victoria and Adam Aveling even went on to have the very first Married at First Sight UK baby last year.
But who are this year's contestants? Who will find love - and who will bring the drama? This is everything we know about Married At First Sight season 8, including when you can watch it and how much the couples actually get paid for taking part in the show.
When did Married at First Sight UK season 8 start?
Married At First Sight season 8 kicked off on Monday 18th September 2023 and will air every Monday to Thursday at 9pm until the finale on November 16th. After the popularity of last year's show, this is the longest-running MAFS UK in history.
What is the premise of Married At First Sight UK?
Married At First Sight UK is based on the original Danish show of the same name, where experts match couples based on their characteristics for the ultimate blind date on their wedding day. The MAFS format has been adapted in 25 countries worldwide and has numerous spin-off shows, with the UK version now in its eighth season. The show reached new heights of popularity during lockdown in the UK, with a particularly dramatic sixth season of Married At First Sight Australia.
The synopsis for MAFS UK explains: "The couples will make a lifelong commitment to one another at a glamorous ceremony, overseen by a wedding celebrant, that includes guests, bridal gowns, dancing, speeches and cake.
"After the ceremony and celebrations are over, true love is well and truly put to the test, as they embark on a luxurious honeymoon, before moving in with each other AND their fellow couples.
"Relationships will be put under the microscope, by fellow brides and grooms at weekly dinner parties – as well as by the experts, at recurring commitment ceremonies, where couples choose whether they want to stay in or leave the process."
Who are the Married At First Sight couples?
So far, we've only had four couples announced on the show - with varying degrees of hope about the future of their relationships.
Jay and Luke
Jay is a 31-year-old sales manager from Lancashire, while Luke is a 30-year-old sales executive from Clacton. Speaking about the match, expert Paul said: "I'm really excited about this match; they have so much in common in terms of background and upbringing, and even in their profession, they both work in sales."
Charlene added: "They are also a couple of jokers – they both said the most important thing for them is that they are paired with someone who makes them laugh and has banter."
Jay and Luke are already emerging as one of the strongest couples of the season - watch this space!
Laura and Arthur
Laura is a 34-year-old finance manager from Hampshire, while Arthur is a 34-year-old tennis coach who has travelled the world coaching players. The pair get off to a shaky start, much to the disappointment of Laura who has already been married before.
"I have my fingers firmly crossed for a positive outcome - I don't want another divorce," she told Channel 4 ahead of her debut.
Rozz and Thomas
Rozz and Thomas are the third couple to make it down the aisle, but it was an awkward start for the pair after Rozz made clear that she wasn't sure about who the experts had chosen for her.
The teaser for the honeymoons showed the couple in a dispute about whether or not they should cuddle - so we're not holding out high hopes for Rozz and Thomas right now.
Nathanial and Ella
Nathanial is a 36-year-old events marketing manager, while Ella is 29-year-old clinic consultant. Ella has made MAFS history as the first ever transgender bride and has praised Channel 4 for giving her this opportunity.
"This experiment is so much more than just me getting married. I see this as a big deal for someone who has transitioned," she told Channel 4.
The couple had instant chemistry, complimenting each other at the alter before taking part in a photoshoot that saw them looking relaxed and engaged - a stark contrast to Rozz and Thomas, who seemed awkward throughout the experience.
Ella revealed in an interview with the Radio Times after the wedding: "I've only ever dated straight guys and I will continue to just date straight guys, but for this experiment, I was open-minded and I still am open-minded. So I was very lucky that I've got the husband I've got."
Who are the brides and grooms for MAFS season 8?
The full list of contestants for Married AT First Sight UK's eight season are as follows:
This year sees the first trans contestant on the show, Ella Clark. Ella has spoken out about her experience and how her husband was aware of her being trans before filming began. Speaking to BBC Newsbeat, she said: "No one's ever really fully accepted me.
"I thought it would get easier once I'd had my surgery. Unfortunately, it was not any easier. There's still this stigma and this embarrassment of dating someone who's transitioned.
"Because it was the first time Channel 4 had ever done something like this, I agreed along with them that once they'd found me a match my husband was made aware that I was trans prior to the wedding. He was aware that I was trans and I had transitioned but he didn't know anything else about me."
Another contestant in the new series is northerner Jay. Jay was born without part of her left arm and has spoken out about the rejection she's faced as a result of her disability, believing that she wasn't "worthy of someone".
Jay has been paired with partner Luke, who has already shown a positive and supportive attitude towards her disability, telling viewers: "It doesn't bother me at all."
The full list of brides is as follows:
Ella, 29, Clinic Consultant
Jay, 31, Sales Manager
Laura, 34, Finance Manager
Peggy, 32, Technology Risk Partner
Porscha, 36, Executive Assistant
Rosaline, 28, Florist
Shona, 31, Performing Arts Teacher
Tasha, 25, Childcare Assistant
And the full list of grooms is:
Arthur, 34, Tennis Coach
Brad, 27, Model
Georges, 30, Sports Rehabilitator
Nathanial, 36, Marketing and Events Manager
Paul, 26, Account Manager
Terence, 40, DJ/Youth Worker
Thomas, 27, Investment Communications
Who are the MAFS experts for season 8?
The MAFS experts remain the same for the new UK series.
This season we'll see Paul C Brunson of Celebs Go Dating, Melanie Schilling who is famous for being an expert on the Aussie version of the show and Charlene Douglas, a leading Sex and Intimacy expert in the UK, advising couples on how to nurture their relationships and navigate what is sure to be a testing experience during the experiment.
How much do you get paid for being on Married at First Sight UK?
E4 hasn't confirmed whether the couples get paid or not, but it's thought that UK contestants don't get paid at all.
Former MAFS UK contestant Clark Sherwood opened up to Cosmopolitan about appearing on the show back in 2019, saying: "There's no financial gain from going on the show.
"There's budget for things – her wedding dress, a small budget for the suits. There's some money for hen-do and stag-dos, but it was mainly out of my pocket.
"I think they put money towards travel or something. But there was genuinely no monetary gain."
However, it looks like there's a small fee for the contestants on the Australian version of the show. Jess Power from series six told Metro.co.uk, "You're living off like 150 bucks a day."
Celebrity news, beauty, fashion advice, and fascinating features, delivered straight to your inbox!
Lauren is the former Deputy Digital Editor at woman&home and became a journalist mainly because she enjoys being nosy. With a background in features journalism, Lauren has bylines in publications such as Marie Claire UK, Red Magazine, House of Coco, women&home, GoodTo, Woman's Own and Woman magazine.
She started writing for national papers and magazines at Medavia news agency, before landing a job in London working as a lifestyle assistant and covers everything from fashion and celebrity style to beauty and careers.