'If we buy for life we'll start making a huge difference for positive change'
Eco-friendly shopping is as simple as buying long-lasting products. Which is why Tara Button's groundbreaking site, Buy Me Once, which independently researches and sells such items is so important. With consumerism increasing post-lockdown, Tara explains how when we buy for life, we transform our lives and the planet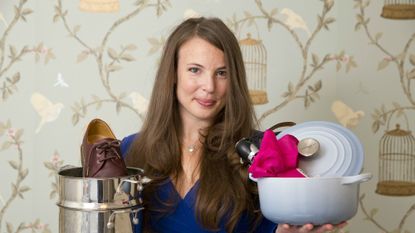 Eco-friendly shopping is as simple as buying long-lasting products. Which is why Tara Button's groundbreaking site, Buy Me Once, which independently researches and sells such items is so important. With consumerism increasing post-lockdown, Tara explains how when we buy for life, we transform our lives and the planet
Whether the last few months have meant isolation in a lonely flat or a house full of increasingly feral children, we've all had one thing in common - an unprecedented amount of time at home with our possessions. It's not surprising that charity shops are now asking for extra volunteers for the estimated 69 million items of clothing and 22 million pairs of shoes that's coming their way. But if we buy for life - we drastically reduce this jaw-dropping amount.
For many of us, lockdown has presented an opportunity to take stock of what we have, what we need, a time to work out what is important to us and, I'd argue, to make the positive change to buying for the long term.
But why make this buy-for-life change? The benefits of long-term buying are fourfold. Three benefits for us, one benefit for the planet.
A clearer, calmer house
A clearer, calmer head
Money saved over the long term
Fewer, but higher quality products being produced
This final one is important. When we buy an item, whether it's a practical object, a throw cushion or a mini neon sign, we don't see the huge shadow behind each product - the mining waste, the off cuts, the dirtied water, chopped trees, oil, packaging, airline fuel. If we did see it, we would be far more mindful of what we choose to add to our carts.
Climate change is a pandemic which will dwarf coronavirus in its devastation if we don't flatten the climate curve. The good news is that, for this, we have some very powerful medication at our disposal - the top super-pills are:
1. Switch to clean energy
You'll be surprised to find it's often cheaper (go to bigcleanswitch.org)
4. Buy once - buy well - buy for life
This last tool sounds as simple as the first three, but I've found that in order to truly 'buy once - buy well - buy for life' you need to understand what that means for you specifically. I call this method mindful curation. Briefly, here's how it's done.
Take stock
Go through the items you already own. If an item isn't being regularly used, admired or hold a deep sentimental value, let it go. As you declutter, identify the items that you've kept the longest or you foresee having for years to come. Ask yourself what it is about those items that make them future proof. Then ask yourself what the common themes are across these items be it style (I keep retro pieces) , or sentiment (I keep stuff that reminds me of my mum) or function (I keep stuff that I can be creative with).
Write a list of things you don't need
This can be life-changing. People have written to tell me how this cured them of their shopping addiction. On my list - more kitchen gadgets, gym equipment and fancy notebooks. This should also help you resist the manipulation of marketing messages that get you to over-buy.
Buy for life
Use trusted resources to find the most durable products. Use independent reviews, Which and Buy Me Once to find items that will stand the test of time and serve you well. Always think about the durability of style as well as the materials. Look for products that are made to be fixed, out of materials that get better over time and that are worthy of being taken care of. These are the products that will take care of you in return, rather than end up as landfill.
When you buy for the long term your choices are more considered and more in line with your core personality rather than informed by fads or whims. You'll be able to afford a higher-quality lifestyle because you'll waste less money on re-buying cheaper, flimsier items, or stuff that will do 'just for now'. You naturally end up with a wardrobe you love and a home you enjoy spending time in because it meets all your needs, practical and emotional. At a time where our homes have become our whole worlds, there has never been a better time to try.
* A Life Less Throwaway by Tara Button is a detailed step-by-step guide on buying for life. It's the perfect investment for your life and your planet
Celebrity news, beauty, fashion advice, and fascinating features, delivered straight to your inbox!
Maria Coole is a contributing editor on Marie Claire.
Hello Marie Claire readers – you have reached your daily destination. I really hope you're enjoying our reads and I'm very interested to know what you shared, liked and didn't like (gah, it happens) by emailing me at: maria.coole@freelance.ti-media.com
But if you fancy finding out who you're venting to then let me tell you I'm the one on the team that remembers the Spice Girls the first time round. I confidently predicted they'd be a one-hit wonder in the pages of Bliss magazine where I was deputy editor through the second half of the 90s. Having soundly killed any career ambitions in music journalism I've managed to keep myself in glow-boosting moisturisers and theatre tickets with a centuries-spanning career in journalism.
Yes, predating t'internet, when 'I'll fax you' was grunted down a phone with a cord attached to it; when Glastonbury was still accessible by casually going under or over a flimsy fence; when gatecrashing a Foo Fighters aftershow party was easy-peasy-lemon-squeezy and tapping Dave Grohl on the shoulder was... oh sorry I like to ramble.
Originally born and bred in that there Welsh seaside town kindly given a new lease of life by Gavin & Stacey, I started out as a junior writer for the Girl Guides and eventually earned enough Brownie points to move on and have a blast as deputy editor of Bliss, New Woman and editor of People newspaper magazine. I was on the launch team of Look in 2007 - where I stuck around as deputy editor and acting editor for almost ten years - shaping a magazine and website at the forefront of body positivity, mental wellbeing and empowering features. More recently, I've been Closer executive editor, assistant editor at the Financial Times's How To Spend It (yes thanks, no probs with that life skill) and now I'm making my inner fangirl's dream come true by working on this agenda-setting brand, the one that inspired me to become a journalist when Marie Claire launched back in 1988.
I'm a theatre addict, lover of Marvel franchises, most hard cheeses, all types of trees, half-price Itsu, cats, Dr Who, cherry tomatoes, Curly-Wurly, cats, blueberries, cats, boiled eggs, cats, maxi dresses, cats, Adidas shelltops, cats and their kittens. I've never knowingly operated any household white goods and once served Ripples as a main course. And finally, always remember what the late great Nora Ephron said, 'Everything is copy.'